Moldova to Receive NATO Aid Amid Russia's 'Hybrid Warfare'
NATO Deputy Secretary-General Mircea Geoana said the alliance will provide Moldova with a new "non-lethal" aid package to help blunt Russian hybrid threats, as the government in Chisinau grapples with a political crisis it blames on Moscow.
Geoana said Thursday that Moldova—a European Union aspirant that cooperates with, but has not yet officially sought membership of, NATO—requested the alliance's assistance after a chaotic week in which Moldovan President Maia Sandu accused the Kremlin of orchestrating a coup attempt.
The package, said Geoana—a former Romanian diplomat and a member of the national parliament—will focus on "Russia's use of [its] arsenal of instruments in the field of hybrid warfare," according to Romania's IPN News Agency. The assistance was approved by NATO defense ministers who met this week in Brussels.
The "package of collaboration," Geoana said, would focus on "non-lethal assistance" including support in fortifying Moldovan resilience, communications and combating misinformation.
Sandu and the Moldovan government, the NATO official added, had already made separate NATO-facilitated requests for military assistance, which have been answered by the U.K. and Germany.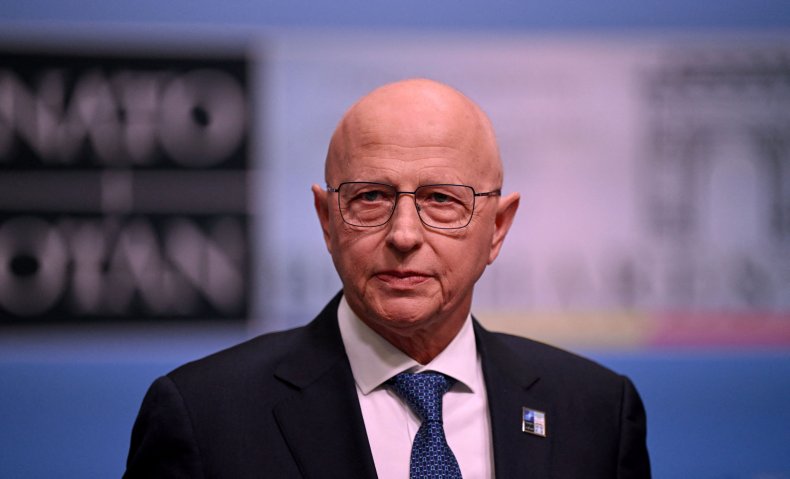 Earlier this month, Geoana met with Moldova's then-Prime Minister Natalia Gavrilita at NATO's headquarters in Brussels, "underscoring NATO's commitment" to the country, according to an alliance readout. At the NATO summit in Madrid last year, the allies agreed to "step up their support" to Chisinau to help "strengthen its resilience and civil preparedness," the statement said.
Moldova, a small former Soviet nation of 2.6 million people wedged between Ukraine and Romania, is emerging as a key battlefield in the West's growing conflict with Moscow.
While Chisinau looks increasingly towards the West, the Russian-aligned breakaway state of Transnistria—officially the Pridnestrovian Moldavian Republic—means Moscow's influence, and its estimated 1,500 soldiers in the disputed territory, pose a constant threat.
Transnistria also borders Ukraine, though the Russian forces there are yet to join the country's full-scale invasion of its neighbor. Observers have suggested that Moscow might use Transnistria to open a new front against Kyiv, or at least distract and pin down Ukrainian forces in the west of the country.
On Monday, Sandu said Moldovan authorities had confirmed what she said was a Russian plot—first identified by Ukrainian intelligence—to overthrow the government. Ukrainian President Volodymyr Zelensky described the operation as "a detailed Russian plan to undermine the political situation in Moldova."
Sandu said the alleged Kremlin plan involved Russian, Belarusian, Montenegrin and Serbian citizens, who intended to enter Moldova and stoke violent protests to "change the legitimate government to an illegal government controlled by the Russian Federation."
"The purpose of these actions is to overturn the constitutional order, to change the legitimate power from Chisinau to an illegitimate one that would put our country at Russia's disposal to stop the European integration process, but also so that Moldova can be used by Russia in its war against Ukraine," Sandu said.
Sandu's announcement came only days after Gavrilita resigned, citing "many crises caused by Russian aggression in Ukraine."
National Security Council spokesperson John Kirby said Sandu's allegations were "deeply concerning," adding: "We absolutely stand with the Moldovan government and Moldovan people. We haven't seen independent confirmation, but it's certainly a page right out of Putin's playbook."
Russia has denied the charges, its foreign ministry decrying what it called "completely unfounded and unsubstantiated" claims and blaming Kyiv for stoking anti-Russian sentiment in Moldova.