Russian Coup Could Give Putin Advantages He Desperately Needs
Maia Sandu, president of Moldova, on Monday, accused Russian President Vladimir Putin of plotting a coup to overthrow her country's government.
Though Russian foreign ministry spokeswoman Maria Zakharova later called Sandu's claims "completely unfounded and unsubstantiated," there is still belief among some Western observers that Putin could try to take advantage of the current instability Moldova is experiencing following the resignation of the country's prime minister on Friday.
As his military continues to not establish authority on the battlefield against Ukrainian Volodymyr Zelensky's forces, Putin could possibly stand to benefit in various ways from destabilizing Moldova's government, especially in regards to Ukraine.
"I don't think that Putin is aiming just to destabilize Moldova, but to install a pro-Russian regime there," Mark N. Katz, a professor at George Mason University's Schar School of Policy and Government, told Newsweek.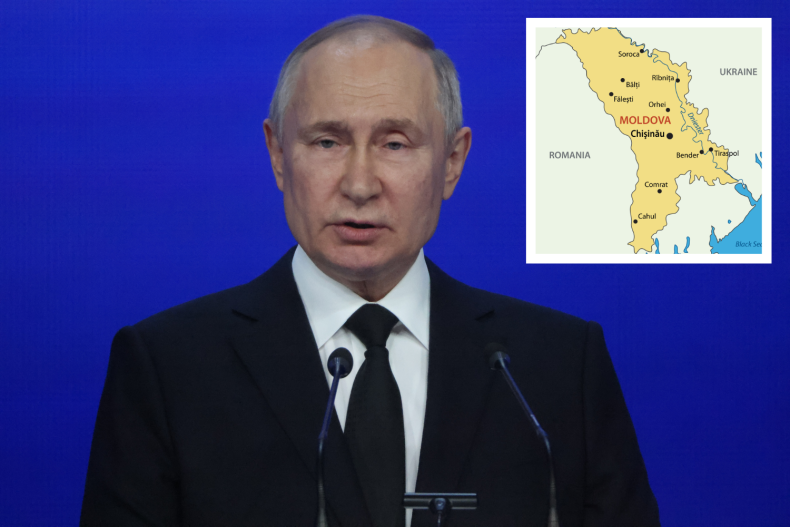 The White House is among those monitoring the situation regarding Russia and Moldova. National Security Council spokesman John Kirby on Monday said that while the U.S. doesn't have independent confirmation of any coup efforts, "it's certainly a page right out of Putin's playbook."
In line with Kirby's comments, Sandu's accusations aren't the first time a country has claimed Russia was involved in coup d'état efforts while Putin has been in power. In 2016, Montenegro alleged Russian intelligence tried to intervene in the country's parliament elections, a charge that Russia denied.
A coup in Moldova could bring benefits for Putin that Montenegro would not. Moldova borders Ukraine, and Sandu—as well as outgoing Prime Minister Natalia Gavrilita—are key allies of Zelensky.
Then there's the fact that Moldova was granted European Union candidate status in June 2022. William Reno, professor and chair of the political science department at Northwestern University, told Newsweek that if Russia is interfering in Moldova, it could be partially because Putin wants to keep the nation out of the EU and NATO.
Reno said "interference is easy" for Russia in Moldova because a pro-Russian separatist government already occupies part of the Moldovan breakaway region of Transnistria.
"Russian soldiers of the 14th Army have been stationed in that territory since the early 1990s," Reno said. "Their presence acts as a check against Moldova's elected government, as EU and NATO membership aren't possible with that Russian presence."
David Silbey, an associate professor of history at Cornell and director of teaching and learning at Cornell in Washington, told Newsweek that Russia meddling with Moldova's government could give them a military edge by allowing Putin "to put heavy naval forces in Transnistria without Moldovan interference, thus threatening Ukraine's access to the Black Sea at Odessa."
"On the logistics side, there's a least one major train line running through Moldova into Ukraine, so undercutting Moldova might sever that supply link," Silbey added.
While a Kremlin-friendly government in Moldova would certainly open doors for Putin in terms of his plans for the war, he would still face some hurdles, according to Katz.
"I'm not sure how easy it would be for Russia to get large numbers of Russian men and material into Moldova even if a pro-Russian government came to power there," Katz said. "Nor am I certain that even a pro-Russian government in Moldova would be eager to join Moscow's war effort against Ukraine."
Nonetheless, Reno said that if Russia even just instilled a sense of chaos around Moldova's government, Ukraine could be negatively impacted.
"Governments in less-committed NATO partners might look at the situation in Moldova and conclude it's not worth the costs of supporting Ukraine's war effort and that they should pressure Ukraine to negotiate on terms more preferential to Russia," he said.
Newsweek reached out to Russia's ministry of foreign affairs for comment.