Why Are So Many Russian Soldiers Dying?
Russia's forces are losing more troops than at any point in their invasion of Ukraine, according to Kyiv. One expert told Newsweek that Moscow is throwing ill-trained soldiers to progress in the Donbas region "at any cost."
The Ukrainian armed forces said on Saturday that, over the previous day, 1,140 Russian troops had died in what was the highest toll since the war started on February 24, 2022. The previous record was only four days earlier, when Ukraine said on Tuesday that 1,030 Russian troops had died.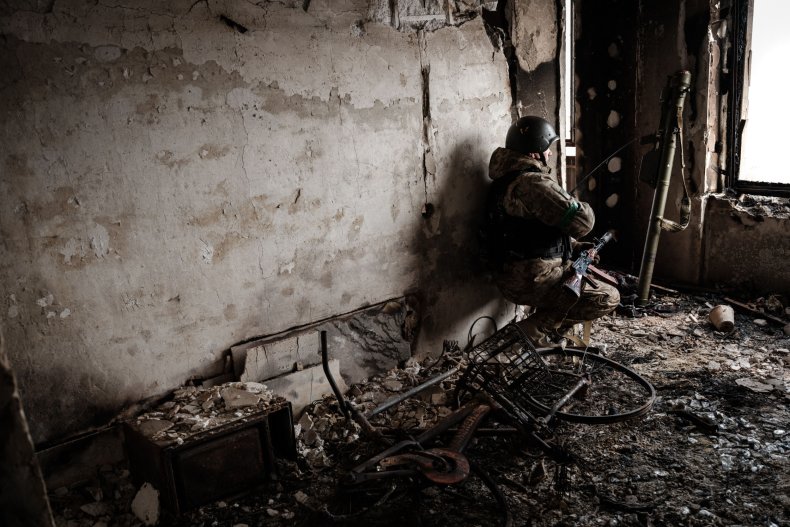 Monday's figure was lower at 560, taking Ukraine's estimate of troop losses over the war so far to 138,340. But British defense officials said over the weekend that so far in February, an average of 824 Russian soldiers were dying per day—the highest rate since the start of Vladimir Putin's invasion.
The U.K. Ministry of Defense put the increase in Russian casualties down to factors such as a lack of "trained personnel, coordination, and resources across the front." This was "exemplified in Vuhledar and Bakhmut," referring to the cities in the Donetsk oblast where fierce fighting is ongoing.
Gauging Russian losses is tricky, and Ukraine's tally is higher than other Western estimates, although British Ministry of Defense said that Kyiv's figures are "likely accurate." The Russian defense ministry, which Newsweek has contacted for comment, has not updated its toll since the end of September of just under 6,000.
Dionis Cenusa, a risk analyst from the Eastern Europe Studies Center, told Newsweek that the high death toll had two main explanations. "On the one hand, Russia is not valuing the lives of newly recruited soldiers who continue to be used as 'cannon fodder.'"
He said that the Kremlin was also giving orders to less well-trained recruits "without much reading of the military environment on the ground—to resume the offensive in Donbas and try to advance at any cost."
"The number of casualties among the Russian forces could be rising, when the Ukrainian army gets the new military equipment in the coming weeks," he added.
Thomas O'Donnell, a geopolitical analyst and global fellow with the Wilson Center thinktank, told Newsweek from Berlin that it was significant that the increased death toll coincided with a change in Russia's war strategy, which comes as troops are mobilized.
"It seems like Putin is hunkering down for a long war and is demonstrating that he is willing to take casualties on a vast scale to compensate for the advanced weaponry that the West can supply and the better tactics and command that Ukraine can supply," O'Donnell said.
In the absence of a decisive strategy in Ukraine, Putin is counting on pushing for a longer war to increase pressure on the West's resolve in its support for Kyiv. This may waver if economies and energy supplies are impacted. O'Donnell said that Putin's calculus was "about showing 'I can take these casualties.'"
After withdrawing from the southern city of Kherson in November, Russian forces have made little progress. They captured the town of Soledar, north of Bakhmut, and Putin's troops could push towards the bigger cities of Kramatorsk and Slovyansk.
"Maybe he's going to try something big. It might be a large-scale pincer movement to try to grab the entire East. If he could stretch the Ukrainians thin enough, their ammunition and so forth, you know, he could make a lot of trouble," O'Donnell said. "But, in the long run, he would just continue grinding away."