Russia Denies Plan to Destroy Moldova Amid Putin Coup Fears
Moscow has dismissed claims it was planing to overthrow the government of Moldova and blamed reports of a coup plot on the United States and Ukraine.
Moldovan President Maia Sandu said that Russia was seeking to violently oust her country's pro-European leadership with the help of people posing as anti-government protesters. U.S. National Security Council spokesman John Kirby described the accusations as "deeply concerning."
There have been fears about what Vladimir Putin might do in Moldova since his invasion of neighboring Ukraine began on February 24, 2022, given the presence of Russian troops in Moldova's breakaway region of Transnistria.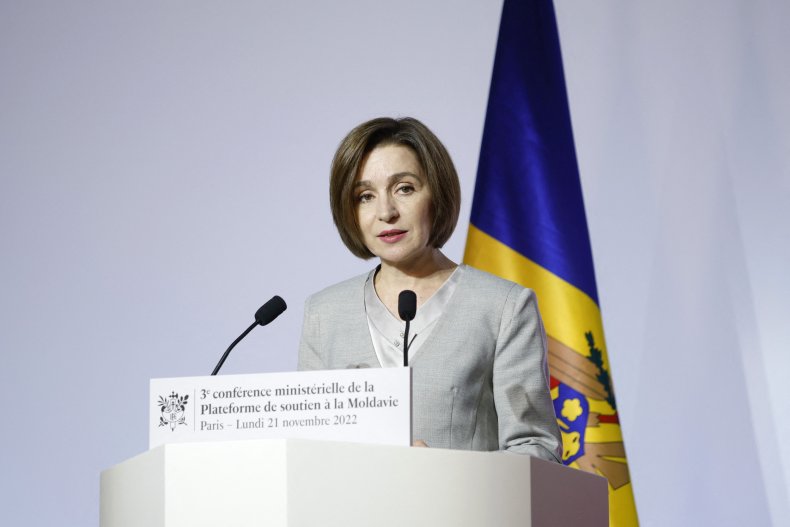 Sandu told journalists on Monday that "saboteurs" dressed in civilian clothes would attack state institutions, take hostages and "overthrow the constitutional order and replace the legitimate power of Chisinau with an illegitimate one."
Moscow was planning to use citizens of Russia, Belarus, Serbia and Montenegro to implement its plans, Sandu said, although she insisted that the "Kremlin's attempts to bring violence to our country will fail."
She made the accusations after Ukrainian President Volodymyr Zelensky told European leaders last week that Kyiv had intercepted a Russian intelligence plan "for the destruction of Moldova."
But Russian foreign ministry spokeswoman Maria Zakharova said the claims were "completely unfounded and unsubstantiated" and based on the "classical techniques often used by the United States, other Western countries and Ukraine."
Zakharova's statement said Kyiv has launched "disinformation" about the coup plot to bring Chisinau "into a tough confrontation with Russia." She added that Sandu's accusations were a ploy to divert attention away from her country's internal problems and "to strengthen the fight against dissent and political opponents."
"Russia does not pose a threat to the security of the Republic of Moldova," her statement added.
Newsweek has contacted the Moldovan foreign ministry for comment.
Already facing high inflation as well as an energy crisis after Russia reduced supplies, Moldova is in political turmoil after its prime minister, Natalia Gavrilita, resigned on Friday.
This came soon after confirmation that a Russian missile had entered the country's airspace. Her resignation prompted the collapse of Moldova's government, which is pro-Western and allied with its neighbor Ukraine.
In 2022 Moldova received EU candidate status but has faced anti-government protests organized by the oligarch Ilan Shor, who reportedly has close links to Moscow.
Putin is accused of weaponizing energy against the pro-EU government in Chisinau and Moldovans have endured blackouts throughout the winter with household energy tariffs soaring.