Putin Will Be 'In Panic' Over Joe Biden's Kyiv Trip, Ukrainian MP Says
Ukrainian officials and lawmakers have been buoyed by President Joe Biden's surprise visit to Kyiv, interpreting the trip as a sign of American commitment to Ukrainian victory and Russian defeat, despite continued offensives and threats of escalation from Moscow.
Biden met with President Volodymyr Zelensky and other Ukrainian officials in the capital on Monday, as air raid sirens sounded across the country in fear of Russian cruise missile attacks. Biden said on Twitter that his visit was intended to "reaffirm our unwavering commitment to Ukraine's democracy, sovereignty, and territorial integrity."
"When [Russian President Vladimir] Putin launched his invasion nearly one year ago, he thought Ukraine was weak and the West was divided," the president wrote. "He thought he could outlast us. But he was dead wrong."
Oleksandr Merezhko, a member of the Ukrainian parliament representing President Volodymyr Zelensky's Servant of the People party, told Newsweek the "historic visit" indicated that Ukraine's victory was a "top" priority for the White House.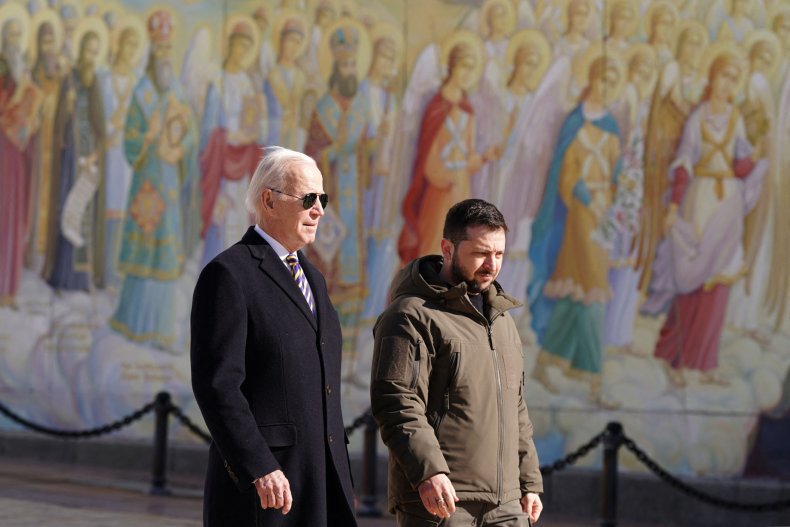 "I'm sure that after this visit, Putin is in panic," said Merezhko, who is also the chair of the Ukrainian parliament's foreign affairs committee. "He understands that he has already lost and that the U.S. firmly believes in Ukraine and its victory."
"I'm sure that this historic visit by [an] American president has made our victory closer," Merezhko said. "It gave a huge boost of energy and optimism in Ukraine."
Other Ukrainian parliamentarians were similarly enthused. Kira Rudik, the leader of the liberal Golos party, wrote on Twitter that Monday "will go down in history... This is a powerful signal of support for Ukraine and confidence in our victory."
Oleksiy Goncharenko, a member of the European Solidarity party, concurred. "Biden's visit to Kyiv is a clear sign of the strong support for Ukraine from the U.S," he tweeted. "It is a powerful message that Ukraine will continue to fight for its independence and sovereignty, and that it will ultimately win."
Biden, and other Western leaders as well, has marked this week's one-year anniversary of Russia's full-scale invasion with public commitments to Ukrainian victory and the approval of new military aid packages.
While in Kyiv, Biden said the U.S. would send another $500 million in military aid to Ukraine, including artillery ammunition, anti-armor systems and air surveillance radars.
Andriy Zagorodnyuk, who served as Ukraine's defense minister from August 2019 to March 2020, told Newsweek that recent Western interventions carried a clear message.
"Russia is playing the resources game with Ukraine," Zagorodnyuk explained, describing Moscow's strategy as "a combination of the offensives and the war of attrition."
"All the messages we hear from European leaders and Biden today, they all are messages saying the Russian plan is going to fail," Zagorodnyuk said. "They're trying to say that Russia's game of resources is wrong, because Western resources are not only going to be available for a very short time span."
Top Russian officials have yet to comment on Biden's visit. The White House said that "basic communication with the Russians occurred to ensure deconfliction," according to the Associated Press.
Oleg Ignatov, think tank Crisis Group's senior analyst for Russia, told Newsweek the Kremlin may look to leverage Biden's visit to reinforce its wartime propaganda. "I think they will use this to repeat the line that this is a conflict between Russia and the West, not between Russia and Ukraine," he said. "That's the favored message."
Putin is due to deliver his annual state-of-the-union address on Tuesday, with the war on Ukraine likely to dominate. Biden's visit—while significant—is unlikely to have much shifted the Kremlin's outlook, Ignatov said. "I don't expect that he would have to rewrite anything because of Biden's visit," he explained.
"For Zelensky, for Ukraine, it's very important because it shows that Russia's plans for Ukraine are failing," Ignatov said. "It's a very important signal for Ukraine, and for Russia."
Newsweek has contacted the Russian Foreign Ministry to request comment.