Pentagon Predicts More Casualties for 'Ill-Trained' Russian Army
America's top defense officials have predicted high casualties for Russian forces going on the offensive in Ukraine, suggesting the ill-equipped and poorly trained conscripts will fail to break Ukraine's defense of devastated battlefields in the east of the country.
Speaking after this week's meeting of NATO defense ministers in Brussels, Belgium on Wednesday, Defense Secretary Lloyd Austin told reporters that Ukraine has a "good chance" of success in the spring if it can defeat the nascent Russian offensive that is spooling up along the eastern and southeastern fronts.
Russia, Austin said, "continues to pour large numbers of additional people into the fight. And those people are ill-trained and ill-equipped, and because of that, we see them incurring a lot of casualties. And we'll probably continue to see that going forward. That's their strength. They have a lot of people."
"Our aim is to make sure we provide additional capabilities to Ukraine," Austin said of the U.S. and its NATO allies, whose representatives this week met with Ukrainian Defense Minister Oleksii Reznikov and underscored their continued support for Kyiv.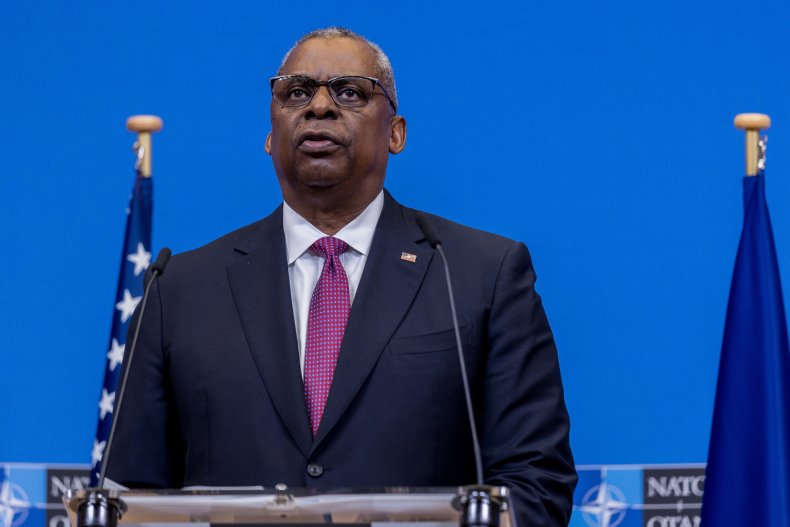 The U.S. is leading the allied effort to bolster Kyiv against Russia's offensive and prepare Ukrainian units for their next push in the spring. "I think they'll have a real good chance of making a pretty significant difference on the battlefield and establishing the initiative, and being able to exploit that initiative going forward," Austin said of Kyiv's planned offensive.
On Tuesday, Austin and Chairman of the Joint Chiefs of Staff Gen. Mark Milley told journalists that Moscow's troops are incurring heavy casualties in their grinding offensive around the eastern city of Bakhmut in Donetsk Oblast, which, has been among the hottest parts of the war front for months.
"What we've seen over the last several months is a contested battlefield, we see a lot of activity in the Bakhmut area, which is where Russia is focusing most of its effort," Austin said. "We see Russia introducing a number of new troops to the battlefield. Many of those troops are ill-trained and ill-equipped. And so their casualty rate has been really high."
"What Ukraine wants to do...at the first possible moment is to establish or create momentum and establish conditions on the battlefield that continue to be in its favor," the defense secretary said. "And so we expect to see them conduct an offensive sometime in the spring."
Milley delivered a scathing assessment of Russia's performance. "In short, Russia has lost," he said. "They've lost strategically, operationally, and tactically. And they are paying an enormous price on the battlefield."
"For Ukraine, this is not a war of aggression. It is a war of defense. For Russia, it is a war of aggression. The Russian military is paying tremendous costs in their war of aggression. And now they have resorted to sending conscripts and prisoners to imminent death."
Russia's "very costly war of attrition," Milley added, has failed to significantly shift the front lines. "It's relatively stable," he said. "Most of the dynamic movement back and forth is...generally in the vicinity of Bakhmut. The Ukrainians are holding. They're fighting the defense."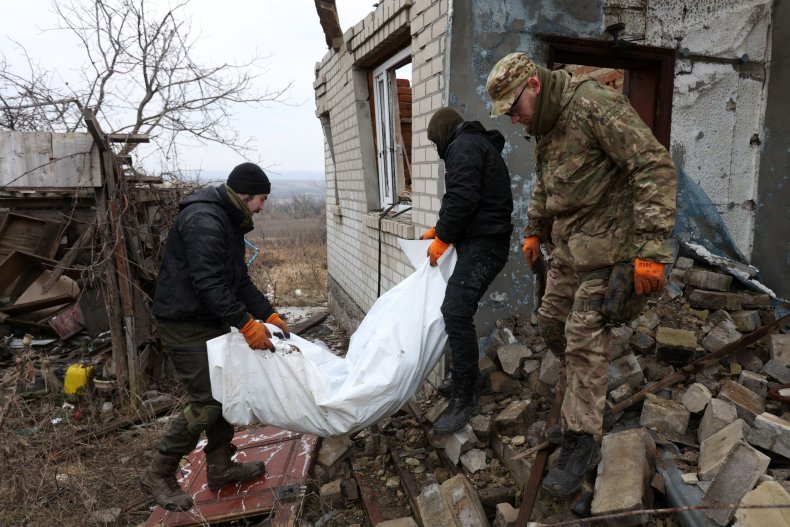 He added: "The Russians, primarily the Wagner Group are attacking, but there's—what I would describe it as—a very significant grinding battle of attrition with very high casualties, especially on the Russian side. There's no fancy arts of maneuver going on here. This is frontal attacks, wave attacks, lots of artillery with extremely high levels of casualties in that particular area.
"How long that will last is difficult to say, actually. It's been going on for weeks, and I think it'll continue to go on until either the Russians culminate—I don't think the Ukrainians will just collapse or fold; I think they're going to continue to fight. So that's a battle that we're paying attention to very, very closely and making sure that the Ukrainians have the capability to continue to defend."