Russian Forces Attacking 'In Waves' as Spring Offensive Gets Underway
Russian forces are attacking in waves with air support in eastern Ukraine as Moscow's long-anticipated spring offensive appears to be getting underway, according to a Ukrainian official.
"The Russians attack in 'waves' with the support of aviation," Serhiy Haidai, the governor of the eastern Donbas' Luhansk region, posted on Telegram on Wednesday, noting that the Luhansk settlement of Belogorivka was one area where the Russians were attacking.
On Tuesday, the Institute for the Study of War think tank said it maintained its assessment that Russia's most likely cause of action was to launch "an imminent offensive effort" in the contested Luhansk region.
In an operational update on Wednesday, Ukraine's General Staff of the Armed Forces said Russia's goal was still to assert control over the Luhansk and Donetsk regions.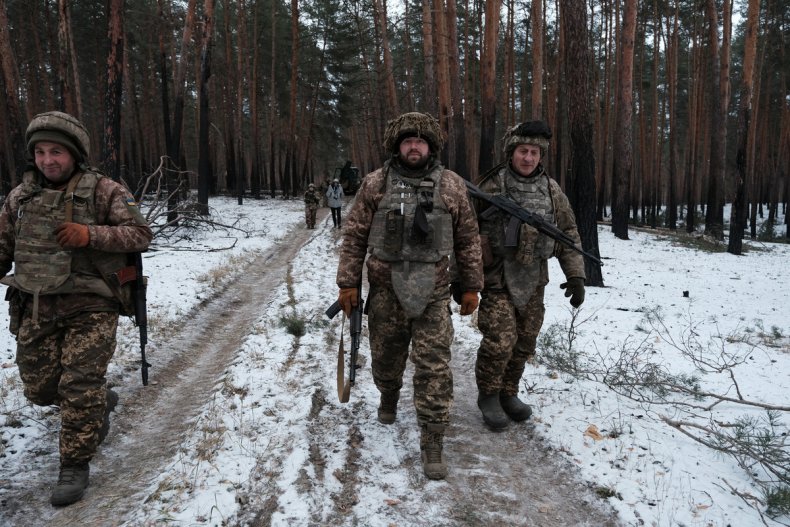 "Over the past 24 hours, units of the Defense Forces have repelled attacks of occupiers in the areas of more than 20 settlements," the General Staff wrote on Facebook, listing Belogorivka and the Luhansk city of Kreminna among the locations where Russian attacks had been repulsed.
On Wednesday, Ukrainian President Volodymyr Zelensky's office also said Ukraine had fended off attacks in eastern parts of Luhansk. But the "situation in the region remains difficult," the president's office added, according to Reuters.
But Russia's Defense Ministry said on Wednesday that Russian forces had pushed back Ukrainian lines in Luhansk. Writing on Telegram, Moscow said Kyiv's forces had "retreated to a distance of up to 3 kilometers [two miles] from the previously occupied lines."
Russian troops had broken through a second line of Ukrainian defense in Luhansk, the ministry added. It did not specify which part of Luhansk this report referred to. In Wednesday's post, Haidai said reports from Russian sources do "not correspond to reality."
On Tuesday, Haidai said Ukrainian forces were expecting "massive attacks" in Luhansk, and had warned on February 6 that an "enemy offensive can begin at any time after February 15."
Speaking to British broadcaster BBC's Radio 4 program on Wednesday, the deputy director-general of the Royal United Services Institute think tank in London said neither Moscow nor Kyiv currently have an advantage over the other.
Russian advances do not "look anything like the large-scale capture of Ukrainian territory which we saw in the initial phases of the invasion," according to Professor Malcolm Chalmers.
The British defense secretary, Ben Wallace, said on Monday that Russia has not been able to muster a single force "to punch through" Ukrainian defenses.
He told the same program that British military intelligence estimates that 97 percent of the Russian army has been deployed in Ukraine.
On Tuesday, the U.K.'s defense ministry said in its daily update that Russian forces "are making continuous offensive efforts" in the Kreminna-Svatove area of Luhansk.
But "each local attack remains on too small a scale to achieve a significant breakthrough," the government department said.