Russia Faces Crucial Decision That Could Decide Putin's Future
Russia is facing a crucial decision that could determine the fate of President Vladimir Putin as the Ukraine war approaches its one-year mark.
Putin is facing a "central dilemma" as his military, which for months has struggled to make progress against Ukraine, appears to be building up fortifications in the Zaporizhzhia oblast, according to the British Ministry of Defense. Moscow must decide whether to prioritize preventing a Ukrainian breakthrough in the region or mitigating their successes in Luhansk, which plays a central role in Putin's justification for the war, as it is among two oblasts that make up the Donbas.
Putin has said he launched the Ukraine "special military operation" to "liberate" the Donbas, but his military has become more concerned with guarding "the extremities of its extended front line" in Zaporizhzhia, home to Europe's largest nuclear power plant, according to the British defense ministry.
Whichever region Putin decides to prioritize could determine his fate as president of Russia, Matthew Schmidt, director of international affairs at the University of New Haven and senior consultant to Blue Ink Global, told Newsweek.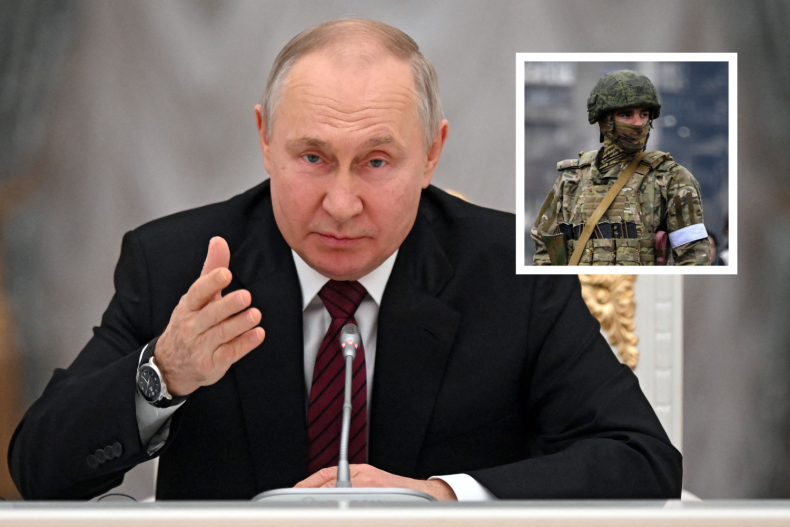 Schmidt explained that whether Russia prioritizes Luhansk or Zaporizhzhia depends on "what their own strategic plan is in response."
"I suspect that they would prioritize trying to defend Donetsk and Luhansk and the southern routes toward Crimea," he said. "They need to defend Donetsk and Luhansk because that's the reason for the war, in their minds, so the symbolic value is extraordinary."
Not focusing efforts on areas that lead to Crimea could potentially backfire on Putin, who annexed the Black Sea peninsula in 2014. The peninsula serves a strategic purpose, as it is home to the port city of Sevastopol. Claiming Crimea has also been a landmark of Putin's presidency.
"Risking Crimea is really, I think, a point where Putin risks his presidency because he stood on the bridge and opened it," Schmidt said. "He has used Crimea as a staple in his speeches justifying the war."
Furthermore, if Putin makes the wrong call, it could be the "largest strategic failure" of the war, and the backlash could be too significant for him to absorb, Schmidt said. Nearly a year into the war, Putin has been able to evade domestic blame for military failures, but information about a Ukrainian breakthrough in either region getting back to the public could be "devastating" for his leadership.
"The question is whether a failure this large would be impossible to shift, and whether Putin would have to accept blame on himself," Schmidt said. "I believe that it would be too large for him to escape blame for the loss, and it would be the first time that we really see him have to accept blame for military failure."
Schmidt pointed to Russian military bloggers, who have raised concerns about Russia's strategy, as potentially spreading information about the war to the public, adding pressure on Putin to either step down or change his strategy. Still, Schmidt said, it's impossible to know what would exactly happen in this scenario.
Newsweek has reached out to Russia's Ministry of Defense for comment.