Putin Faces 'Central Dilemma' as Russia Bolsters Defenses: UK
Russian President Vladimir Putin faces a "central dilemma" as his military bolsters its defenses in southern Ukraine ahead of the war's one-year mark, according to British intelligence.
Putin launched the Ukraine "special military operation" on February 24, 2022, aiming for a quick victory. But Kyiv responded with a spirited defense effort, blunting military gains. After nearly a year of combat, Ukraine has retaken control of formerly occupied areas in the southeastern part of the country as Putin's military continues to struggle to achieve substantial goals.
Putin now faces a "dilemma," according to the British Ministry of Defense's daily intelligence update.
Russia is facing potential Ukrainian gains in several key areas of southeastern Ukraine, including Zaporizhzhia and the Donbas—the region Putin claimed to want to "liberate" through the invasion, British intelligence reported. Russian military leaders must determine which potential threat to focus on blocking as it seeks to regain momentum in the war.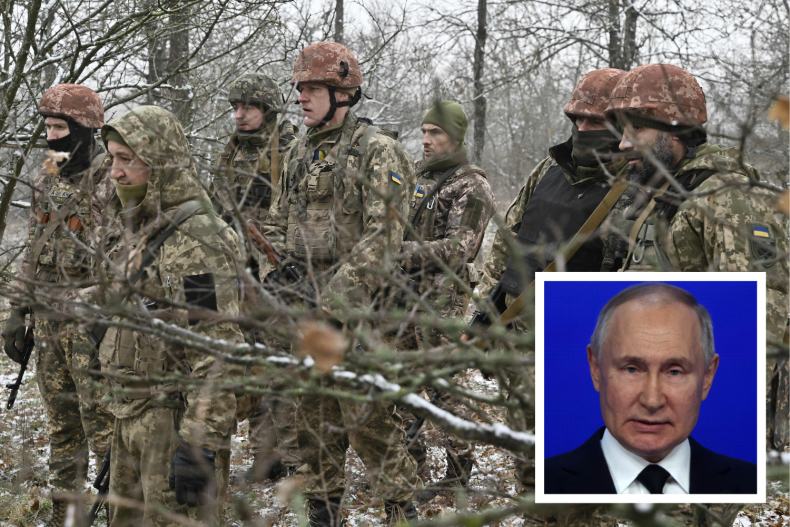 "A major Ukrainian breakthrough in Zaporizhzhia would seriously challenge the viability of Russia's 'land bridge' linking Russia's Rostov region and Crimea," the ministry wrote. "Ukrainian success in Luhansk would further undermine Russia's professed war aim of 'liberating' the Donbas."
The ministry said that deciding how to prioritize the threats "is likely one of the central dilemmas for Russian operational planners" at this point in the war.
The Russian dilemma comes as the Kremlin appears to be aiming to strengthen its positioning in the central region of Zaporizhzhia, according to the British ministry. Intelligence gathered last week found that Russia "likely further bolstered" defense fortifications in the central Zaporizhzhia area near the towns of Tarasivka, Vasilyvka and Orikhiv.
However, even as Russia focuses its efforts on that region, which is home to Europe's largest nuclear power plant that was a key site of fighting earlier in the war, Russia remains concerned about its standing on the frontline.
"This is demonstrated by continued construction of defensive fortifications in Zaporizhzhia and Luhansk oblasts and deployments of personnel," the post reads.
As Russia focuses on preventing Ukrainian military gains, it appears to lack the military resources to launch a major offensive, military analysts have said.
Andriy Chernyak, a representative of the Main Intelligence Directorate of the Ukrainian Defense Ministry, told the Kyiv Post last week that Russia lacks the precision weapons to launch a new offensive.
Still, NATO Secretary General Jens Stoltenberg said last month that he believes Russia plans to mobilize more than 200,000 troops in an offensive around the war's one-year mark. He said that despite growing losses and a high number of troop deaths, Putin "retains his maximalist goals in Ukraine."
Ukrainian President Volodymyr Zelensky said during a Fox News interview this month that he believes Russia has already begun the new offensive, even if only partially. The Institute for the Study of War noted that Russia has "slowly" started a push in Luhansk that will "get nastier for the Ukrainians ever day."
Newsweek reached out to Russia's Ministry of Defense for comment.