Russia Too Depleted for Big Offensive on War Anniversary: Ukraine Official
A senior military intelligence official said Russia does not have the military resources to launch a major offensive tied to the one-year anniversary of the start of the war.
Andriy Chernyak, a representative of the Main Intelligence Directorate of the Ukrainian Defense Ministry, made the assertion about Russian Vladimir Putin's military suffering from a major lack of weapons in a story published Friday in the Kyiv Post.
Chernyak's position that a large offensive will not occur in the coming days runs counter to another recent public assessment from a prominent Ukrainian official. Last weekend, Ukrainian Defense Minister Oleksiy Reznikov said Russia will likely use the symbolism of the one-year anniversary of the invasion to begin another massive attack. Reznikov indicated the offensive would begin on or near the February 24 anniversary.
Last month, NATO Secretary General Jens Stoltenberg said Russia plans to mobilize more than 200,000 troops in a large offensive in the coming weeks.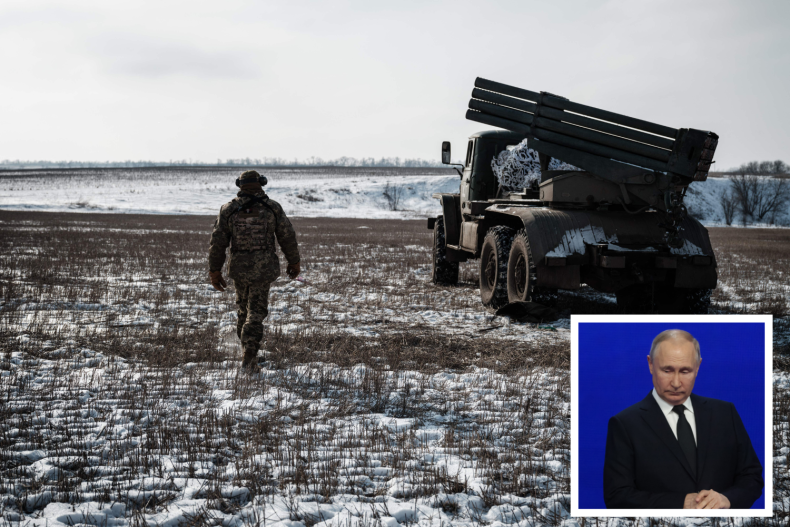 Chernyak allowed that Russia was likely planning some form of assault in the coming weeks and that Putin's troops are "trying to find weaknesses" in Ukraine's defense.
"However, according to our information, Russian command does not have enough resources for large-scale offensive actions," Chernyak said, according to the Kyiv Post. "Russia is facing a lack of precision weapons, and despite that, it will continue to use missile terror against civilians in Ukraine."
He also said that Putin's military has already used more than 80 percent of its precision-guided missiles, which Russia has not been able to replace.
"They are trying to resume their production, but so far, they have not succeeded," Chernyack said.
"While information is spreading about a large-scale Russian offensive planned for February 24, Ukraine's military intelligence reported that Russia has already launched a full-scale offensive on February 24 last year, which is still ongoing," Chernyak added.
Chernyak said Russia seems to be focused on making incremental advances.
"The main goal of Russian troops remains to achieve at least some tactical success in eastern Ukraine," he said.
William Reno, professor and chair of the political science department at Northwestern University, told Newsweek he agrees with Chernyak's assessment.
"My view is that Russia already has begun a phased offensive, but that it lacks the capacity to make significant progress, and Ukrainian defensive positions are well established," Reno said. "Even if they're pushed out of Bakhmut, it will be hard for Russian forces to make significant advances."
On Wednesday, an assessment from the Institute for the Study of War think tank in Washington, D.C., agreed, writing that "conventional Russian troops are attacking Ukrainian defensive lines and making marginal advances along the Kharkiv-Luhansk Oblast border."
Chernyak also told the Kyiv Post: "An attack on Kyiv from Belarus is also unlikely in the coming weeks," he said.
Newsweek reached out to Ukraine's Ministry of Foreign Affairs for comment.