Putin's Biggest Threat Could Come From Within Russia
Russian President Vladimir Putin has faced a humiliating loss of territory and troops in his war on Ukraine, but could that lead to a loss of power?
Ukrainian intelligence chief Andriy Chernyak seems to think so, saying this week a popular uprising would emerge from the streets, fueled by Russians seeing "hundreds of thousands" of their sons, brothers and fathers killed.
"When the street rises, then representatives of the ruling 'top' will join the riot," he told RBK-Ukraine, according to a translation. Figures close to Putin are biding their time until anger among the population reaches critical mass, Chernyak said.
But Kremlinology is fraught with guesswork. Analysts have been keen to spot fractures among those most closely associated with the war, but these do not yet point to any move against Putin's leadership and whether a potential overthrow could come from the top or down below.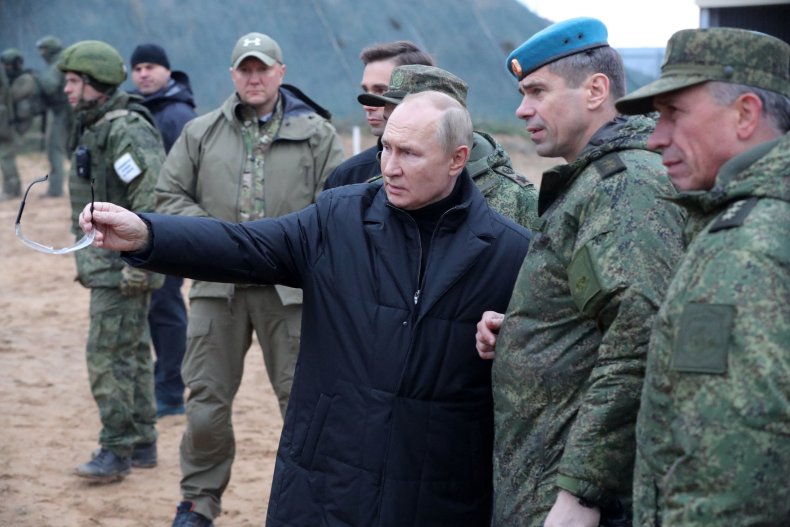 Putin 'Creating this Collapse'
Konstantin Sonin, a Russian-born political economist at the University of Chicago's Harris School of Public Policy, told Newsweek the last seismic shift of power in Moscow—the collapse of the Soviet Union in 1991—"was not brought down by any kind of clandestine organization, in fact by any kind of organization."
He continued: "It sort of collapsed. By the time there was a military putsch and people came out into the street against the military, against tanks in Moscow, it collapsed like it had never existed.
"I hope that there might be a revolution in which there will be no revolutionary party—or vanguard clandestinely bringing arms and preparing troops—but just that it collapses on its own.
"It looks like Putin is just participating in creating this collapse," said Sonin, who was set to return to Russia this year for a sabbatical but came back to the U.S. soon after the war started.
Although details about their role or motives are unclear, five Russians were among the eight people arrested in connection with this month's sabotage of Crimea's Kerch Bridge. For Ukrainians, the bridge, which connects Russia to Crimea, is a hated symbol of Moscow's occupation of the Crimean Peninsula, which it annexed in 2014.
Torched military recruitment centers across Russia were among the first tangible signs of discontent over the invasion of Ukraine or at least the prospect of having to fight in it. This was also seen in nationwide protests in response to Putin's partial mobilization of military reservists last month.
"That's a very clear indication that there is a certain part of the population that recognizes that there are no more political tools in which they can take part in," said Ilya Ponomarev, the only Russian lawmaker to vote against the annexation of Crimea.
"The greatest threat right now to Putin is a military defeat in Ukraine," he told Newsweek from Kyiv, where he is in exile. "But obviously those who would actually do that eventually would actually do the change. Obviously, that's within Russia."
A New Russian Revolution?
Ponomarev, the author of Does Putin Have to Die? The Story of How Russia Becomes a Democracy After Losing to Ukraine, said he believes that the president has set the scene for a "new Russian revolution" and that change will come from armed and violent protest.
"I don't believe in any sort of stand-alone coup within the Russian leadership. I also don't believe in a stand-alone uprising," he said.
A successful revolution, in Ponomarev's view, needs to be supported "by certain parts of the elites. That's why I think it would be a bidirectional movement. We need to work on both to facilitate the change of the regime in Russia."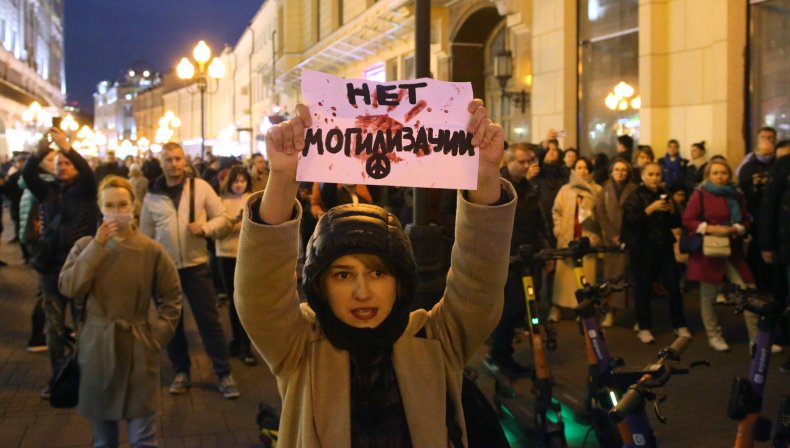 He said Putin opponents are working on different strategies. Jailed opposition leader Alexei Navalny's movement is "incapacitated" now but would play "a very important role after the change." Exiled oligarch Mikhail Khodorkovsky is working on splitting members of the elite, while Ponomarev himself is working on ground-up revolutionary activities.
"I'm doing everything possible to create armed opposition, both inside Russia and outside Russia in Ukraine, which are fighting right now on the front lines," he said.
This year, he publicized the National Republican Army guerrilla group, which claimed responsibility for the car bomb assassination of Darya Dugina, the daughter of far-right ideologue and Putin ally Aleksandr Dugin, in August.
As reported by Newsweek, there are other resistance cells to Putin, such as a group called Stop the Trains, which sabotages the transportation of military vehicles on railway networks, and BOAK, a self-described anarcho-communist combat organization.
Ponomarev takes his historical cues not from the Soviet Union's collapse but from the seismic changes that ended imperial Russia more than a century ago. "I think this will be very much like after the February Revolution of 1917," he said.
"I think right now we're already in the situation of 1916, when there is major disappointment within society, very much fueled after they declared mobilization," said Ponomarev.
Putin's mobilization order, which aimed to boost dwindling troop numbers by 300,000, has been among the pet peeves of pro-Kremlin military bloggers. Away from the strictly controlled state TV environment, they wield considerable influence by telling their millions of followers on Telegram about the humiliating Russian retreats on the battlefield.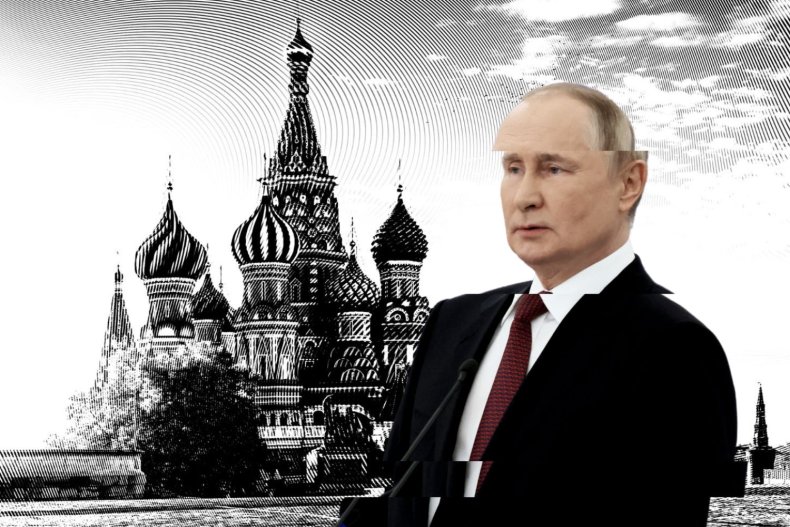 Has Putin Lost Control?
However, Domitilla Sagramoso, a senior lecturer in security and development at King's College London, told Newsweek she does not believe that growing public unhappiness about the mobilization can morph into a force capable of overthrowing Putin.
"It creates discontent, but it doesn't mean that that discontent translates into a change of the regime and the toppling of the regime," she said. "That is the link that is missing, because Putin has effective and so far loyal security structures."
Although the mobilization "certainly hasn't won him many favors among the public," Sagramoso said that does not mean Putin has lost control domestically, especially with the dismantling of networks of those who oppose him.
"I don't see how some kind of uprising could lead to a change of government or that we could expect some kind of Russian spring," she said.
That would put the onus on those in Russia's elite to effect change. Chechen leader Ramzan Kadyrov and Yevgeny Prigozhin, a Russian businessman and Putin ally, have been critical of the war effort and are among those in competing factions in Russia that Putin is unlikely to keep happy, according to the Institute for the Study of War.
Sagramoso said that those in Putin's circle "might be speculating, 'Let's hope that Russia either wins this war or at least ensures a cease-fire that secures control of the annexed territories.'" Then, in a couple of years, they might "tell Putin in a nice way, 'Maybe your time is over.'
"At the moment, I think that the concern about the war itself creates among the elites the need to address the emergencies of the war, rather than the toppling of the system," she said.