Russia-West Ties Reach 'Point of No Return' Amid Ukraine War: Lavrov
Russian Foreign Minister Sergei Lavrov has blamed the U.S. and its Western allies for pushing ties with Moscow to the "point of no return" by supporting Ukrainian efforts to resist the Kremlin's ongoing invasion.
Addressing members of the Duma—the lower house of the Federal Assembly of Russia—on Wednesday, Lavrov reeled off a list of grievances with Western nations, which he accused of seeking a "cordon sanitaire" around Russia.
The West, Lavrov told Russian lawmakers according to the state-run Tass news agency, has a policy of "many years of containment of Russia" alongside "the transformation of fraternal Ukraine into anti-Russia, into a Russophobic military stronghold."
Lavrov complained about NATO expansion since the end of the Cold War; a long-term Russian gripe cited by Russian President Vladimir Putin as one of many justifications for years-long Russian aggression against Ukraine.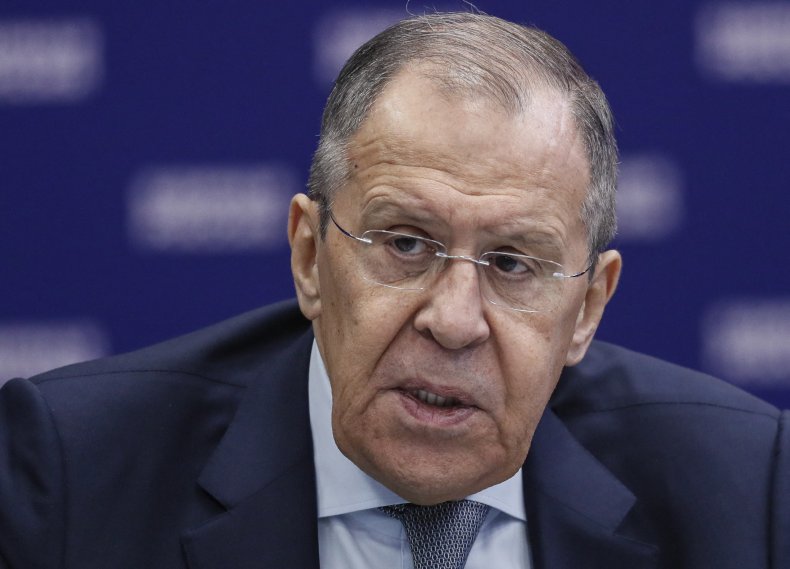 Lavrov also protested about Western support for the 2014 Maidan Revolution, in which the pro-Moscow government of former Ukrainian President Viktor Yanukovich was unseated by a popular uprising that Russia frames as a coup directed by Western intelligence agencies.
"In recent years, this policy by Washington and the European satellites has reached the point of no return," Lavrov said.
Russia's most senior diplomat added that Moscow has no doubts about the "true intentions of the West."
Lavrov bristled at the West's collective response to Russia's invasion of Ukraine—the second in a decade—which began on February 24, 2022.
"Today the United States and its satellites are waging an all-encompassing hybrid war against us that has been prepared for many years using Ukrainian national radicals as a battering ram," Lavrov said, echoing Russian talking points that seek to frame Ukraine's democratically elected government as far-right extremists.
Moscow has failed to realize its vague goals of "de-Nazifying" and demilitarizing Ukraine, instead prompting unprecedented military and financial Western support for the country, along with an ever-expanding sanctions offensive against the Russian government and its allies.
"The West does not hide its goals," Lavrov said. "It is not only to defeat Russia on the battlefield, to destroy the Russian economy, but also to surround us with a cordon sanitaire,' to turn us into some kind of 'rogue' country."
The diplomat excused Russia's invasion by claiming Moscow until "the last moment did everything possible to de-escalate tensions, to find an equal, mutually respectful agreement."
In the lead-up to the invasion, Moscow submitted a list of demands which would have made NATO pre-emptively exclude Ukraine from the alliance and effectively withdraw from all of eastern Europe. NATO and U.S. leaders dismissed the proposals out of hand, with one senior U.S. administration official describing them as "unrealistic."
Lavrov said Russia's demands "were arrogantly rejected by Washington and NATO." He added: "They weren't even willing to discuss our legitimate concerns. All this left us with no way out."
Reuters reported in September that Putin rejected a draft peace deal that would have satisfied Moscow's demands to block Ukraine from future NATO membership. The president, Reuters said, rejected the agreement as he also planned to annex swathes of Ukrainian territory. The Kremlin denied the report.