Ukrainian gains in Donetsk have raised hopes Kyiv's troops could soon encircle Bakhmut as a map by Institute for the Study of War (ISW) has showed the state of play around the city in the Donbas region fiercely fought over for months.
Ukraine's military reported on Sunday that it had liberated the village of Klishchiivka in the latest success in its more than 3-month-long counteroffensive on the Bakhmut axis of the frontline aimed at recapturing Russian-occupied territory. It came two days after it gained control of the neighboring village of Andriivka, which is about 6 miles southwest of Bakhmut.
Ukrainian War Monitor, an account on X, formerly Twitter, that posts about Russia's full-scale invasion that began on February 24, 2022, wrote on September 15 that Ukrainian forces had pushed from water line defenses west of Kurdiumivka, a settlement 12 miles south of Bakhmut.
The town's high ground gives Ukraine a "great opportunity to disrupt Russian logistics into Bakhmut," it posted.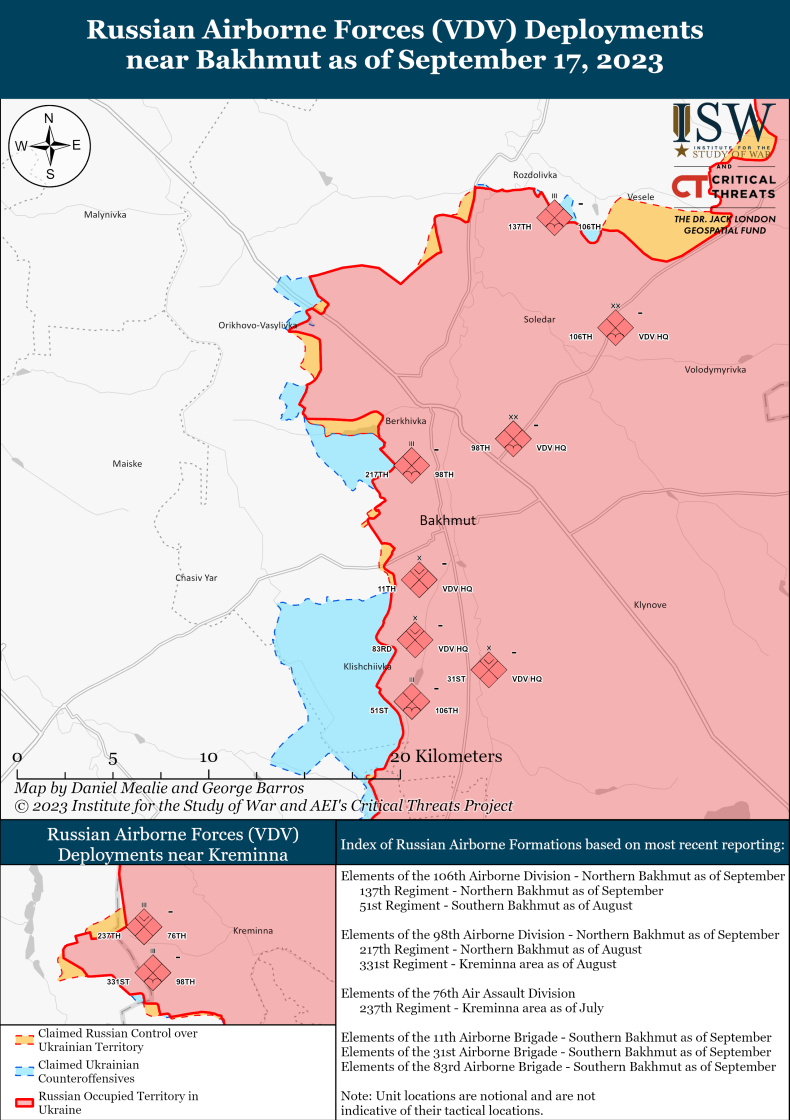 Meanwhile, the Ukrainian World Congress wrote on X that the liberation of Andriivka "opens the way for a potential breakthrough of defenders to encircle" Bakhmut "from the south."
In its update on Sunday, the ISW gave an overview of Ukraine's operations around Bakhmut following "unwarranted criticism" about the resources Kyiv has committed to fighting for Bakhmut.
Russia's fight was spearheaded by the mercenary Wagner Group and its late leader, Yevgeny Prigozhin, and has been the scene of high losses on both sides, particularly among troops fighting for Moscow.
Ukrainian forces almost immediately started their counteroffensive in the area after the Wagner withdrawal in May, and in June, July and August, and have conducted "sustained and reinvigorated" offensive actions near Bakhmut's northern and southern flanks, according to the ISW.
The think tank also said that parts of two of Russia's four Airborne (VDV) divisions and three of its four VDV separate brigades are defending the Bakhmut area.
One of the ISW maps shows Russia's VDV deployment around Bakhmut and the growing presence of Ukrainian troops west of the city in the counteroffensive.
Despite criticism of Ukraine's continuing operations in the area amid reports of high losses, the think tank concluded that Kyiv's tactics in Bakhmut prevented Russia from creating a large mobile VDV operational reserve that could have stopped the Ukrainian counteroffensive in the Zaporizhzhia Oblast.
"Continued large-scale Ukrainian counteroffensive efforts around Bakhmut are necessary to keep Russian forces fixed in that area," the ISW added.
Newsweek reached out to the Russian Defense Ministry by email for comment.