Ukraine Says Russia Deployed Iskander-M Missile Launchers Near East
Russia has deployed Iskander-M missile launchers some 40 miles away from its border with Ukraine, according to officials in Kyiv, as Moscow's major eastern offensive gathers pace.
The General Staff of the Armed Forces of Ukraine said in a Sunday Facebook post that Russia had increased the number of troops in its Belgorod region, northeast of the war-torn city of Kharkiv.
The Iskander-M has two guided missiles with a range of upwards of 300 miles and can carry conventional or nuclear warheads. The range would bring Ukrainian cities within range of the missile launchers, including Kharkiv and Poltava.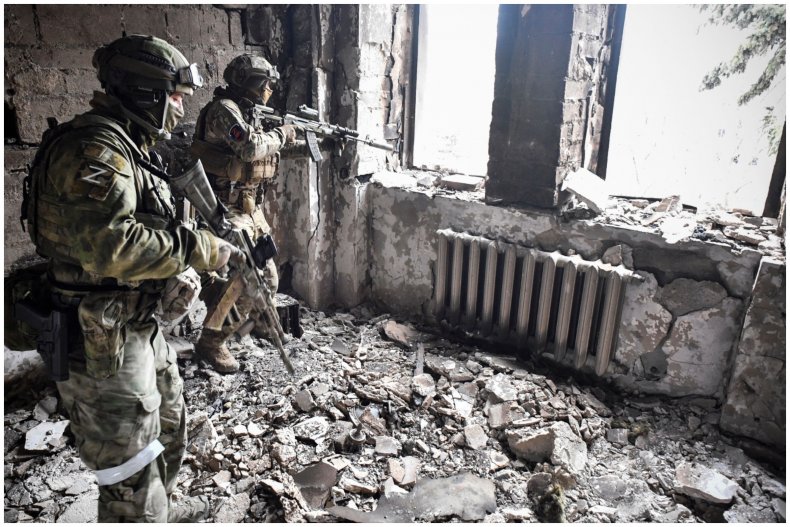 Since Russian President Vladimir Putin ordered the invasion, thousands of Ukrainians have been killed in missile strikes or by soldiers while millions of civilians have been forced to flee.
A spokesperson said in the post, translated into English via Google: "The enemy is regrouping and expanding missile forces and artillery units to support offensive actions, continues to launch missile strikes on military and civilian infrastructure."
The post later continued: "According to the available data, 60km [37 miles] from the state border of Ukraine rolled out the launch facilities of OTRK 'Iskander-M'.
"The enemy continues the partial blockade of Kharkiv, carrying out the fire impact of our military units and critical infrastructure objects."
Newsweek has contacted the Russian Foreign Ministry for comment.
Ukraine's claims come after Russia warned of a supposed nuclear and chemical weapon false flag attacks in the country. It follows warnings from U.S. intelligence services that Russia may use chemical or biological weapons in Ukraine.
Western officials are also concerned that Russia's military struggles in Ukraine may result in Putin using a nuclear weapon during the conflict.
"Given the potential desperation of President Putin and the Russian leadership, given the setbacks that they've faced so far, militarily, none of us can take lightly the threat posed by a potential resort to tactical nuclear weapons or low-yield nuclear weapons," CIA Director William Burns said on Thursday during a speech at Georgia Tech.
Russia has stated it wants to control Southern and Eastern Ukraine and Moscow could claim victory if it achieved certain goals.
Alexey Polishchuk, from the Russian Foreign Ministry's second CIS department, told state news agency Tass the war would end when Moscow achieved the "protection of the peaceful population of Donbas, demilitarization and denazification of Ukraine."
The Kremlin's pretext for what it describes as a "special military operation" was to "denazify" Ukraine, a claim viewed by the U.S. and its allies as bogus and masking Moscow's true motivation, which is the subjugation of Kyiv.