Russia Warns of 'Nuclear' or 'Chemical' False Flags in Ukraine
A Russian military official has said the U.S. is preparing "provocations" so it can accuse Moscow of using weapons of mass destruction.
News agency Tass reported that Igor Kirillov said the alleged American plan was in response to the "successes" Russian troops had in the invasion of Ukraine.
"The Russian Ministry of Defense has information about the preparation by the United States of America of provocations to accuse the Russian Armed Forces of using chemical, biological or tactical nuclear weapons," he said.
He told a press conference that "in 2022 alone, at the request of the Ministry of Health of Ukraine, more than 220,000 ampoules with atropine [small vials of medicine] were delivered from the United States."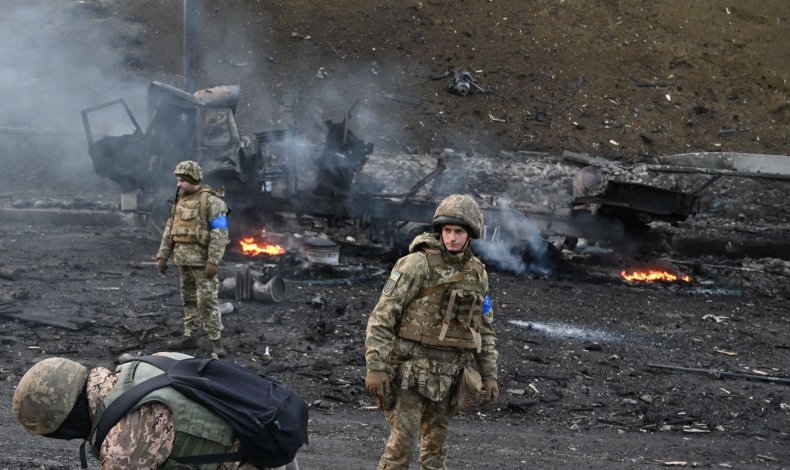 Atropine is used to treat certain types of nerve agent and pesticide poisonings. It is unclear where the deliveries had gone.
He said the U.S. has developed at least three scenarios to accuse Russia, with provocations most likely in Kharkiv, Kyiv, and Zaporizhzhia, where there is a nuclear plant, state news outlet Sputnik reported.
The U.S. State Department had already determined how an investigation into WMD use would play out, he added.
Kirillov, who is head of Russian army's radiation, chemical and biological defense forces, said that since the start of the Ukraine war, western leaders "regularly make provocative statements about the possibility of Russia using weapons of mass destruction."
He then referred to comments the U.S. Permanent Representative to the U.N., Linda Thomas-Greenfield, had made on February 27 that Russia was planning to use chemical and biological weapons in a "false flag" attack in Ukraine.
She had been responding to Russian claims that the U.S. funded bioweapons research in Ukraine involving the dangerous infections using migratory birds.
The claims made by her Russian counterpart at the U.N., Vasily Nebenzya, have been dismissed internationally and by experts.
But Kirillov said the U.S. was drawing from a playbook it used in the Iraq War in 2003 when then Secretary of State Colin Powell produced "a test tube with washing powder." He said this was used as "a pretext for the invasion of Iraq and the death of almost half a million citizens."
Kirillov also made claims about sarin attacks used in the Syrian conflict in 2017 which Damascus and Moscow heavily disputed, but led to U.S. missile attacks on Sharyat airfield.
"No one has been held accountable for these provocations," said Kirrillov.
Ukraine has previously said Russia makes accusations of false flag operations which are a projection of what Moscow wants to do. In March, Ukrainian President Volodymyr Zelensky said: "If you want to know what Russia's plans are, look at what Russia accuses others of."
Kirillov's comments come after Russia was accused of using chemical weapons in the southeastern city of Mariupol on April 11. The Azov Regiment, a unit of the National Guard of Ukraine, claimed the chemicals were dropped via an unmanned aerial vehicle. Newsweek could not independently verify the claims.
Newsweek has contacted the U.S. State Department and the Ukrainian foreign ministry for comment.