Ukrainian President Volodymyr Zelensky on Sunday floated the prospect of holding peace talks with Russia in the city of Jerusalem, nearly a month after the Ukraine invasion began.
In a video address after speaking with Israel's legislative body via video link on Sunday, Zelensky said Israeli Prime Minister Naftali Bennett "is trying to find a way to negotiate with Russia."
Bennett had been working to act as an intermediary between Ukraine and Russia "so that sooner or later we start talking to Russia, perhaps in Jerusalem," Zelensky, who is Jewish, said in a video shared to his channel on the Telegram messaging service.
"This is the right place to find peace. If it is possible," he said, adding that Kyiv is "grateful" for Bennett's efforts.
"Of course, Israel has its interests, strategy to protect its citizens. We understand all of it," said Zelensky.
Russian Invasion
"It is already the 25th day since the Russian military has been vainly trying to find imaginary 'Nazis' from whom they allegedly wanted to defend our people," the Ukrainian leader captioned his video.
He was referring to the line Russian President Vladimir Putin's used in justifying Moscow's invasion of Ukraine. Putin declared a "special military operation" in Ukraine on February 24, saying Russia aims to to "denazify" and demilitarize the country. Ukraine and the West argue this a false pretext to justify the offensive.
"Just as they are vainly trying to find Ukrainians who would meet them with flowers. And most importantly - the Russian military cannot find a way home. That is why our soldiers help them with the path to God's judgment," wrote Zelensky.
Switching to Russian in his address, Zelensky told Ukrainians, "Russian propagandists have a tough job on their hands today. For the first time, a Ukrainian president spoke to the parliament of Israel and, by video recording, to the people of Israel, a Ukrainian accused of Nazism by Moscow."
"This very fact already proves that things are not as Moscow says."
His announcement came shortly after he addressed Israel's parliament, during which he criticized the country for refusing to impose sanctions on Russia, despite being called on to do so directly by the U.S.
Adopting a quasi-neutral position on Putin's invasion of Ukraine, Israel has also declined Zelensky's request for defensive weapons, but lawmakers during an emergency UN General Assembly meeting voted in favor of a resolution condemning the invasion, and urged Moscow to immediately withdraw troops from Kyiv.
"Why has Israel refrained from sanctions on Russia? Israel needs to give answers to these questions and after that, live with them," Zelensky asked Israeli lawmakers on Sunday.
"Ukrainians have made their choice. 80 years ago. They rescued Jews. That is why the Righteous Among the Nations are among us. People of Israel, now you have such a choice," he wrote on his Telegram channel earlier.
According to intelligence updates from the U.S. Defense Department, Russia's efforts have largely stalled amid persistent and stiff Ukrainian resistance, nearly one month after forces invaded the country. A Pentagon official told reporters on March 17 that Russian advances appeared to be making minimal progress while commanders are struggling to sustain troops.
Newsweek has reached out to Russia's Ministry of Foreign Affairs and the Israeli Ministry of Foreign Affairs for comment.
Follow our live blog for updates on the Russia-Ukraine conflict.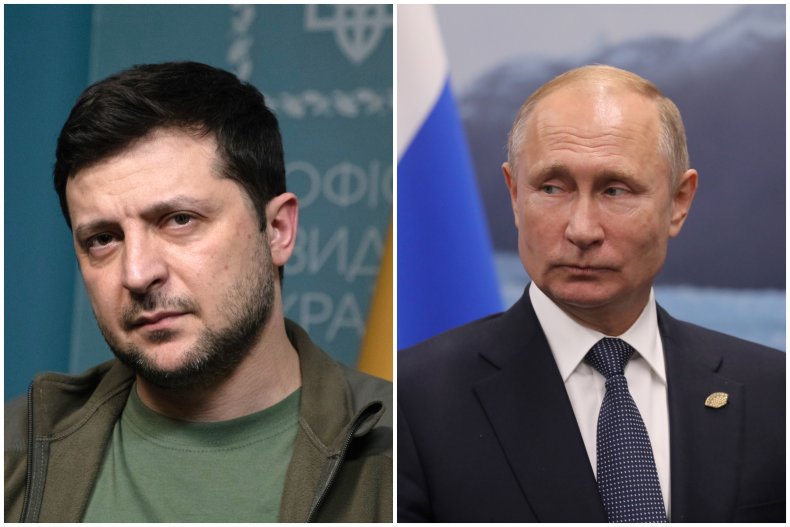 Update 03/21/22 at 11:58 a.m. ET: This article was updated with Newsweek's attempts to contact Russian and Israeli officials.