Ukraine Accuses Russia of Striking Snake Island With Phosphorus Bombs
Ukraine has accused Russia of attacking Snake Island with phosphorus munitions, a day after Moscow's forces withdrew from the strategic Black Sea location.
Ukraine's armed forces said that at 6 p.m. on Friday, two Russian Sukhoi Su-30 fighter jets struck the island, which has been the scene of a bitter tussle between both sides since the war started on February 24.
Next to their statement on Facebook, Ukraine's army posted a video that they said showed the strike. The footage shows a plane dropping munitions at least twice on the island, with what appears to be white streaks rising above it.
Phosphorus weapons, which leave a signature white trail, are incendiary weapons whose use against civilians is banned under an international convention but that are allowed for military targets.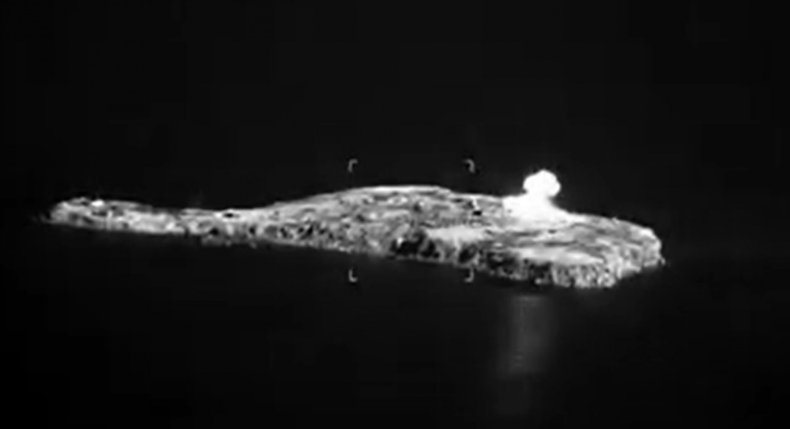 Newsweek has not verified the footage and has contacted the Russian defense ministry for comment.
"The leadership of the Russian Armed Forces does not comply with even its own statements declaring a 'goodwill gesture,'" Ukraine's army said in a statement on the video, according to a translation.
This refers to Russia's claim that it had pulled its forces from the island as a "goodwill gesture" to allow Kyiv to export agricultural products that had been left stranded in Black Sea ports, which Ukraine has accused Moscow of blockading.
While Moscow framed the withdrawal as a move to prevent a global food crisis, Ukraine's military dismissed this explanation and said the Russians fled the island in two speed boats after they faced a barrage of Ukrainian artillery and missile strikes.
Russia's withdrawal from the island is seen as a major boost to Ukraine's efforts to weaken Russian naval dominance and erodes Moscow's ability to threaten the southern city of Odesa.
Elsewhere, the U.K. Ministry of Defense (MOD), said on Saturday that Russian forces are continuing with "minor advances" around Lysychansk, with air and artillery strikes, although Kyiv's military is "probably" blocking the Russian forces in the south-east of the city.
British defense officials also said that the missile that struck the Kremenchuk shopping center on June 27 was likely a Kh-32, which is an upgraded version of the Soviet-era Kh-22 Kitchen missile. The G7 accused Russia of a "war crime" for the attack in which at least 20 people died. Moscow has repeatedly said it does not target civilian infrastructure and called the attack a "provocation."
But British defense officials suggested the missile used would be a feature of other attacks in Ukraine and while updated, posed a risk to civilians because it had still not been "optimized to accurately strike ground targets, especially in an urban environment."
These missiles were also likely to have been used in the Odesa region on Thursday and their lack of precision "almost certainly repeatedly caused civilian casualties in recent weeks," the British MOD said in its daily update.