Russia Making False Claims of Success To Boost Troop Morale: UK MoD
Moscow is making false claims about its progress in Ukraine to boost morale among its forces and to sell the war better to the Russian public, the U.K. Ministry of Defense has said.
Its daily assessment said that Russian defense operations had remained "reduced in scope and scale" and that fighting west of the city of Lysychansk, which Moscow's forces have captured, were "focused on Siversk and Bakhmut."
"This is despite Russian claims to have entered the outskirts of Siversk town earlier in the week," the defense officials said on Saturday.
"Russia has previously made premature and false claims of success," according to the officials and this was, "likely at least in part aimed at demonstrating success to domestic audiences and to reinforce the morale of the fighting forces."
The U.K. defense ministry also said Ukrainian forces had managed to repel Russian attacks since they ceded Lysychansk and that the Ukrainian defensive line has been "shortened and straightened."
"This has allowed for the concentration of force and fires against reduced Russian attacks and has been instrumental in reducing Russia's momentum," they added.
The assessment comes as Russia was accused of increasing its long-range bombardment of Ukrainian cities.
Russian missiles hit the central city of Dnipro on Friday, killing three people and wounding 15, according to a Telegram post by the regional governor Valentyn Reznychenko. Reuters shared images on social media of black smoke rising from buildings and burning cars in the city.
Meanwhile, Donetsk governor Pavlo Kyrylenko said that eight people had been killed and 13 injured following shelling in the east of the region.
Oleksiy Danilov, the secretary of Ukraine's national security council, told The Guardian that Russia was deliberately escalating its attacks on civilian targets, including the missile strike on the city center of Vinnytsia, which killed 23 people, including three children.
"They have decided to terrorize the civilian population," he told the paper. A U.S. official on Friday dismissed Russia's claim that it had targeted a meeting of the Ukrainian air force in the strike on the city around 160 miles southwest of Kyiv.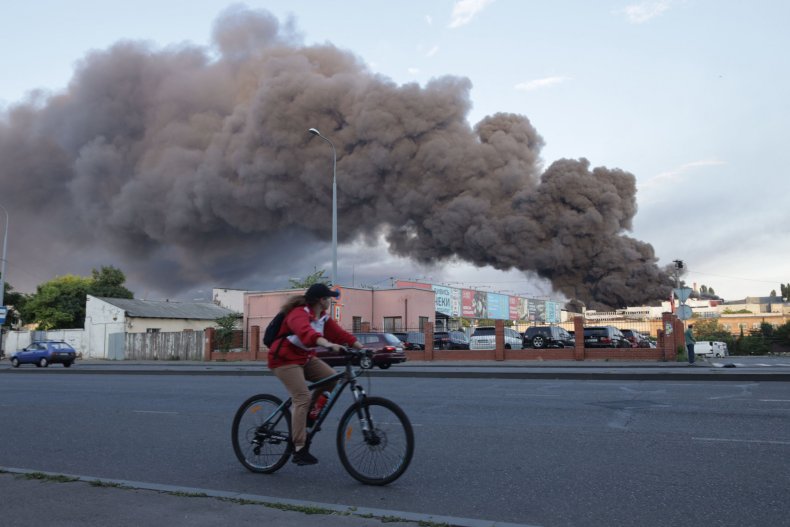 Ukraine's claims that Russian forces have civilian targets chimes with the latest analysis from the U.S. think tank, the Institute for the Study of War (ISW).
In its daily assessment of the war, it said on Friday Russian forces had continued with "systematic attacks on civilian infrastructure" in which they targeted residential buildings, recreational facilities, and educational institutions in the city of Mykolaiv.
Moscow has previously denied that it targets civilians and Newsweek has contacted the Russian defense ministry for comment.
The ISW also said that Russian forces were "likely emerging from their operational pause" and had launched ground assaults north of Slovyansk, southeast of Siversk, around Bakhmut, and southwest of the city of Donetsk.
Newsweek has contacted Russia's Foreign Ministry for comment.