Vinnytsia Had No Military Present When Putin Fired Missile Strike: Zelensky
Ukrainian President Volodymyr Zelensky accused Russian leader Vladimir Putin of committing an "open act of terrorism" by launching a Russian missile strike on Vinnytsia—a central Ukrainian city 167 miles southwest of Kyiv—where Zelensky said there were no military forces.
Posting a video of the aftermath of the Thursday strike, Zelensky said. "Rocket strikes in the city center. There are wounded and dead, among them a small child."
Writing on Instagram, he continued, "Every day, Russia destroys the civilian population, kills Ukrainian children, directs rockets at civilian objects. Where there is nothing military. What is this, if not an open act of terror?"
Vinnytsia, which is located far from the front lines of the fighting, was hit with one of the deadliest single strikes on a civilian target since the war began on February 24. Thursday marks the 141st day of Russia's invasion of Ukraine.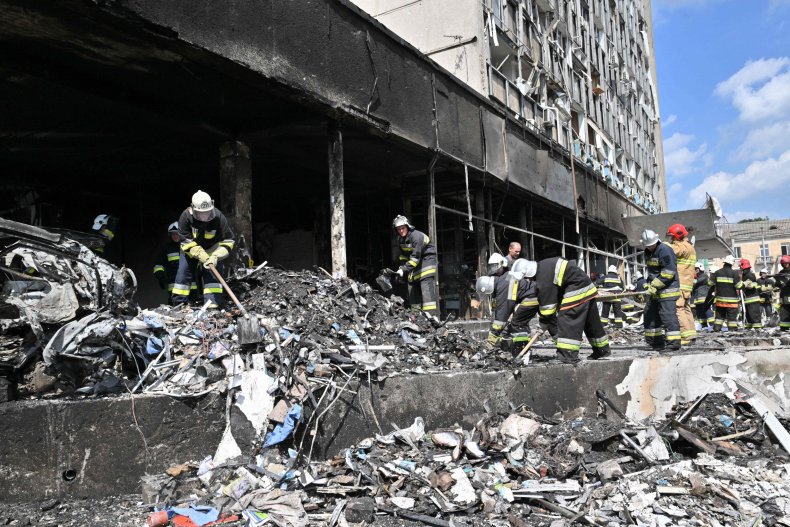 At least 21 civilians, including three children, were killed and more than 90 wounded in the missile strike, which was launched from a submarine, according to Ukrainian officials.
Following the attack, a photo of a bloodied baby carriage made its rounds on social media. Posting the image on Twitter, Ukraine Foreign Minister Dmytro Kuleba echoed Zelensky, who called the Russian forces "inhumans. A killer country. A terrorist country."
"Already 20 civilians have been confirmed dead following a Russian missile strike on Vinnytsia. Three children, including a toddler in the photo," Kuleba wrote. "This is terrorism. Deliberate murder of civilians to spread fear. Russia is a terrorist state and must be legally recognized as such."
The video shared on social media by Zelensky showed black smoke rising into the sky from tall buildings that had suffered extensive damage
"They are using their weapons against civilian people, against civilian facilities," Ukraine Minister of Defense Oleksii Reznikov told CBS News on Thursday. "You saw the Kremenchuk tragedy, you saw the atrocities in Bucha, Irpin, and again you saw it in Vinnytsia."
Russia has not confirmed the strike, but Margarita Simonyan, who heads Russian state media network RT, said military officials told her a building in the central city was targeted for housing Ukrainian "Nazis."
Most of the fighting has taken place in eastern Ukraine, primarily in the Donetsk and Luhansk territories. Earlier this month, the area's last Ukrainian-held city, Lysychansk, which is in Luhansk, fell to Russian forces. The two territories make up the Donbas region, where Russian separatist groups maintain a strong presence.