Ukraine Claims Destruction of Russian Air Defense System 'Burned Brightly'
A Russian air defense system has reportedly been destroyed by Ukrainian artillery, according to a tweet from Ukraine's Ministry of Defense.
The defense system, a Tor-M2DT anti-aircraft missile system, was debuted by the Russian military in May 2017 during Moscow's annual Victory Day parade. According to the site Army Recognition, it's a short-range air defense system specifically designed to operate in arctic climates. The defense news outlet also reported that the Russian Ministry of Defense released a video on December 13, 2022, that showed the first "operational deployment" of the Tor-M2DT rolling into Ukraine.
On Thursday, Ukraine's Ministry of Defense posted aerial footage of what appears to be the missile system getting destroyed by a drone.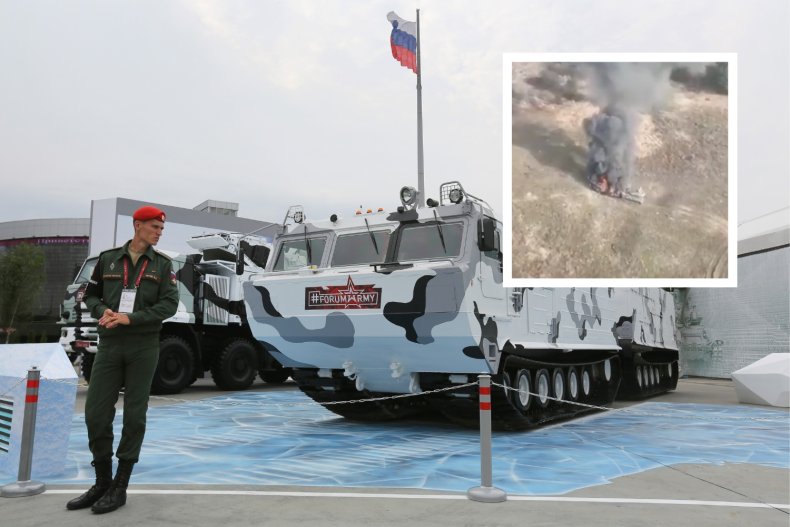 "The Arctic TOR-M2DT air defense system became the star of russian television when it was sent to Ukraine," read the tweet. "But soon a Ukrainian drone introduced it to Ukrainian gunners."
"It burned brightly, the fire extinguisher did not help," Ukrainian officials added.
Aerial footage of the Russian-made defense system being destroyed was first posted by Ukraine Weapons Tracker on Twitter Wednesday, which reported that the Tor-M2DT was struck using an M982 Excalibur—a high-precision GPS-guided weapon that was gifted to the Ukrainian army by the U.S.
According to a tweet from an open-source intelligence account on Twitter, the arctic missile defense system was positioned outside of Chelburda, a village in the Kherson region in southern Ukraine. Prior to being positioned in December, the account reported that the Tor-M2DT was originally deployed along the Finnish border in the Russian town of Alakurtti.
Russian forces have focused some of their most intense shelling in the Kherson region since the start of the war in Ukraine, including after Russian President Vladimir Putin lost control of the city of Kherson in November, the first major region to fall in a string of successful Ukrainian counteroffensives.
Despite troops retreating, however, Putin's military has continued to hammer on the southern Ukraine city as an attempt to "degrade civilian morale" in the area, according to the latest update from the British Ministry of Defense.
As Newsweek has previously reported, the press service of the Kherson regional military administration said Sunday that Russian forces had been using banned munitions in the shelling of civilian-populated areas in the Beryslav district.
Ukrainian news outlets also reported that at least three people were killed after Kherson was shelled seven different times Sunday, leaving six more wounded.
Newsweek has reached out to the Russian Ministry of Defense for comment.