Ukraine Says Vladimir Putin Trying to Stir Panic, Believes Invasion Still Not Imminent
Russia threatened "retaliatory measures" January 26 if the U.S. and allies reject demands over NATO and Ukraine, but, according to the Associated Press, Ukraine leaders are seemingly calm about the situation, saying they still don't believe an invasion from Russia is imminent.
President Joe Biden said on January 25 that an attack on Ukraine "would be the largest invasion since World War II," according to the AP. He also warned there could be economic consequences for Russia and personal sanctions for Russian President Vladimir Putin.
"What is important is that all of our allies do the same," said UK Foreign Minister Liz Truss Wednesday to the BBC, echoing Biden's warning for sanctions. "It is by collective action, by showing Putin we're united, we will help deter a Russian incursion."
Russian Foreign Minister Sergey Lavrov mentioned close ties with counties in the Western Hemisphere, citing Putin had spoken on the phone with leaders and agreed to "consider ways of further deepening our strategic cooperation," according to the AP.
Both Ukraine's and Russia's leaders say an invasion isn't on the immediate horizon.
"Their number is now insufficient for a large-scale offensive," Ukraine's Foreign Minister Dmytro Kuleba said while acknowledging the concentration of Russian troops near Ukraine poses a threat.
"They are still missing some key military elements and systems to mount a big, full-scale offensive," Kuleba told reporters, the AP reported.
Lavrov mocked fears of the invasion, saying "our Western colleagues have driven themselves up into a militarist frenzy. The Ukrainian elite itself has grown a bit scared by the Western scare."
Putin will receive advice from Lavrov and other officials upon receiving the U.S. replies to their demands despite the U.S. already making it clear they will be rejecting them.
Currently, a stalemate exists between NATO and Russia's demands that NATO never admits Ukraine or any ex-Soviet nations as members and has led to the possibility of an invasion of Ukraine by Russia. However, Russia denies the claims and, according to the BBC, has accused the U.S. and others of "escalating tensions," despite planting troops.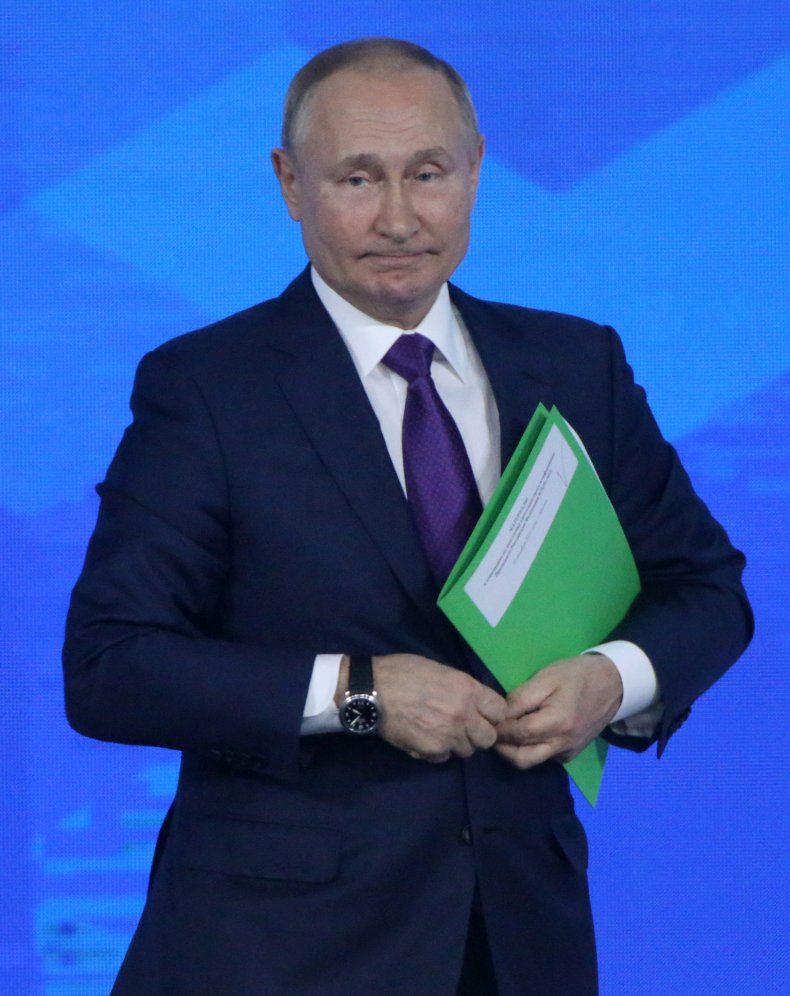 Besides the placement of estimated 100,000 troops, Russia has also begun practicing military drills, according to the AP. Motorized infantry and artillery units have practiced firing live ammunition, performed bombing runs on the Baltic Sea, warships sailed for training exercises and Russian fighter jets and paratroopers arrived in Belarus.
The future of Ukraine is at stake, as tensions grow, according to the AP. Many fear the stalemate will end in a war, despite denial from the Kremlin.
Newsweek previously reported that NATO and the U.S. ordered 8500 troops to be on high alert for potential deployment to Europe. Australia, Britain, Canada and Germany, as well as the U.S., have decided to withdraw some diplomats and dependents from Kyiv, due to the possible invasion.