U.S. Sends Shipment of Equipment, Ammunition to Ukraine As It Tries to Ease Invasion Fears
U.S. Secretary of Defense Lloyd Austin placed 8,500 troops on high alert despite Ukraine's leaders' reassurance that a Russian invasion was not imminent.
"Secretary Austin has placed a range of units in the United States on a heightened preparedness to deploy, which increases our readiness to provide forces if NATO should activate the NRF or if other situations develop," said Pentagon Press Secretary John F. Kirby in a statement.
In addition to placing U.S. troops on alert, the Associated Press reports that a shipment of equipment and munitions is expected to arrive in Ukraine on Tuesday as part of a $200 million security assistance.
According to the AP, Ukraine's Defense Minister Oleksii Reznikov spoke to parliament on Tuesday, saying "there are no grounds to believe" Russia is preparing an invasion since they have yet to form a "battle group."
Although Russia has denied a future assault, Newsweek previously reported the country placed roughly 100,000 troops near the Ukrainian border over the past few weeks.
According to the AP, analysts say the Ukrainian government is trying to calm its citizens while also ensuring the country has necessary assistance in case of an invasion.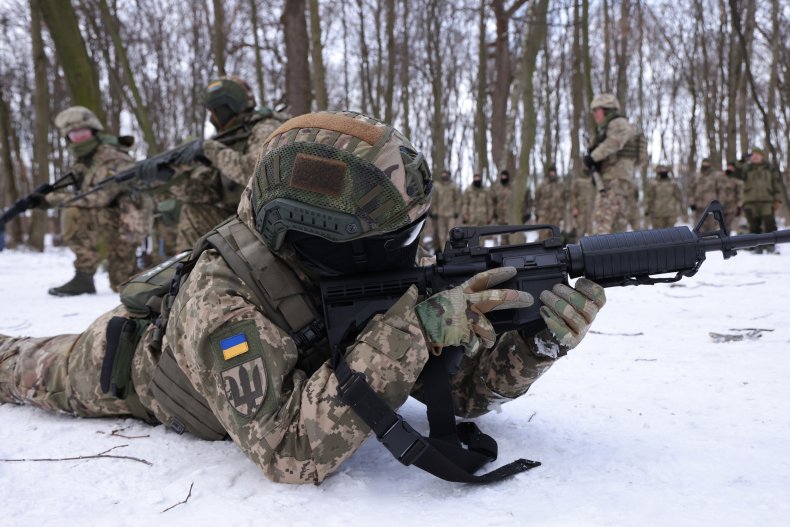 Newsweek previously reported the U.S. and NATO allies have been holding negotiations over the past few weeks to help decrease tensions between Ukraine and Russia. However, Washington and its allies have rejected Russia's demands to block Ukraine from entering the alliance.
On Tuesday, Russian spokesman Dmitry Peskov accused the U.S. of "fomenting tensions," the AP reports.
The U.S. State Department has ordered nonessential embassy staff and American personnel to leave the country, according to the AP. The BBC reported that half the embassy staff will return to the United Kingdom, although there has yet to be a specific threat to British diplomats in Kyiv. Foreign Secretary Liz Truss said it is important for British diplomats to prepare for any future development.
In a video posted on the BBC, U.K. Prime Minister Boris Johnson warned Russia invading Ukraine would be disastrous.
"The intelligence is very clear that there are 60 Russian battle groups on the borders of Ukraine, the plan for a lightning war that could take out Kyiv is one that everybody can see," Johnson said. "We need to make it very clear to the Kremlin, to Russia, that that would be a disastrous step."
According to the AP, Kyiv has rejected Moscow's claim that Ukraine placed troops in rebel-controlled regions to retake them by force.