Ukraine Will Have Moment to Strike Back as Russia Runs Out of Steam: MI6
Russia is "about to run out of steam," MI6 Chief Richard Moore said, and when its forces fatigue, Ukraine will have its chance to hit back.
"The Russian forces have made some incremental progress over recent weeks and months, but it's tiny amounts. We're talking about a small number of miles of advance and when they take it down, there's nothing left of it," Moore said at the Aspen Security Forum on Thursday.
"I think they're about to run out of steam. I think our assessment is that the Russians will increasingly find it difficult to supply manpower and material over the next few weeks," he added. "They will have to pause in some way and that will give the Ukrainians opportunities to strike back. [The Ukrainians'] morale is still high. They're starting to receive increasing amounts of good weaponry."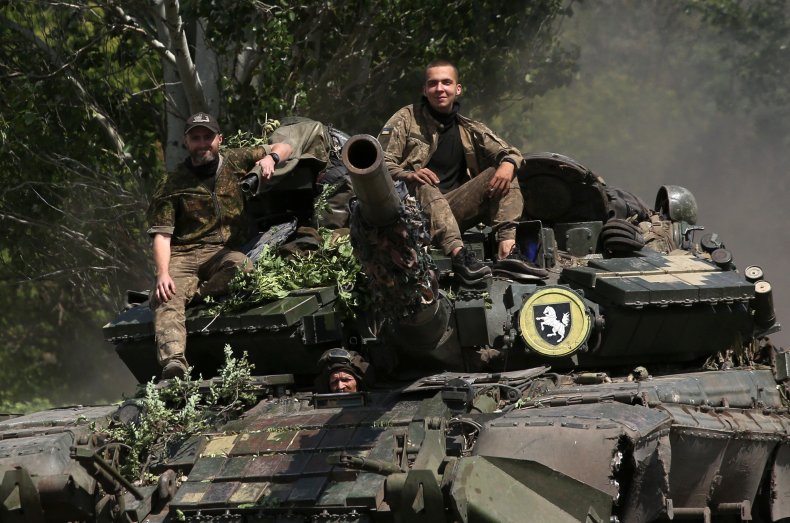 On Thursday, the Ukrainian military estimated that Russia has used 55 to 60 percent of its pre-war stocks on high-precision weaponry and said that it will be difficult for Moscow to replenish due to the Western sanctions against Russia.
"Many components were manufactured abroad. But the restrictions introduced due to international sanctions do not enable [Russia] to openly get the components," Vadym Skibytsky, a representative of the Defense Intelligence of the Armed Forces of Ukraine, said at a press conference.
The European Union further tightened sanctions against Russia earlier in the day, broadening previous measures to include Russian gold exports.
"We are effectively banning Russia's most significant export after energy—Russian gold. We are also extending the exemption of transactions for agricultural products and transfer of oil to third countries," EU's High Representative for Foreign Affairs and Security Policy Josep Borrell said in a press release.
"Because the EU is doing its part to ensure we can overcome the looming global food crisis. It is up to Russia, to stop bombing Ukraine's fields and silos, and stop blocking Black Sea ports," Borrell said.
Despite the recent advance Russian forces have made on the Donbas region, Moore said Russian President Vladimir Putin has suffered a "strategic failure" as a result of his invasion of Ukraine, pointing to the EU's defense policy and Finland and Sweden's decision to join NATO.
"If I reflect on our Russian counterparts, like the Russian military, I don't think they're having a great war," Moore said. "They clearly completely misunderstood Ukrainian nationalism, they completely underestimated the degree of resistance that the Russian military would face."
Moore added that it would be important for Ukrainians to maintain their position not just for the military's morale, but to serve as a reminder to the rest of Europe that "this is a winnable campaign by the Ukrainians."