Ukraine Strike on Russian Headquarters Kills 200 Paratroopers: Official
A Ukrainian regional governor says the country's soldiers have killed 200 Russian airborne troops in an assault that toppled a base in Ukraine's occupied east.
Serhiy Haidai, the governor of Ukraine's Luhansk administrative district, said on Friday in a Telegram post that Ukrainian troops had successfully attacked the Russian base set up in a hotel in the occupied city of Kadiivka. Haidai's claim to victory comes as Russia's advance in Ukraine's eastern regions has reportedly stalled as the conflict reaches six months.
The Ukrainian military has been fighting Kremlin-backed separatists in Luhansk and the nearby Donetsk administrative district since 2014, when Russia annexed Crimea from Ukraine.
The post by Haidai, whose governorship makes him the military leader for the region, included images of a war-battered building that he said the Russian army had been using as a base since 2014.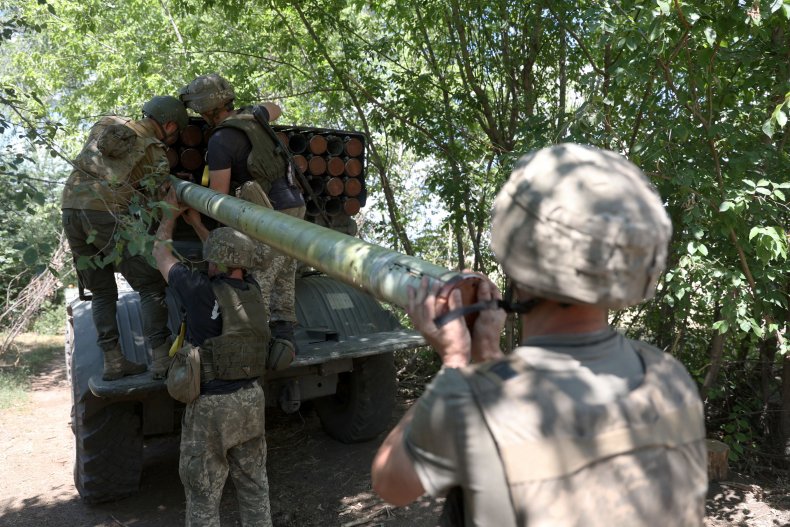 Russian forces over the spring pivoted their war effort toward Ukraine's eastern Donbas region after failing to take Kyiv, the country's capital. As fighting intensified in the region, Haidai reported in June that Ukraine's military had destroyed a base in Kadiivka used by Russian mercenary Wagner Group.
While Russia took control of key cities in the region over the summer, the Kremlin said more recently that it was slowing its offensive to ease the toll on civilians. The explanation was met with skepticism by Ukrainian officials and its Western allies, who suspected the reason was heavy losses sustained by Russia's military.
"The Donbas offensive is making minimal progress and Russia anticipates a major Ukrainian counterattack," the U.K. Ministry of Defense said in a tweet on Tuesday, providing an update on the situation in Ukraine. "Operationally, Russia is suffering from shortages of munitions, vehicles and personnel."
U.S.-based think tank the Institute for the Study of War published research on Thursday, citing Ukrainian sources, that Russian forces had conducted "limited ground attacks" near the eastern Ukrainian city of Slovyansk.
Russian forces also pressed forward with ground attacks near the eastern Ukrainian cities of Bakhmut and Donetsk City, according to the think tank.
The Kremlin also renewed accusations against Ukraine that it had targeted civilians in the area. Vassily Nebenzia, Russia's ambassador the the United Nations, on Wednesday said in a statement that Ukraine's "criminal shelling" of Donbas has continued unabated, with about 100 civilians killed over the last month.
Mikhail Mizintsev, chief of Russia's National Defense Management Center, told the Russian state-run TASS news agency on Friday that more than 24,000 people had been evacuated from Luhansk and Donetsk.
Newsweek reached out to the Russian Ministry of Defense for comment.