Ukraine Opens Treason Investigation Into Vladimir Putin Ally Who Proposed 'Peace Plan' for War With Russia
Authorities in Ukraine have launched an investigation into whether Viktor Medvedchuk, a Ukrainian political operative who is closely linked to Russian President Vladimir Putin, has committed treason against Ukraine.
Ukraine's prosecutor general announced Tuesday that the country's special forces were looking into whether a recent "peace plan" Medvedchuk proposed constituted treason. The political operative had proposed that eastern Ukraine's Donbas region, which has been occupied by pro-Russian separatists since 2014, be given autonomous status, including its own government and parliament.
The prosecutor's office said that the proposal could violate Ukraine's constitution and help Russia undermine the country's territorial integrity.
"He believes that such agreements on the status of Donbas may be achieved with all four, Kiev-Donetsk-Luhansk-Moscow," the prosecutor general's office said in a statement, referring to the two regions, Donetsk and Luhansk, that make up the Donbas region.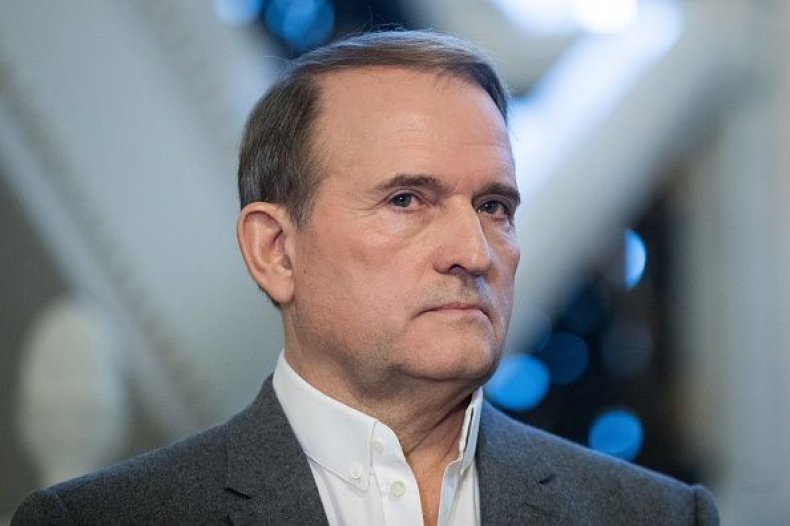 "Considering that, in accordance with Article 1 of the constitution, Ukraine is a unitary state, its territorial integrity is enshrined in Article 133 of this law. The fact that the Russian Federation, by providing the self-proclaimed Donetsk and Luhansk People's Republics with live force, armament and other materials, is carrying out aggressive actions against Ukraine, the proposal of the formation of an autonomous region in Donbas promotes the legislative consolidation of the temporarily occupied territory contrary to the law and provides assistance to a foreign state in conducting subversive activities against Ukraine, including information support," the statement continued.
Russia is currently under Western sanctions for its support of separatists in the Donbas.
Medvedchuk is the political council chairman for the Opposition Platform for Life, a coalition of two Ukrainian political parties considered pro-Russian. He is also a close friend of Putin, who is the godfather of Medvedchuk's daughter.
In January, Medvedchuk proposed his "peace plan" during a party meeting and argued that he is the only politician in Ukraine offering a viable peace plan for the country. Experts at the time told Newsweek the Kremlin probably backed the proposal because it would weaken Ukrainian President Petro Poroshenko's full-throated defense of the country's sovereignty.
Over the years, Medvedchuk has also come into contact with associates of President Donald Trump, including his embattled former campaign chairman Paul Manafort, who also worked with pro-Russian politicians in Ukraine.
Special counsel Robert Mueller, who is investigating whether members of the Trump campaign worked with the Russian government to influence the 2016 presidential elections, is reportedly looking into Medvedchuk's communications with members of the Trump campaign.