Ukraine Grateful for U.S. Military Aid Plan to Counter Russia Threat
Kyiv has welcomed a proposal by U.S. lawmakers to give it hundreds of millions of dollars in military aid amid heightened tensions at a growing Russian military threat on the Ukrainian border.
The U.S. senate foreign relations committee advanced a bill on Wednesday to deliver up to $300 million a year in military assistance to Kyiv until 2026.
The Ukraine Security Partnership Act comes as Russia has engaged in its biggest military buildup on its neighbor's doorstep since 2014, when Moscow annexed Crimea and backed separatists in the eastern Ukrainian regions of Donetsk and Luhansk.
Half of the proposed funding would be subject to conditions, such as Ukrainian defense reforms that meet NATO standards, more civilian control of the military and more accountability in procurement.
Among the legislation's terms lawmakers will consider will be making sure Ukraine gets "lethal assistance" which includes anti-armor weapon systems and anti-aircraft weapons systems.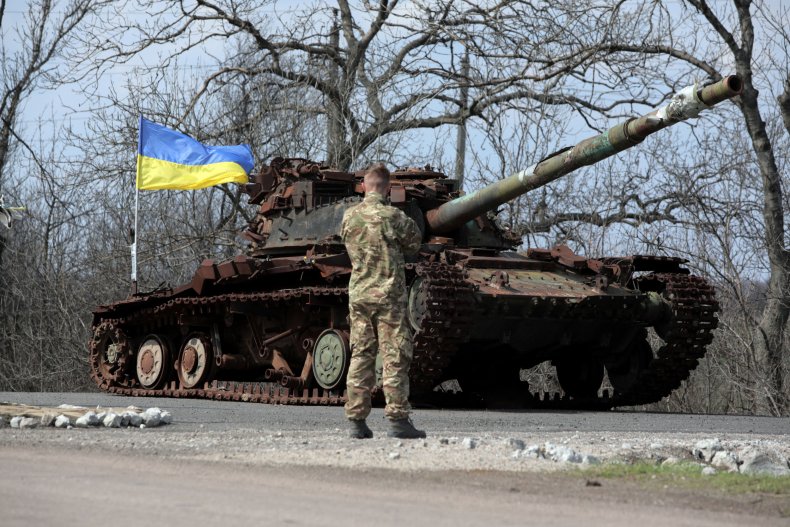 The bill would encourage allied nations to provide Ukraine with "excess defense articles on an expedited basis." It would also prioritize the procurement of vessels for the Ukrainian Navy "to counter Russian maritime aggression" and maintain the freedom of passage in the Black Sea.
Last week, a Ukrainian ministry of defense document said that Russia was holding military exercises near commercial shipping lanes in the Black Sea which threatened to hurt Ukraine's economy, Axios reported.
To become law, the bill needs to be passed by the House and the Senate and be signed by President Joe Biden.
"Ukrainians have a right to choose their own future," said committee ranking member, Jim Risch (R-ID) in a statement supporting the legislation.
"This bill contributes to that by supporting Western-style military reforms, lethal and non-lethal military equipment to defend itself from Russia, and U.S. diplomatic support for peace negotiations," he added.
Ukraine's embassy in the U.S. tweeted: "Special gratitude to the initiators and main supporters of Ukraine Security Partnership Act," and named the lawmakers who had backed it.
Meanwhile, Ukrainian foreign minister Dmytro Kuleba said that he was "grateful" for the committee's unanimous passing of the act, tweeting, "the US is our trusted friend & ally. Looking forward to a swift passing by the US Congress."
Kuleba told Reuters in an interview that he had "no information" about whether Russia had made a decision to launch a military operation against Ukraine, adding, "so it can go in either direction now."
"This is why the reaction of the West.. is so important now," he said.
Last week, Major General Viktor Ganushchak, the deputy commander of what Ukraine calls its Joint Forces Operation, told a briefing near the frontline, "We are ready for the assault if it will happen."
This week, Ukrainian President Volodymyr Zelensky warned his citizens in a televised address his country would "stand to the last man" if there was war with Russia, adding, "does Ukraine want war? No. Is it ready for it? Yes."
While uncertainty over Russia's intentions reigns, there is little public appetite among the Russian people for war. This will be part of the calculus by the Kremlin, as it keeps close tabs on public opinion, often through polling by its Federal Protective Service (FSO).
This does not preclude the possibility that skirmishes on the border could escalate, which the Ukrainian president would try to prevent.
"Zelensky has made it clear that he knows the Russians would like him to act first and he is not going to give them that pretext," said Mark Galeotti, honorary professor at University College London's School of Slavonic and East European Studies.
However, he said there is the possibility that the Russians "could provoke a Georgian scenario, in which the Ukrainians struck first in a thoroughly uncomplicated way."
This refers to the 2008 war, which Moscow accused Georgia's then president Mikheil Saakashvili of starting by launching an offensive in South Ossetia's main city Tskhinvali. Saakashvili insisted it was Russia who started the war.
"But Zelensky is not Saakashvili and actually quite the opposite," Galeotti added.