Ukraine President Zelensky Is Ready for War With Russia, Vows to 'Stand to the Last Man'
Ukrainian President Volodymyr Zelensky on Tuesday night and warned his citizens that the country would "stand to the last man" in the event of a war with Russia, as tensions continue to build along the border between the two nations.
"Does Ukraine want war? No. Is it ready for it? Yes," Zelensky said during a Tuesday address, according to The New York Times." Our principle is simple: Ukraine does not start a war first, but Ukraine always stands to the last man."
Zelensky's statements come on the eve of Russian President Vladimir Putin's annual state of the union address Wednesday. During his speech, Zelensky addressed Putin directly, urging him to meet for a peace summit in Donbas, a war-torn region where Ukraine's military has battled Russian-backed separatists for years.
"It is impossible to bring peace on a tank," Zelensky said in Russian, before adding: "I am ready to invite you to meet anywhere in the Ukrainian Donbas where there is war."
So far, the U.S. and NATO have employed "provocative actions," with at least two warships in the Black Sea, The Hill reported, due to increasing tensions between the two nations.
In recent days, Russia has amassed the largest concentration of forces in the region in years, raising concerns that the country may plan to invade. Tensions between the two nations have since reached their highest levels since 2014, when Russia annexed Ukraine's Crimea peninsula and large-scale fighting broke out in the country's east. That conflict has already cost nearly 14,000 lives.
Russian troops now number at least 40,000 in Crimea, with another 40,000 in regions along the border, which equates to roughly 10 percent of the country's entire military force, NBC News reported last week.
On April 15, Ukraine Foreign Minister Dmytro Kuleba warned that if Russia crosses the 'red line,' that it will "suffer."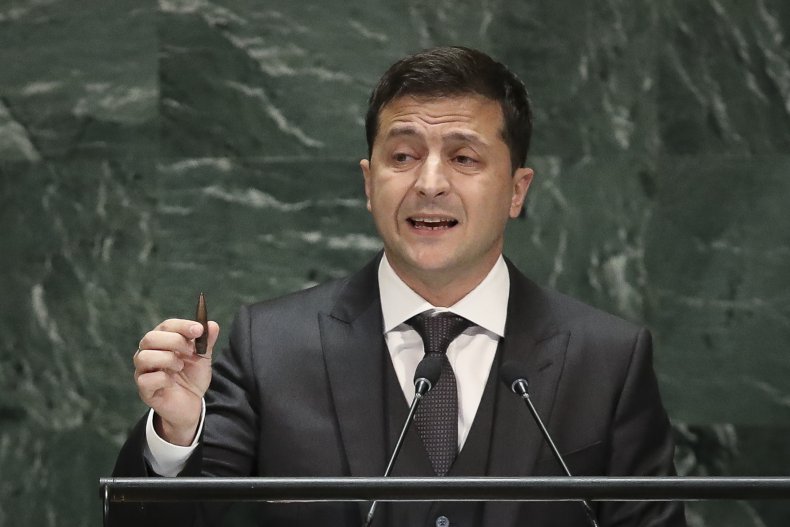 U.S. Secretary of State Antony Blinken added last week that Russia's presence in the area has raised serious concerns in both Ukraine and the West.
"We're now seeing the largest concentration of Russian forces on Ukraine's borders since 2014," Blinken said on April 13."That is a deep concern not only to Ukraine but to the United States and indeed to many of our allies and partners."
Later that day, President Joe Biden called on Russia to "de-escalate tensions" during a call with Russian President Vladimir Putin. He also "emphasized the United States' unwavering commitment to Ukraine's sovereignty and territorial integrity," according to reports.
The Biden administration also moved last week to impose sanctions on Moscow for the SolarWinds hack of U.S. government agencies and interference in the 2020 election.
Russia has so far denied plans to start a military conflict with Ukraine, and has instead accused western media of falsely raising tensions.
"The Ukrainian and Western media are blowing the issue of Russian military activity near the border with Ukraine out of proportion," said spokeswoman Maria Zakharova last week, according to The Hill.
During his state of the union address on Wednesday, Putin accused Western countries of trying to "impose their will on others by force."
"I hope that no one will think of crossing the 'red line' in relation to Russia, which we ourselves will define in each specific case," the Russian president said, adding that: "Russia's response will be swift, asymmetrical and severe."
Newsweek contacted the White House for additional comment, but did not hear back in time for publication.