Russian President Vladimir Putin has accused Western countries of trying to "impose their will on others by force," and issued an apparent warning to those who are organizing and taking part in protests in the country on the same day.
In his annual state-of-the-nation address on Wednesday, Putin focused on Russian domestic priorities, such as climate change, economic support for citizens and its fight against the coronavirus.
His speech came amid strained ties with the West over a build-up of Russian troops by the Ukrainian border and the deteriorating health of the jailed critic, Alexei Navalny, whose supporters are protesting throughout the country, calling for his release.
Last week, the Biden administration imposed sanctions on Moscow for the SolarWinds hack of U.S. government agencies and interference in the 2020 election, both of which the Kremlin denies responsibility for.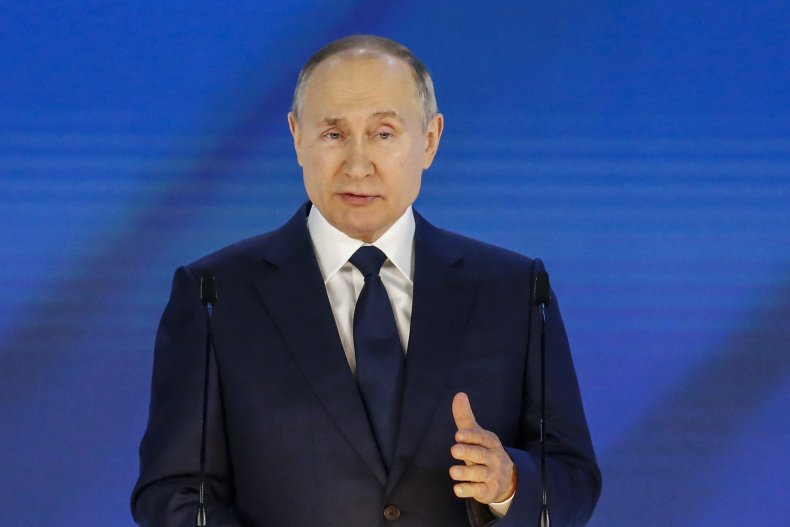 Putin said that Western countries had imposed "illegal" economic sanctions so as "to impose their will on others by force."
"I hope that no one will think of crossing the 'red line' in relation to Russia, which we ourselves will define in each specific case," Putin told the gathering of lawmakers, regional heads and officials.
"Russia's response will be swift, asymmetrical and severe," he added.
Describing how criticizing Russia "is turning into some kind of sport," Putin referred to reports that security forces in Belarus and Russia had managed to stop an alleged attempt to assassinate Belarusian president Alexander Lukashenko.
"These days this practice is turning into something much more dangerous," he added, "They have crossed all the lines," The Moscow Times reported.
Following the Biden administration's announcement of sanctions last week, Washington's ambassador to Moscow, John Sullivan, said he would return to the U.S. It comes after Moscow recalled for discussions its envoy to Washington, D.C., Anatoly Antonov.
Meanwhile, as of Wednesday afternoon, dozens of protesters voicing their support for Navalny were arrested. Some of Navalny's allies have also been detained, amid fears of a crackdown against the Kremlin critic whose 2.5 year jail sentence has sparked international outrage.
Although he did not directly address the protests or Navalny in his speech, Putin said: "The organizers of any provocations threatening our core security interests will regret their actions more than they've regretted anything in a long time."
Navalny's close friend and ally, Leonid Volkov, has urged the Biden administration to hold Putin accountable amid fears that the opposition figure's health is seriously declining.
The graphic below provided by Statista shows Vladimir Putin's tenure in power.