Dozens of Alexei Navalny Supporters Arrested on Day of Protests Against Vladimir Putin
Police in Russia started making arrests early on Wednesday, a day when protests in support of jailed opposition figure Alexei Navalny are expected to draw tens of thousands to the streets across the country.
There was an urgency to the scheduling of the protests for Navalny due to his reportedly faltering health, which has generated international concern.
The Kremlin critic has been on hunger strike for three weeks in protest at the lack of medical treatment he says he needs as he serves a two-and-a-half-year term in a penal colony in the Vladimir region, located east of Moscow.
The protests also coincided with Russian President Vladimir Putin's annual state-of-the-nation speech, in which he mostly outlined the country's domestic political priorities.
At least eight protesters were arrested in the eastern port city of Magadan, according to the Znak.com news website, while the MediaZona news website reported that another five Navalny supporters had been detained in the Siberian city of Irkutsk, around 3,000 miles east of Moscow.
Independent news outlets also reported that offices of Navalny's Anti-Corruption Foundation (FBK) had been raided in the cities of Yekaterinburg and Samara and staff and volunteers in Khabarovsk and Ufa were also detained.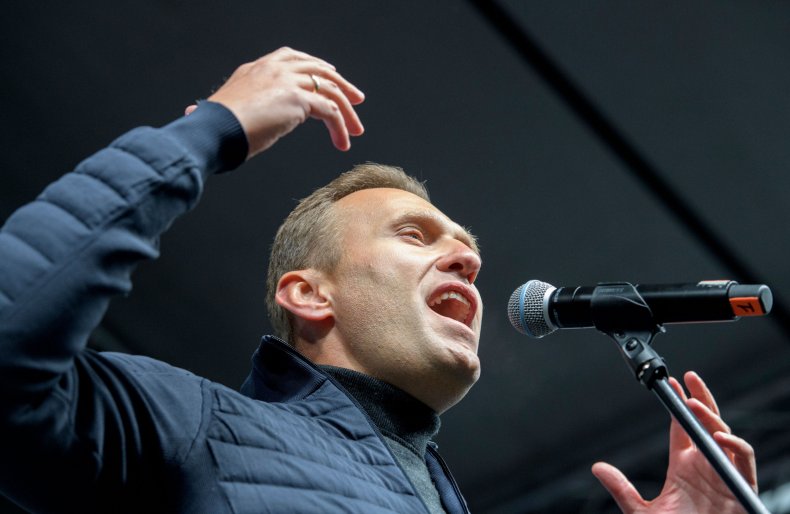 In Russia's far east, footage showed a large police presence in cities such as Vladivostok, Khabarovsk and Petropavlovsk-Kamchatsky, The Moscow Timesreported.
Searches were also conducted and activists arrested in at least 20 cities. Lyubov Sobol, one of Navalny's closest allies, was taken by police from a taxi near a metro station in Moscow, the BBC reported, citing her lawyer, Vladimir Voronin. Police also detained Navalny's spokeswoman, Kira Yamish, near her home, her lawyer Veronika Polyakova tweeted.
Up to 1,000 people turned up to protest in Vladivostok, the port city in Russia's far east, according to local media. Meanwhile, police in Moscow blocked off streets near the Red Square, Alexandrovsky (Alexander) Garden and Manezhnaya (Manege) Square ahead of protests in the Russian capital which are scheduled to start at 7 p.m. local time.
As of 3:30 p.m. Moscow time, 49 people had been arrested, according to the monitoring website Ovid Info.
The specter of another crackdown by the authorities looms in Russia in what constitute the first protests since Navalny's suspended sentence was switched to a jail term in February. More than 465,000 people have pledged via the Free Navalny website to take part in demonstrations calling for his release.
His right-hand man, Leonid Volkov tweeted his concern at the arrest of supporters on Wednesday, writing: "There are searches, preventive arrests, attacks on our headquarters in two dozen regions.
"Potential protesters are being detained throughout Russia. This is repression," he tweeted, "this darkness must be fought."