Vladimir Putin Faces Mass Russia Protest as Alexei Navalny Disappears in Prison System
Russia could witness protests this spring surpassing those that rocked the country following the arrest and jailing of Alexei Navalny, an ally of the Kremlin critic has said.
It comes amid local media reports that Navalny, who is serving a 2.5-year jail term, has been taken from his prison colony in the Vladimir region to an undisclosed location.
By Wednesday afternoon, nearly 400,000 people had registered their intention on the "Free Navalny" website to attend demonstrations in support of the Putin critic.
Leonid Volkov, who heads Navalny's regional headquarters network, said in a series of tweets that this level of support suggested that the turnout would be greater than for the demonstrations in January, which were followed by a brutal crackdown and over 11,000 arrests.
Volkov said that by January 23, 128,000 people had registered on Navalny's website, although many more turned up on the day. So far, he said, many more have registered in Moscow and other Russian cities than had done in January.
This suggests that bigger protests are in store and points to a significant problem for Putin, who faces waning popularity and parliamentary elections in September.
"Our plan now is for four times more people to register for the big spring rally," he said. The website state's his group's goal of getting 500,000 people to commit to attending, although no date has been set for protests.
Navalny was arrested upon his arrival from Berlin, where he was treated for poisoning by the Novichok nerve agent. The U.S. was among countries that blamed the Kremlin for the attack, although Moscow denies responsibility.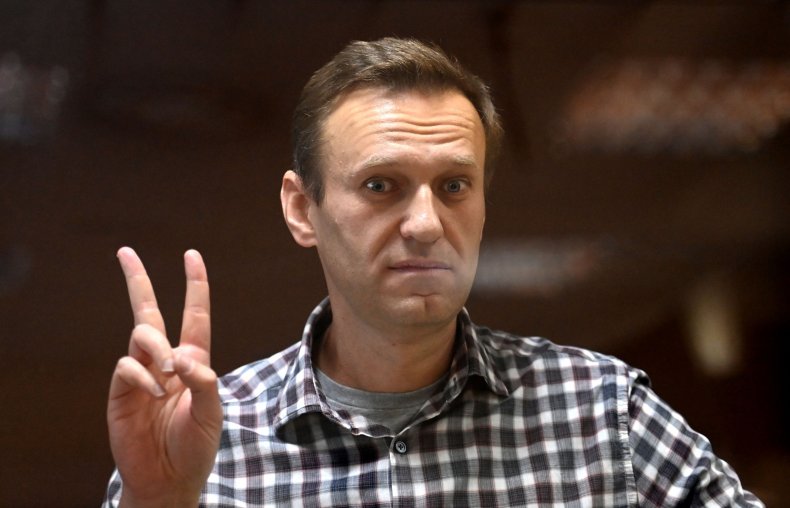 "Putin tried to kill Navalny" says the Free Navalny website, "but Alexei survived—and then Putin threw him in jail.
"If you are against corruption, repression and political assassinations, work for the release of Alexei with us," it added, calling on people to register, post messages on social networks and "let the whole country know about the campaign."
The website has a map of the world's biggest country, with marks from Moscow to Russia's far east signifying areas where people had registered. "Every point on the map is a brave person who opposes Putin's power," it says.
Meanwhile, it has been reported that Navalny may have been taken away from the detention facility in the Vladimir region, where he is serving his term for breaching the terms of his probation order for a 2014 embezzlement case he says was politically motivated.
In a report by the local website Pro Gorod and picked up by independent Russian media outlets, Navalny may have been transported to another prison or been given a medical examination.
Navalny's lawyers have not commented on the reports of his whereabouts, Echo of Moscow reported.
The Kremlin critic has been on a hunger strike since March 31 in protest at the lack of medical assistance and he has been complaining of pain in his legs and back.
The graphic below provided by Statista shows how long Putin has been in power.