The ongoing war between Russia and Ukraine shows that Moscow's alliance with China has its boundaries, according to foreign policy experts who recently spoke with Newsweek.
Despite calls from the U.S. and other NATO nations, China has yet to explicitly condemn Russia's invasion of Ukraine. However, China has continued to call for peace between both sides, while continuing to criticize the U.S., previously calling it the "leading instigator of the Ukraine crisis." China also recently voted against a resolution that suspended Russia from the United Nations Human Rights Council.
Instead of condemning Russia's invasion of Ukraine, China has continued to call for peace between both sides.
While speaking with Newsweek, Robert Blackwill, a former U.S. Ambassador to India and current senior fellow for U.S. foreign policy at the Council on Foreign Relations, described the relationship between the two nations as a "strategic choice for China," but noted that Russia's war in Ukraine isn't helping the Asian nation.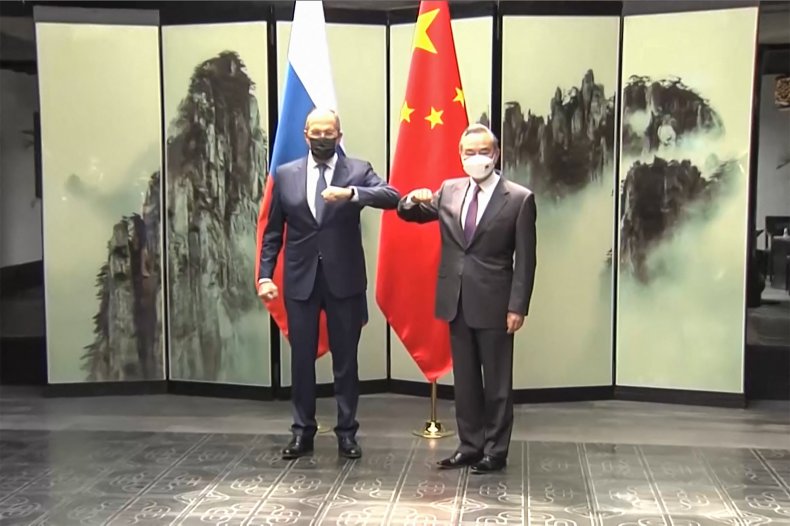 "Mostly separate from Russia, this war has been bad for China," Blackwill told Newsweek. "The most important reason this has been damaging for China is this display of American competence. Our allies depend on us and other partners, depend on us, hoping for our confidence."
Blackwill, who described himself as a "rock-ribbed old-time Republican," also said Russia's invasion of Ukraine poses a problem for China's "core principles of the sanctity and sovereignty and territorial integrity."
"China's trying to think of a way to walk delicately down that line of defending both by being on both sides of that line and it's unconvincing in that regard," Blackwill said.
Blackwill also spoke about China's current position on the Ukraine war, as they have continued to call for peace between both sides, saying that China is trying to do two things at the same time.
"They are trying to avoid damaging their relationship with Russia and they are trying to put as good a face on their public diplomacy as they can," he said. "Presumably they're succeeding on the first but they're not succeeding on the second...and they're not going to succeed on the second unless they condemn the Russians, and they're not going to condemn the Russians."
Elizabeth Wishnick, a senior research scientist at CNA, a nonprofit research organization, also made similar comments about China's current relationship with Russia amid the war in Ukraine, noting that while they have shown support for each other in response to the U.S. there are "differences in their implementations."
"So, basically some strategic and regime security factors bring them together but they've always had some differences in the implementation, especially on their peripheries," Wishnick, who has a Ph.D. in Political Science from Columbia University, an M.A. in Russian and East European Studies from Yale University, told Newsweek.
"Ukraine has been a challenging one because China, prior to this invasion, had declared that it recognized Ukraine's sovereignty," Wishnick said. "I don't think the relationship has changed fundamentally since the invasion but certainly it puts China in a dilemma in terms of how it explains its foreign policy positions since it has a longstanding position against threats to territorial integrity and sovereignty because of its Taiwan concerns."
Wishnick also noted that she believes China sees itself as supportive of Russia, specifically "in the information space."
"They've been parroting Russian disinformation on the Ukraine war, talking about the false allegations of U.S. bio-labs in Ukraine," Wishnick said.
Amid the ongoing war in Ukraine, U.S. officials have continued to warn China against supplying Russia with military assistance. However, Blackwill believed that the current relationship between China and Russia isn't really threatening to the U.S.
Blackwill told Newsweek that he doesn't see the current state of the relationship between China and Russia as "threatening, in any fundamental way."
"I think genuinely, the leadership in both China and Russia believes that it is America's strategic objective to overthrow the regime," Blackwill said.
On the other hand, Wishnick explained that there's certainly "concern about how far this partnership would go."That uncertainty is threatening to the U.S. and EU countries because it's not clear if China is gonna come in and provide additional technology to Russia that it could use in the conflict or if it's going to help Russia cope with sanctions," Wishnick said." So that kind of uncertainty, I think, is certainly a source of concern."