China voted to keep Russia as a part of the United Nations Human Rights Council on Thursday, following reports of a threat made by the Kremlin that a vote against Russia would alter that country's relationship with Moscow.
During a meeting of the U.N. General Assembly, China voted against a resolution that would suspend Russia from the U.N. Human Rights Council, saying that it was not drafted in "an open or transparent matter."
Despite China's vote, the resolution to remove Russia passed with 93 nations voting in favor and 24 voting to keep Russia on the council. Fifty-eight nations abstained from voting on the resolution. Russia is only the second country ever to be removed from the council after Libya was removed in 2011.
The vote by China to back Russia comes shortly after the Associated Press reported that Russia threatened several nations to vote against the resolution on Thursday. According to the Associated Press, Russia told several nations that voting in favor of the resolution or abstaining from the vote would be considered an "unfriendly gesture" and alter that country's relationship with Russia.
Earlier this week, U.S. Ambassador Linda Thomas-Greenfield said that Russia should be removed from the council in response to reports from Bucha, where Ukrainian officials have accused Russian troops of committing war crimes. Ukraine has alleged that after its military forces reclaimed control of Kyiv, Russian troops deliberately murdered civilians in Bucha and other towns surrounding the nation's capital.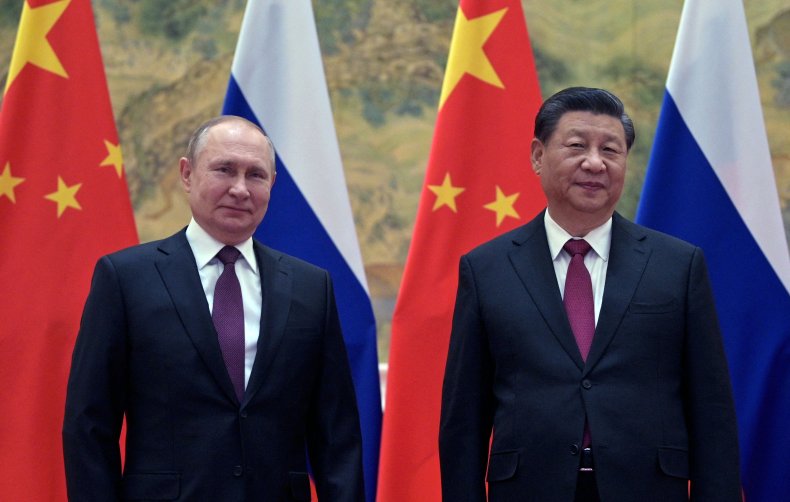 "Russia's participation on the Human Rights Council is a farce," Thomas-Greenfield said earlier this week.
While Ukraine has continued to accuse Russia of committing war crimes and even "genocide" in Bucha and other cities, Russian officials have continued to deny these claims.
"All the photos and videos published by the Kiev regime in Bucha are just another provocation," the Russian Ministry of Defense said in a statement earlier this week. During a speech on Tuesday, Russian Foreign Minister Sergey Lavrov called the West and Ukraine a "propaganda machine" and accused the two of promoting "hysteria" in Bucha.
While the vote on Thursday removed Russia from the U.N. Human Rights Council, Ukrainian President Volodymyr Zelensky called on the U.N. Security Council to hold Russia accountable for its invasion of Ukraine.
"We are dealing with a state that is turning the veto [in] the U.N. Security Council into the right to die," Zelensky said while addressing the U.N. Security Council earlier this week. "We must do everything in our power to pass onto the next generation an effective U.N. with the ability to respond preventively to security challenges and thus guarantee peace, prevent aggression and force aggressors to peace."
Following the reports from Bucha, White House national security advisor Jake Sullivan said that while White House believes Russia has committed "war crimes" in Ukraine, they "have not yet seen the level of systematic deprivation of life of the Ukrainian people to rise to the level of genocide."
In addition to China, several other Russian allies voted against the resolution, including Kazakhstan, Syria and Belarus.
Newsweek reached out to the Russian Foreign Ministry for comment but did not receive a response in time for publication.