Michael McFaul, former U.S. ambassador to Russia, outlined why Ukraine's military will see "long-term significance" from receiving F-16 fighter jets from its allies.
Ukrainian President Volodymyr Zelensky has long called for his Western allies to provide his military with F-16s, which experts say would enhance his troops' efforts to fight off the ongoing Russian invasion, launched by Russian President Vladimir Putin in February 2022. Ukraine's allies have provided Kyiv with billions of dollars in military aid since, blunting Moscow's gains while allowing Ukrainian forces to retake Russian-occupied territory.
However, President Joe Biden resisted giving Ukraine the F-16s amid concerns of training Ukrainian pilots and the difficulty of operating the jets—as well as about whether their delivery could prompt a response from Russia. Moscow has condemned the delivery of any weapons to Ukraine and previously warned the West against sending the fighter jets.
Zelensky's pleas were answered last week after Biden told reporters at the G7 summit that Western allies were making a "long-term" commitment to provide Ukraine with F-16s. The plan will see North Atlantic Treaty Organization (NATO) countries send the jets to Ukraine, and the U.S. will help train Ukrainian pilots.
Newsweek has reached out via email to the Ukrainian Ministry of Defense for comment.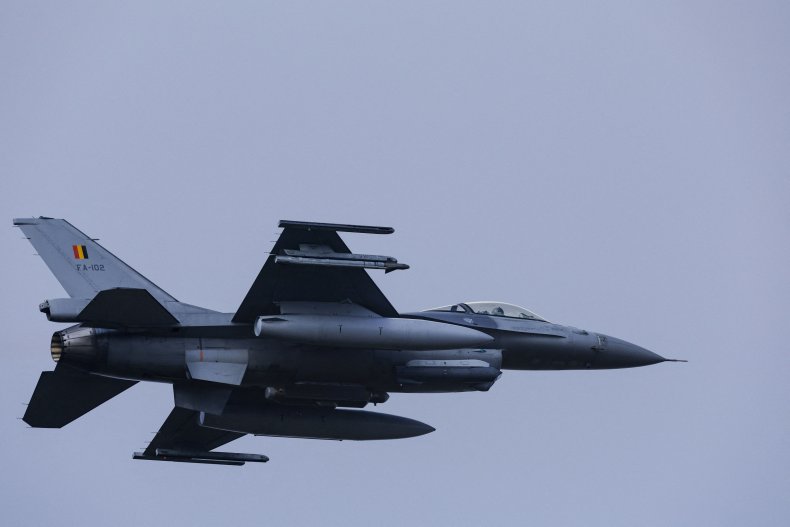 McFaul laid out how F-16s will benefit Ukraine's military on Monday in a Substack post titled "The Long-Term Significance of Sending F-16s to Ukraine."
He wrote that the move "demonstrates that the United States and other NATO Allies are committed to modernizing Ukraine's Armed Forces in the long run," meaning it will shift from older, Soviet-era weapons.
"Across every major weapons platform, Ukraine is now moving away from its Soviet-era systems, and instead adopting American and NATO-made weapons. The war has accelerated this transition, which will now continue for years and decades until Ukraine's Armed Forces become one of the best-armed in Europe," he wrote.
The complete transition could take decades, but will also "integrate Ukraine more deeply" into NATO, a major point of contention with Russia, and give it "teeth" to deter future Russian aggression, McFaul wrote.
The transition to modern-day weaponry, which McFaul said should continue with the transfer of drones, will leave Ukraine as "one the best-trained, best-armed, and largest armies in democratic Europe."
Other experts have also weighed in on how F-16s will affect the war in Ukraine. Former British Royal Air Force Senior Commander and Air Marshal Greg Bagwell previously told Newsweek these weapons will offer two benefits to Ukraine—the tactical perk of more modern aircraft, as well as more enhanced weapons that can be integrated into the Ukrainian military.
However, Russia has warned that it views this deal as an "escalation."
"We see that the Western countries are still adhering to the escalation scenario," Russian Deputy Foreign Minister Alexander Grushko said, according to TASS, the Russian-state news agency.
"It involves enormous risks for themselves. In any case, this will be taken into account in all our plans, and we have all the necessary means to achieve the set goals," he added.