Ukrainian Ambassador Suggests Putin Should 'Kill Himself' as Hitler Did
Ukraine's ambassador to the UN gave an impassioned speech during a rare General Assembly session on Monday, in which he compared Russia's ongoing invasion to World War II and suggested that President Vladimir Putin should "kill himself" like Adolf Hitler did.
"We have been prompted to call for an emergency special session as the level of the threat to the global security has been equated to that of the second World War, or even higher following Putin's order to put an alert Russian nuclear forces," Ambassador Sergiy Kyslytsya said during the UN meeting. "What a madness."
"If [Putin] wants to kill himself, he doesn't need to use nuclear arsenal. He has to do what the guy in Berlin did in a bunker in May 1945," he added, in reference to Hitler's suicide on April 30, 1945.
Kyslytsya also made comments during the meeting comparing Russia to "the Third Reich," a designation used to describe Hitler's Nazi regime.
The emergency UN General Assembly session was called on Monday to discuss Russia's ongoing invasion of Ukraine as fighting reaches into its fifth day. It is only the 11th time such a meeting has been called since the 1950s.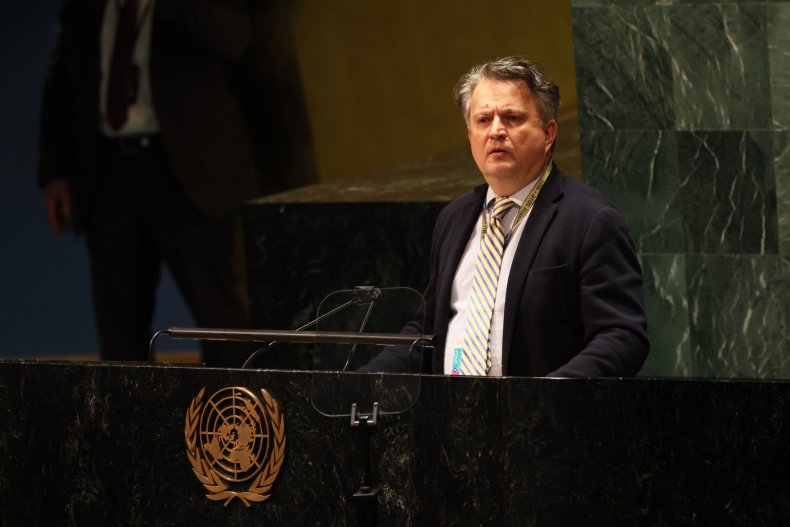 Following Kyslytsya's remarks, Russia's UN ambassador Vasily Nebenzya denied that his country is attempting to "occupy Ukraine" and instead claimed that the goal is to "de-militarize and de-genocide" the nation. Nebenzya also accused the West of "distorting" the conflict.
"We constantly hear lies, fakes about indiscriminate shelling of Ukrainian cities, hospitals, schools, kindergartens," Nebenzya added. "The Russian army does not pose a threat to the civilians of Ukraine, is not shelling civilians' areas and cities where Russian armed forces have taken control."
The statements from both ambassadors came on the same day that Ukraine and Russia agreed to peace talks along the Belarusian border. The meeting marked the first round of negotiations between the embattled nations but appeared to yield little result as fighting continues to persist across Ukrainian cities.
"The parties identified a number of priority topics in which certain solutions were outlined," Mihailo Podolyak, a member of the Ukrainian delegation, said in a statement on Monday. "In order to get some opportunities for implementation and logistical solutions, the parties are returning to their capitals for consultations."
Vladimir Medinsky, a former culture minister who led the Russian delegation, said another meeting will take place on the Ukraine-Belarus border in the "coming days."
The UN said Monday that at least 102 civilians have been killed in Ukraine so far, while 304 have been injured. On the same day, dozens of people were killed in an attack by Russian rockets on Ukraine's second-biggest city, Kharkiv.