As Ukrainians attempt to grapple with the lives that have been lost to the war with Russia, one deputy mayor says he can't even count the number of civilian deaths in his city of Mariupol.
"We really cannot calculate how many deaths we have—I mean it's three to four times more [than the official count]—so we are not able even to count how many people on streets killed by bombing and artillery," Sergei Orlov, deputy mayor of Mariupol, told CNN's New Day on Wednesday.
On Tuesday, Mariupol confirmed that at least 1,207 civilians have died from shelling in the city since Russia's invasion of Ukraine began two weeks ago—although the final count is estimated to be much higher. City authorities have begun burying the dead in a mass grave to clear corpses from the streets.
Mariupol, which has been surrounded by Russian troops for days, has been among one of the most heavily bombed areas and is among one of the five cities that Ukraine is trying to evacuate civilians through "humanitarian corridors."
On Wednesday morning, a 12-hour ceasefire between both sides was agreed upon in hopes of allowing citizens to flee from Mariupol, Enerhodar, Sumy, Izyum and Volnovakha. The routes will also allow residents of several towns around Kyiv—Vorzel, Bucha, Irpin, Borodyanka, Gostomel—to get to the capital.
The ceasefire runs from 9 a.m. to 9 p.m. local time.
"Today is our fifth attempt to provide humanitarian corridor and we know that no previous attempt was successful so we hope that this one will be successful," Orlov said.
As of 3 p.m. local time, the deputy mayor said there has been no movement out of Mariupol. He said the delay could be due to shelling that has caused buses and trucks to halt their routes to the city.
"There is no ceasefire, any ceasefire, in Mariupol. Mariupol is under continuous shelling from the artillery and bombing," Orlov said.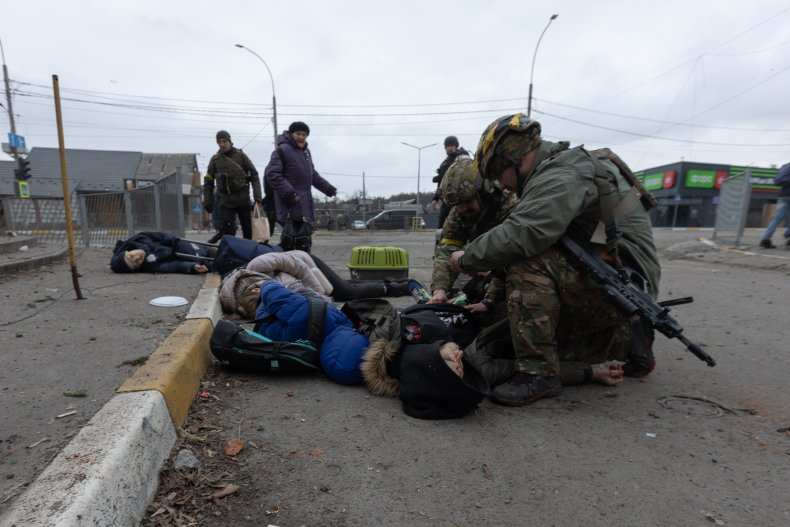 He said that while the Ukrainian military has been successful at defending the city from a Russian takeover, there is little they can do when it comes to the air raids that have killed at least 1,200 people in the city.
Orlov described an "awful" situation in Mariupol, where there is no water, electricity, heating, gas supply or sanitary system. He said residents have turned to melting snow on the street for water.
"This district does not exist anymore," he said. "There is no building without damage."
The deputy mayor said he himself does not know if his parents are alive. He has been unable to contact them for the last eight days.
"From the point of view of our brave army, it could last until up to the last bullet," Orlov warned. "But the humanitarian situation is awful. At least 3,000 infants do not receive food because their mothers do not have milk and we do not have [baby] food."