Ukrainian Forces Kill 82 Russians, Destroy 30 Units of Equipment: Report
Ukraine's military says that it killed 82 Russian troops and destroyed at least 30 units of Russian equipment during fighting on Monday.
Ukraine's Operational Command South (OCS) said in a Tuesday Facebook post that the first day of a major counteroffensive on Russian positions in southern Ukraine had resulted in significant success, while Russian attacks on five Ukrainian positions were largely "unsuccessful." Ukrainian forces are attempting to retake territory previously lost, including the city of Kherson, more than six months after the Russian invasion began.
"The situation in our operational area is steadily tense," OCS said in the post. "The enemy continues combat operations at the tactical level, tries to rotate units. The demonstration of force is carried out with the help of aviation. During the day, he attacked our positions 5 times, but was unsuccessful."
"Instead, last night our artillery units inflicted damage on 13 enemy control points in Kherson, Beryslav and Kakhovsky districts," it continued. "The enemy's air defense positions were attacked with six air strikes using various means of air attack."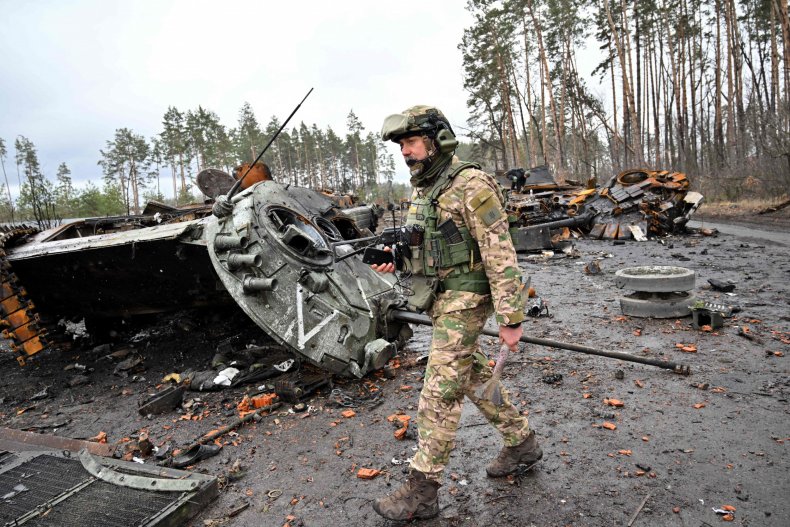 OCS had said earlier on Monday that 41 Russian troops had been killed. In addition to doubling the number of Russian troops killed, OCS said that multiple Russian ammunition warehouses had been destroyed and reported an updated list of destroyed Russian equipment.
Ukraine said that Russia lost an S-300 anti-aircraft missile system, two T-72 tanks, 11 "Msta-B" howitzers, six armored vehicles and three rocket launchers. Other artillery and mortar systems that were allegedly destroyed on Monday included multiple "Hyacinth-S," "Nona-S," "Akatsiya" and "Msta-S" units.
OCS said that 16 daytime incidents of Russian "mass shelling" using S-300 anti-aircraft missiles resulted in two civilian deaths and 24 civilian injuries in the southern city of Mykolaiv, as well as damage to residential buildings and transportation infrastructure.
Satellite images shared in a report by Naval News showed that a "nondescript Russian cargo ship" believed to be the Sparta II was aiding the Russian war effort by moving a shipment including the battery for Russian S-300 missile systems from Syria to the Black Sea on Monday.
John Kirby, U.S. National Security Council spokesman, said that Ukrainian attacks in southern Ukraine were exposing shortages of Russian military personnel by forcing Russia to transfer forces from Ukraine's eastern Donbas region due to the "looming threat."
"Regardless of the size, scale and scope of this counteroffensive that they've talked about today, [Ukraine has] already had an impact on Russian military capabilities," said Kirby. "The Russians have had to pull resources from the east simply because of reports that the Ukrainians might be going more on the offense in the south."
Meanwhile, Ukrainian President Volodymyr Zelensky said during a televised Monday evening address that the war would end with Russia being pushed out of the territory it currently occupies, including Crimea, which was annexed following fighting in 2014.
Newsweek reached out to the Russian government for comment.