Abused, Caged, Disappeared: Ukrainians Tell of Life Under Russia Occupation
Survivors of Russian occupation in eastern Ukraine have spoken to Newsweek of the traumas they faced, as local authorities begin rebuilding and restoring local services in dozens of ruined settlements freed by the recent Ukrainian advance.
Ukrainian troops have freed more than 6,000 square kilometers (2,316 square miles) of occupied territory since early September, inflicting another defeat on President Vladimir Putin's forces. Kyiv's troops are continuing their drives in the east and south as Russian authorities seek to cement their control with controversial referendums that have been dismissed as a "sham" by the United States.
Ukrainian advances around the country have reportedly found significant evidence of Russian war crimes and other abuses, which have been denied by Moscow. Leaders in Kyiv say they expect to find more as troops liberate more territory. In liberated Kharkiv Oblast, the stories of survivors offer a glimpse of what is happening across occupied Ukraine.
The city of Izyum, in Kharkiv Oblast—captured by Russian units at the end of March—was a key objective of the Ukrainian offensive. Local resident Illia Puntusov—a 26 year-old PhD student and filmmaker—told Newsweek that the "purges" began immediately after Russia took control of the city.
"They were looking for troops, and prioritized those who had experience in the ATO," he said, referring to what Kyiv termed the Anti-Terrorist Operation Zone where fighting against Russian and separatist forces has been ongoing since 2014.
Checkpoints were set up to police the male population, he said, searching for any signs of pro-Ukraine ideology, including tattoos. Puntusov, who has a "Scandinavian sleeve" tattoo which included symbols associated with the Azov Regiment, said he was lucky to escape arrest.
The Russians also searched Puntusov's phone, through which he had been leading a community group and reporting on events from the city. Luckily, he said, the soldiers did not find the content he had been collecting.
The 'imperial boot'
Puntusov said he was aware of abuses against the local population. Some 440 fresh graves dug during the occupation have been found in the city, and many residents—including children—are still missing. Newsweek has contacted the Russian Foreign Ministry for comment.
Order broke down as local guerrillas took up arms and residents struggled to access vital supplies, he recalled.
"During the first six weeks of the war, not a single humanitarian shipment entered the city," Puntusov said. "This gave rise to looting on a monstrous scale. It came to the killing of locals by locals over food and, unfortunately, non-essential items."
"Partisan activity was also constantly observed in the city; roadblocks were shot up, gunfights during curfew," he added.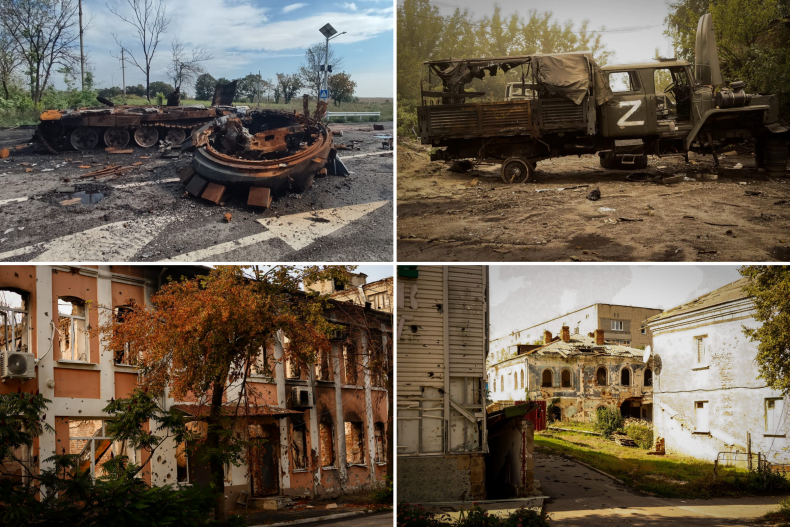 Puntusov left on May 3. "We drove randomly without a clear understanding of how it would happen and what awaited," he said. The group made it 35 miles west to contested territory despite repeated Russian checks.
"We had to pass about 15 roadblocks. Each of us was carefully looked over, tattoos were checked, and they tried to return us to the city. How we managed to leave and how it can be explained, I have no rational answer."
Puntusov returned to Izyum for two days shortly after its liberation. The city had no working communications, little food, insufficient medical supplies, and no electricity, gas, or water. Puntusov said most of the high-rise buildings are either destroyed or badly damaged, and the area remains dangerous due to mines and unexploded ordnance.
"My attitude to everything Russian was negative even before that," he said. "Everything Russian is perceived by me as the tread of an imperial boot."
But not all Izyum residents are so fiercely opposed, even now, Puntusov said. "There was great loyalty to everything Russian in the city. Even after all the death and destruction, it remained; they were forgiven a lot."
"Separatist sentiments in the city were tangible, but not critical for complete control," Puntusov said. Many such sympathizers fled along with the occupying Russian troops, he added.
'We were put in a cage'
Puntusov's escape route took him through Balakliya, whose fall to advancing Ukrainian troops heralded the start of the Russian collapse in Kharkiv Oblast. There, residents lived for six months under Russian occupation.
Among them was Viktoriia Shcherbak, a 55 year-old high school teacher from Balakliya who said she was detained and tortured. Two Russian bombs heralded the arrival of the war on February 26, damaging her school and homes nearby. The Russians came on March 2.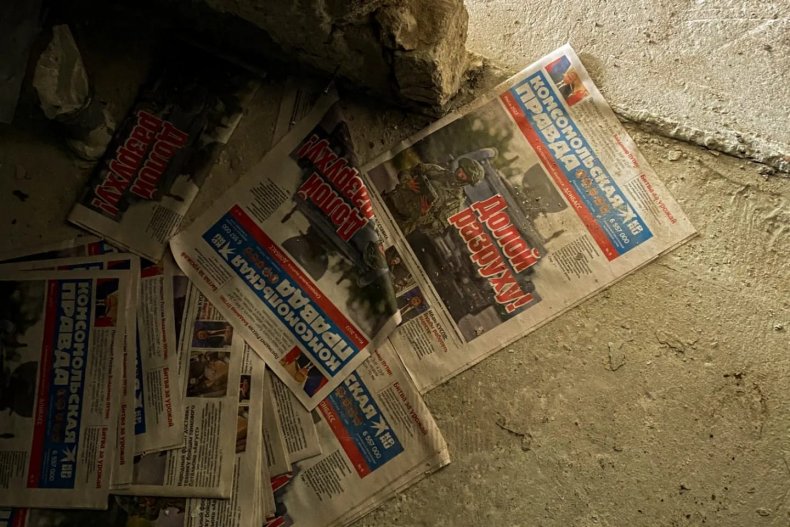 "The Ukrainian army retreated not far, so we lived on the front line," Shcherbak told Newsweek. "At first it was very scary and we hid in the basement, but then we got used to it, and even during the most terrible shelling, we no longer hid." She said residents had no electricity and often no water.
"In May, the city was closed," she recalled. "The terror began. People started disappearing. Many acquaintances and neighbors disappeared for several weeks, and then returned blue from beatings." The local hospital was forced to close, she said, with staff threatened and one ambulance driver killed.
Shcherbak described herself as a well-known patriot. Fearing arrest, she decided to leave along with her husband and 16-year-old adopted daughter.
"My adopted daughter and I were packing up when five gunmen in full combat gear entered the house. They took us out into the yard, took away our phones and documents. They did not like some statements and photos on the phones, and they arrested us." She said her husband was also detained.
Shcherbak and her daughter were taken to one of the infamous makeshift basement prisons that have been discovered across liberated Ukraine. "We were put in a cage," she said. "We could only sit and stand, it was very cramped, we were taken to the toilet once a day." Later, they were transferred to a prison.
"There were five women in our cell. There was no light and water, the ventilation did not work. The toilet smelled terribly. We slept on bare boards, one girl right on the floor. They fed us once a day, one portion for two, and two liters of water per day for everyone."
"We were surrounded by drunken soldiers, and we were completely in their power."
The Russian soldiers filmed interrogations, forcing detainees to denounce the Ukrainian government on camera. They also threatened to rape Shcherbak's teenage daughter, at which point Shcherbak suffered a heart attack and was transferred to a hospital.
Both were later released, as was Shcherbak's husband after two weeks in detention. "When he entered the yard, I did not recognize him," she recalled. "He looked like the living dead."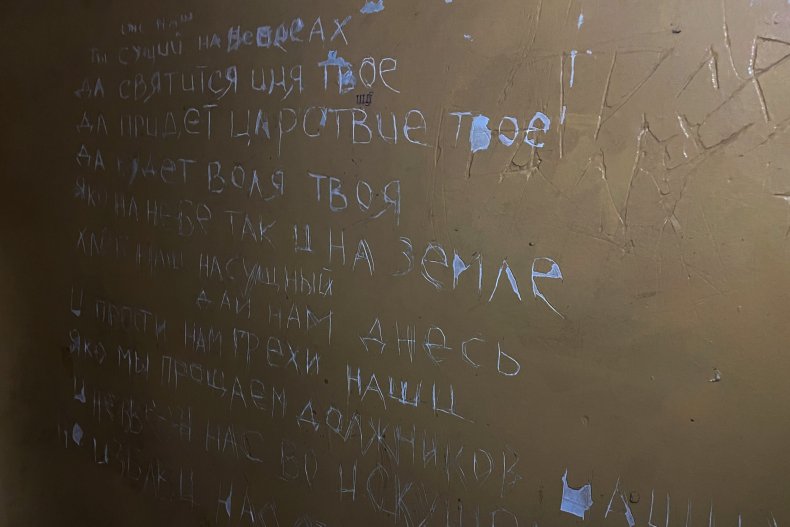 Ukrainian troops raised their flag over Balakliya on September 8 as Russia's lines in Kharkiv collapsed. "When we first saw Ukrainian soldiers, we hugged and cried with relief," Shcherbak said. The family soon left, and is now living in the western city of Lviv, waiting until basic services are restored to their hometown.
"I want the whole world to hear my story," she said. "They declared us fascists and came to kill us on our land. Who gave them such a right? Why are you silent? Are you afraid of this evil dwarf with nuclear toys? He is the fascist king, and we are a democratic state that defends its land."
The price of victory
Ukrainians are buoyed by recent battlefield successes, but know the price being paid.
"These are incredible emotions, these are tears of joy, this is pride for the Ukrainian army," said Anastasiia Bugera—a 21 year-old who works in cyber security—who left occupied Izyum one month before it was taken back by Ukrainian troops.
"But you understand that on the other side of the coin are losses," she told Newsweek. "Great losses, hundreds of lost lives. The whole world should remember the price that Ukrainians are currently paying for the future of not only our country, but also the whole of Europe."
Among those paying that price is Bugera's 23 year-old boyfriend Konstantin, a defender of Mariupol and the now-famous Azovstal steel plant in the city. He was among those taken prisoner when the city fell and remains in captivity. Bugera did not wish to share Konstantin's full name or unit, fearing it might endanger him.
"Nothing is known about him yet at all," she said. "No letters, no calls. I just kiss his photo before going to bed and hug the doll which he gave to me. I believe in him, I believe in his strength, he will endure."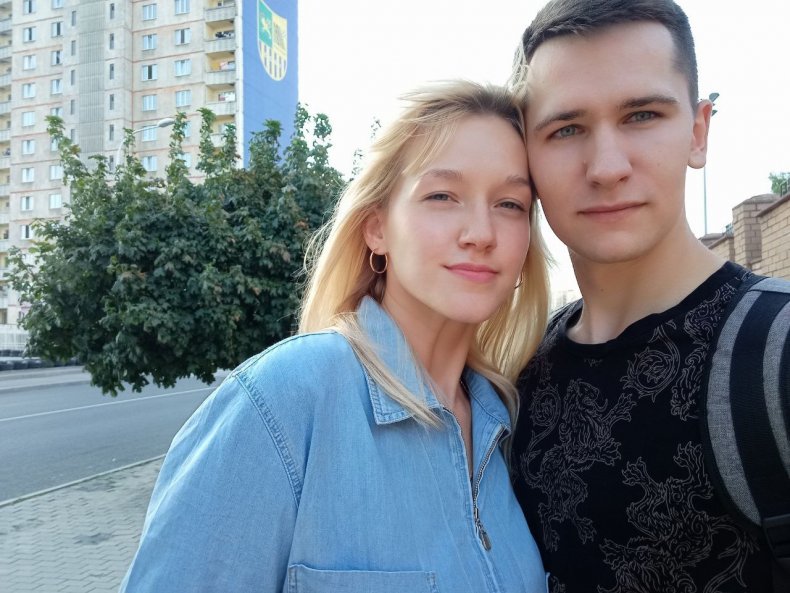 "I feel that he is holding on, so I also have no right to be weak here, I have to fight for him," she added. "I hope that he feels my smile, and it makes him warm and gives him strength."
Bugera is now in Poland, having first fled to the city of Sumy with her boyfriend's mother. Her own parents left for Estonia soon after. "I decided to go because I was just mentally tired," she said.
"Sometimes I put on headphones and just listened to music at full volume, although I understood that a Russian projectile could fly anywhere and at any time...I just became indifferent and it started to scare me. It became unbearable to look at the Russian troops, their equipment, their flags."
Bugera does not know what awaits her in Izyum. "I know that my city is completely destroyed, absolutely completely. My house was recently intact. What is with it now, I can't say."
"I really want to go home," she said. "Poland is a nice country, it has its own atmosphere, but my soul goes to Ukraine."
She said: "The first thing I wanted to do, when I found out about the de-occupation of the city, was to get the first bus or train and go home. I am simply incredibly grateful to our defenders who liberate our cities and villages at the cost of their own lives.
"Of course, I believe that we will win, we can see it on all fronts, but the war continues. No matter how sure we are, we need to keep our finger on the pulse. That day will come for sure when we will all hear the news about the victory of Ukraine."