A Ukrainian millionaire said he asked his nation's military to bomb his "beautiful" new home after he realized it was being used as a base for Russian troops.
Andrey Stavnitser, the CEO of a Ukrainian IT company, told Good Morning Britain that he discovered Russian forces had seized his property near Irpin, Ukraine, early last month after he left the country for Poland. His comments come nearly two months into Russia's invasion of Ukraine, in which tens of thousands of civilians have been killed and numerous cities destroyed.
Stavnitser said Monday that the troops descended on his home and held his security staff hostage by interrogating and undressing them. Eventually, the staffers were sent to the woods with no phones or connection to the outside world.
"For two days, they had to walk home, with no phone or connection. After two days, they reached us from a safe place and told us what happened," he told the news program. Stavnitser said he was then able to track the Russian soldiers via a small security camera left inside the house.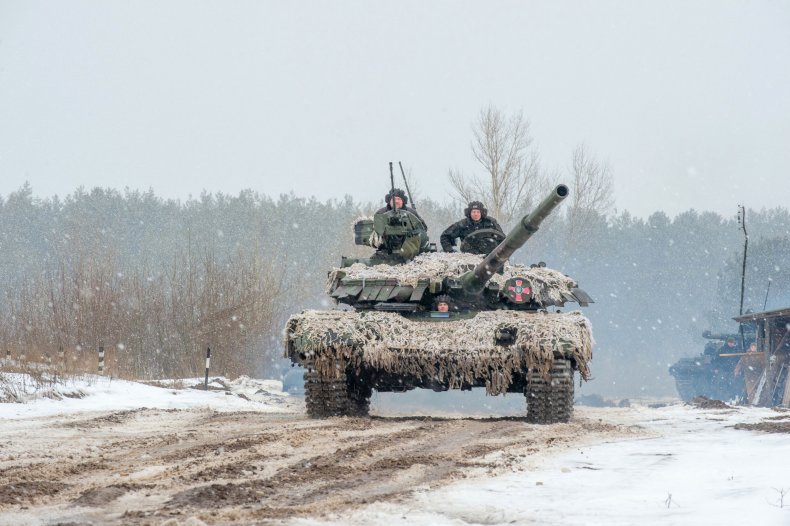 "They destroyed most of the cameras inside the house, however, there was one amateur small webcam that was still working from time to time when electricity was on," He explained. On it, Stavnitser said he saw footage of the troops unloading looted objects from other people's homes and bringing them into his own. He also noticed that the Russian military was beginning to use his home, which is located outside of Kyiv, as a strategic vantage point to attack the capital city.
"There were 12 military vehicles on my territory, including rocket launchers, grenades, and tornado, which they used to shoot at Kyiv," Stavnitser said. "They were basically starting to shoot at Kyiv from my house."
Stavnitser said he quickly contacted the Ukrainian military and told them to destroy the house, even though it was brand new and he had put in "a lot of effort" to build it.
"It was an obvious decision for me," he told the news program. "There is not much you can do to help the Ukraine military, and that was one of the opportunities that I had," he said, adding that he felt "disgusted" and "dirty" to see Russian troops in his house.
"I want to do everything possible to help Ukraine win because I think we're safeguarding Europe's safety. It is important for us to kick those bast**ds out of our land. It's just a little piece that I could do," he continued.
On Monday, Russia began its descent on Ukraine's eastern Donbas region, after facing fierce Ukrainian opposition in the first phase of the war. Ukrainian President Volodymyr Zelensky said that a "very large part of the entire Russian army is now focused on this offensive," and pleaded with Western nations to provide further military assistance to stave off attacks.
Stavnitser echoed those pleas to Good Morning Britain, telling the news outlet that right now, the most important thing Ukrainians need is military support.
"We are very courageous and brave, however we are outnumbered. These guys are still a large army and we're still a small country with a relatively small army. So we need as much military help as possible," he said. Stavnitser added that Zelensky, whom he knows personally, has been a strong and courageous leader.
"I must say that this guy is incredible. He's totally setting up the tempo for everybody, especially for the military. He has a lot of courage, he's super brave. To be honest I'm really really proud to have a president like that," he said.
Newsweek contacted Russia's foreign ministry for comment.