Ukrainian Professor Turned Soldier Still Lectures Students From Battlefield
Teaching is a large part of the life of Fedir Sandor, so much so that the Ukrainian professor continues to provide lectures to his students while on the battlefield fighting for his country against Russia.
Sandor is a professor at Uzhhorod National University, where, according to the school's website, he is a doctor of philosophy and is the head of the department of sociology and social work.
A picture of him dressed in fatigues and donning a rifle has circulated online on platforms including Twitter, Reddit and Facebook, not just because he is a teacher defending his homeland but also because he is giving his students a virtual lecture while holed up in a bunker.
People cited his dedication to the teaching craft, such as one internet user saying "both the university and country are blessed to have him."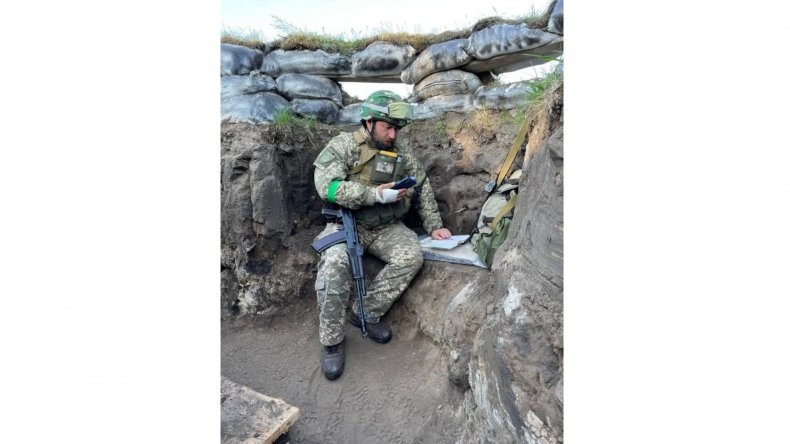 "This is why Ukraine will win," another said.
"I see this man as a hero not only today, but for the future of the young students who will forever remember him for what he does," said another Twitter user who identified himself as a Danish citizen.
Google Scholar shows that Sandor's work, such as "Gender and modern society" and "Subject-subject relations in social work and biopsychosocial approach to human understanding," has been cited in 525 research papers, including 347 studies since 2017 alone.
His university said Thursday that on the first day of the war with Russia, Fedor enlisted to serve in Ukraine's Terror Defense Battalion. He is reportedly now fighting in an unspecified exact location in the country's eastern region.
He has maintained a consistent schedule involving lectures at 8 a.m. every Monday and Tuesday. Upon enlistment, he reached an agreement with his command unit, as well as his fellow serving countrymen, to be able to both fight and teach.
"I have been in the army for 70 days," Fedor said. "I went to the military registration and enlistment office immediately after the couple on February 24. But I didn't give up classes with students...I did not miss a single one. I always prefer morning classes: I read, and then you have time for another job."
Lectures he gives cover subjects like tourism, as well as leading seminars for social sciences students at his university.
He explained that his daily routine is adjusted accordingly. While combat duty lasts 24 hours, he said he needs to be on duty and in position for four hours, and then has four hours of rest—the latter of which involves teaching, dealing with living arrangements, or digging trenches for further protection.
Sandor said shelling is not a big distraction, comparing the sound to "a tractor walking."
"There was just a shelling, and we read the errors in the modules," he said. "I went to the dugout and continued to give a lecture...We are fighting for an educated nation. If I did not give lectures, it would be a sin. Why did I go to war?"
Sandor's valiant efforts have been commended both near and far, including by friends of his, like Minister of Culture and Information Policy Oleksandr Tkachenko.
"It was thought that if the Russians had such teachers at the time, they could live in a prosperous democratic country, and a dictator would never lead a nuclear state," Tkachenko wrote on Facebook. "But nope nope nope. Ukraine will win for sure. Because our people are the real ones. With the confidence of victory!"
The battle wages on. As one top Vladimir Putin ally said, "Russia is here forever," Ukrainian soldiers continue to resist. One video shows troops hiding in a wooden area and blowing up a Russian truck.
Moldova has stayed quiet due to not escalating tensions with Putin and Russia, as it has been rumored to be a future target.
Newsweek reached out to Sandor and university official Myroslava Lendel for comment.