Ukrainian Troops Destroy Russian Armored Unit Trying to Cross Seversky Donets River
These images show the destruction of Russian armored vehicles after Ukrainian troops stopped them from crossing the Seversky Donets River.
The 30th Mechanized Brigade, named after Prince Konstanty Ostrogski, a formation of the Ukrainian Ground Forces, said they destroyed dozens of Russian armored vehicles near the village of Dronivka in the eastern Ukrainian region of Donetsk Oblast.
The brigade said Friday: "Defeat of Russian troops near the village of Dronivka, Donetsk region, during the crossing of the Seversky Donets River."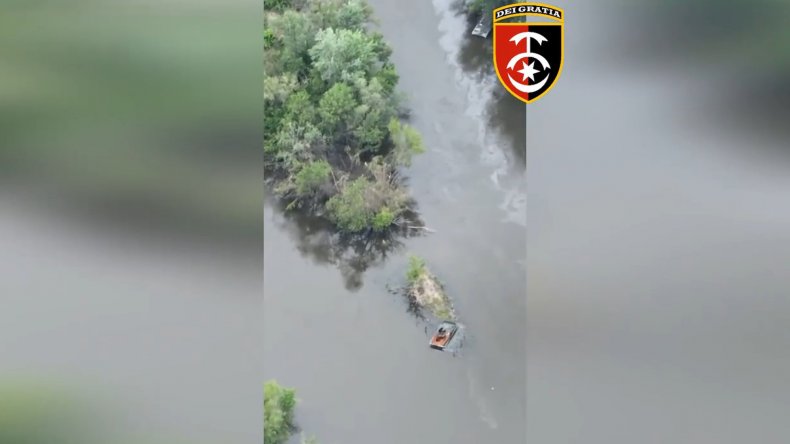 The Centre for Strategic Communications (StratCom) said: "Russian troops tried to break through the Seversky Donets River near the village of Dronivka and set up three bridgeheads.
"However, the heroism and resilience of infantry, artillery, and tank units of the 30th Mechanized Brigade named after Prince Konstanty Ostrogski and other units of the Armed Forces allowed us to stop the Russian troops and inflict heavy losses on them.
"The result of the defeat: dozens of units of destroyed Russian armored vehicles."
Ukrainian military officials shared video Tuesday of what they said was another defeat of Russian troops trying to cross the Seversky Donets near the village of Belogorivka.
Aerial footage showed a destroyed pontoon bridge over the river, tanks submerged in the water and countless charred military vehicles littering the desolate landscape.
Russian troops invaded Ukraine on February 24 in what the Kremlin is still calling a "special military operation." Today marks the 86th day of the campaign.
From February 24 to May 20, the total combat losses of Russian troops stand at around 28,700 personnel, according to the General Staff of the Armed Forces of Ukraine.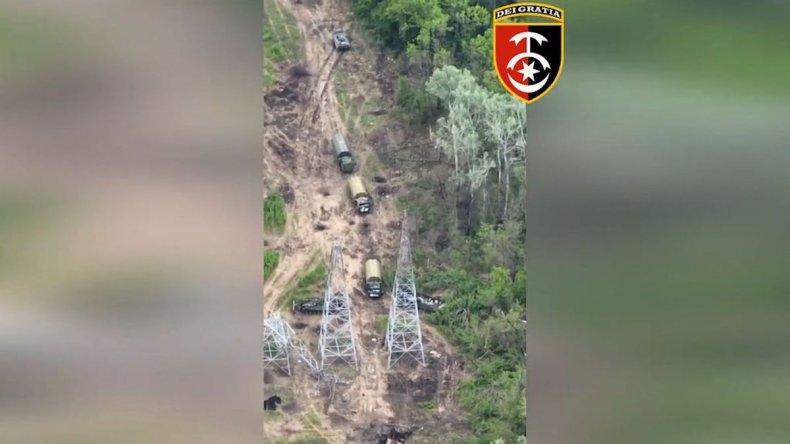 The Ukrainian military also claims that Russia has lost 1,263 tanks, 3,090 armored fighting vehicles, 596 artillery systems, 200 multiple launch rocket systems, 93 anti-aircraft systems, 204 warplanes, 168 helicopters, 2,162 motor vehicles and fuel tankers, 13 vessels, 460 unmanned aerial vehicles, and 43 units of special equipment.
Meanwhile, following the fall of the port city of Mariupol, the Russian authorities plan to tear down the Azovstal metallurgical plant and turn the city into a luxury resort, according to the Institute for the Study of War.
The Kremlin also says that the Ukrainian fighters from the Azovstal plant have been taken to a former prison colony in a Russian-controlled part of Donetsk.
However, Ukrainian President Volodymyr Zelensky called Russia's invasion of Ukraine an "absolute failure" and said Russian leaders were afraid to acknowledge "that catastrophic mistakes were made at the highest military and state level."
Zelensky also said that said Ukraine is determined to reclaim control over the southern cities of Kherson, Melitopol, Berdiansk, Enerhodar, and Mariupol, now occupied by Russian forces.
This story was provided to Newsweek by Zenger News.