Ukrainian Woman Reveals 'Insane' 40-Hour Ordeal to Escape Across the Border
A woman who fled Kyiv with her boyfriend has detailed their exhausting journey out of Ukraine and the support they received on arrival in Poland.
Maria Romanenko told Newsweek that she and her partner Jez Myers, who is from the U.K. endured a "very long and very tiring" 40-hour journey from the capital to the Polish border, after deciding on Tuesday, February 22, to leave because of reports there "would be attacks" on Kyiv.
Romanenko, who is a journalist, said they decided to get to the "outskirts of Kyiv" that evening after receiving "inside information" that an attack by Russia was imminent. By the next morning, the couple had decided to leave Ukraine entirely, with Myers telling his partner: "We need to get out of here, we need to go to Poland."
Romanenko said her family, whom the couple were with, opted to stay behind and suggested they "wait it out in a remote location."
Nevertheless, her father offered to drive the couple to Lviv to aid their escape. That proved more difficult than expected. "Normally, from Kyiv to Lviv, it takes five hours by car," she said. "But it took us 10 hours because of the traffic. On the other side of the road, there were military vehicles, driving in the direction of Kyiv. It was just very surreal."
They reached Lviv at around 10pm on Wednesday and decided to stay overnight and head to the pedestrian border with Poland the next morning. They set off in a car at 4 a.m. In normal conditions, according to Romanenko, this journey would have taken "an hour and 14 minutes." On Thursday, February 24—the day that Vladimir Putin launched his full-scale assault on Ukraine—it took six hours.
"It was ridiculous and insane," she said. "When we got there there was just literally an 18-kilometer long queue of cars trying to do the same thing, get to the pedestrian border."
After initially attempting to jump the queue, they were told they would have to go to the back. However, when the guards spotted Myers' British passport, they let the couple through, because the U.K. had been "so helpful" to Ukraine. "That was like a miracle," she said. "It was unbelievable."
That was only the beginning, however. Further along, they found people "abandoning their cars" as they headed to the pedestrian border crossing. Romanenko said the line of people was "not moving anywhere" and was "ridiculously long," with "thousands of people" crowded into the area without "food or water or toilet facilities."
"People started growing very impatient," Romanenko said. "There were all these arguments about who should go first. The mothers with children started arguing that they needed to go first. But then there were lots of international students who were also trying to go to the front and this basically all grew hostile with arguments and fights between these two groups."
By then, the couple had been queuing for many hours in cramped conditions—which began to take a toll on Romanenko. "I started feeling sick. I just kept putting my head up to get some fresh air. Because even though it was outside, it was so overcrowded and there was pushing and crushing and all sorts of things going on. So I just said, 'If I don't get out now, I'm just going to die here.'"
Romanenko was let through and was able to rest until Myers caught up with her, but others were less fortunate. "It was just such a ridiculous environment. Lots of people fell ill, especially later on," she said. "A woman standing next to me told me she even saw somebody being carried out."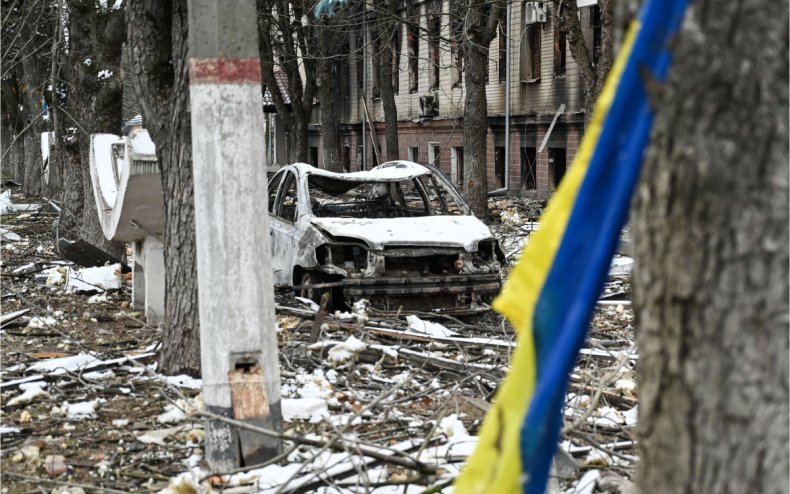 After reuniting with Myers, the couple made their way to the next stage of the border exit, which she says took another "11 or so hours" to get through. "That's also still without any food, without any water or toilets," she said. "Even if you did, if you drank water you'd need the toilet. So, it's quite risky to drink anything or eat anything."
The pair eventually crossed into Poland at around 9 a.m. on Friday, February 25. Thankfully, the Polish side of the border represented a stark contrast.
"As we walked, volunteers greeted us and gave us free food, water and hot drinks. There were things for mothers and babies and people were offering free rides and free accommodation," she said. "It was the most wonderful thing after 30 hours just trying to get to the border. Everything, every tiny thing that's normally so mundane, just felt divine."
Hitching a lift to Krakow, the couple were blown away by the generosity of the Polish people.
"They were so lovely. It was just like, 'Would you like some food? Would you like some drinks? Let me get you everything.' It was just quite insane how wonderful and hospitable and friendly and kind and generous these people have been."
That generosity has extended to free travel on Polish trains as well as help with food, accommodation and other supplies.
"You saw Ukrainian flags everywhere. All the state buildings had Polish flags alongside Ukrainian ones," Romanenko said. "When I was posting on Twitter about being in Poland and going to Poland, lots of strangers started getting in touch offering places to stay, help and transport."
Now in the U.K. with Myers, who is originally from the city of Manchester, Romanenko is appreciative of the response to Russia's invasion, though she does wonder if more could have been done sooner.
"It's good that all the countries are taking the stance now against Russia and putting in hard sanctions switching Russia off the Swift system, removing things like Apple Pay and Google Pay, and things like that, closing the skies," she said.
"But if it was done two weeks ago, when everybody was talking that the attack was imminent, that attack wouldn't have happened because Russia would have already crashed by then."