Ukranian Passenger Plane Crashes in Tehran, Iran, 176 People Killed
A Boeing 737 passenger jet crashed shortly after taking off in Iran Tuesday night, Reuters reported, citing Iran's Fars News Agency.
The Ukraine International Airlines flight crashed near the Tehran Imam Khomeini International Airport and was bound for Ukraine. The plane was carrying 167 passengers and nine crew members.
Initial reports suggested the flight crashed due to a technical malfunction, according to Fars News. Qassem Biniaz, a spokesman for Iran's Road and Transportation authority, later clarified to the state-run IRNA news agency and cited by the Associated Press, that the crash was the result of a fire on one of the plane's engines, causing the pilot to lose control.
The airline had not yet released a statement or any additional details regarding the crash.
Air traffic control monitoring website Flightradar24 posted on Twitter that it was monitoring reports of the downed flight, believed to be Flight PS 752, leaving Tehran for Kyiv, Ukraine. The last data received from the plane was sent two minutes after departure.
"After taking off from Imam Khomeini international airport it crashed between Parand and Shahriar," civil aviation spokesman Reza Jafarzadeh told the Associated Press, who also confirmed that a team of investigators was sent to the crash site.
There is no damage to nearby residences, however, the likelihood of there being survivors is doubtful, according to initial reports from the semi-official Iranian Students News Agency, citing the Red Crescent Society of Iran.
Though Pir Hossein Kulivand, head of Iran's emergency services, previously shared hopes that some survivors would be found, he told Iran's state-run television station that all those on board were killed, according to the Associated Press.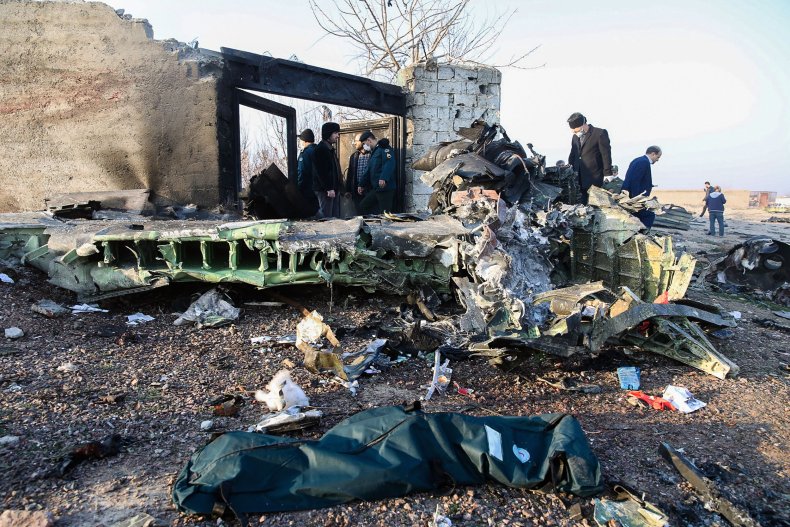 The crash of the Ukraine International Airlines flight comes the same day as Iran's missile strike on the Ayn al-Asad Air Base and other targets in Iraq. The targets were hit by cruise missiles and short-range ballistic missiles launched from within neighboring Iran. Iran's Revolutionary Guard claimed responsibility for the attacks.
In a tweet Tuesday evening, Iran's Foreign Minister Javad Zarif said the attacks on the bases concluded Iran's retaliation for the death of General Qassem Soleimani.
"Iran took & concluded proportionate measures in self-defense under Article 51 of UN Charter targeting base from which cowardly armed attack against our citizens & senior officials were launched. We do not seek escalation or war, but will defend ourselves against any aggression," Zarif wrote.
Boeing has been plagued by problems last year, with the FAA grounding the Boeing 737 MAX aircraft after the crash of Lion Air Flight 610 and Ethiopian Airlines Flight 302 in 2018. The Boeing 737-800 reported to be involved in the Iranian crash, however, is not the same model as the Boeing 737 MAX.
This is a developing story and will be updated as more information becomes available.