'The Ultimatum's' Nate and Lauren Talk 'Toxic' Ultimatums and Fan Hate
Being thrust into the spotlight can be hard—but harder still is being trolled by people you've never met before. The Ultimatum: Marry or Move On stars Nathan (Nate) Ruggles and Lauren Pounds know what this is like all too well.
Since the Netflix dating show premiered on April 6, the couple have had to contend with online abuse from viewers of the series. They spoke to Newsweek about the difficulties of handling fan hate, why ultimatums aren't the right fit for everyone and more.
Nate Ruggles and Lauren Pounds on Dealing With Trolls
The couple have been taunted about their relationship and seen their romance mocked and belittled by some fans of The Ultimatum: Marry or Move On. But they have chosen to rise above the hate and focus on each other.
On how they were portrayed on the series, Ruggles told Newsweek: "I hate how our story and relationship was twisted to be seen in a negative light, but I still would not change a thing that I did."
Brushing off the trolls, he added: "Lauren and I both got exactly what we wanted and regardless of all the hate we get from people that we don't know, what matters most is that we are so happy together and we are proud that we never left each other's side."
Making it abundantly clear of his love for Pounds, Ruggles explained: "The Ultimatum experience made it very clear for me just how much I loved Lauren. In a situation where you are dating others that are also supposed to be "matches" for you, I never once felt anyone coming close to how I feel about Lauren."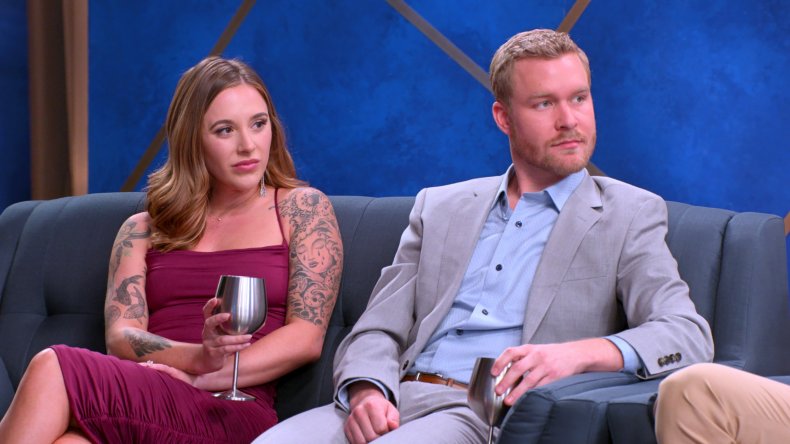 Lauren Pounds Brands Ultimatums 'Toxic'
The entire premise of the Netflix show was for participants to be given the ultimatum of marrying the person they arrived with or moving on after experiencing trial marriages. However, Ruggles and Pounds skipped this entirely when they decided to get engaged at Choice Night.
Yet Pounds has made it clear she does not think ultimatums are healthy or effective, and instead recommended couples try speaking to a therapist.
Speaking about what she's learned from the experience, she said: "I've learned that you should work on your problems with your partner alone, go to therapy, or take a break/break up. Ultimatums are toxic."
She continued: "To be honest, I think everyone's relationship is different, so while I understand that this type of experiment may have worked for Nick and Vanessa [Lachey] in the past, it was absolutely not for Nathan and I. I was hoping there would be professional therapists on site."
Nate Ruggles Reveals Nick and Vanessa Lachey Apologized Off Camera
What fans didn't get to see on The Ultimatum: Marry or Move On was the harrowing scenes of Nate dealing with his sister's first birthday after she passed. Naturally, this was a difficult moment for the cast member and one in which he was comforted by co-stars Shanique Imari and April Marie.
It was the support from the two women who weren't Ruggles's long-term partner that was questioned during choice night, as Ruggles recalled Nick and Vanessa Lachey had asked how the two ladies had supported him more than Pounds.
In reply to the hosts, he said: "That question isn't one that can be answered since no one can compare to how Lauren has supported me. She was there when I got the call, she was there when I couldn't breathe/think, she was there for every single step.
"Right beside me, always supporting me, always knowing the perfect thing to say or do. I couldn't have made it through without Lauren."
Later that night, the married couple apologized to Ruggles for the situation. Ruggles recalled: "Vanessa and Nick both came up to me immediately after and apologized for that question and gave me a big hug and lots of nice words."
The Ultimatum: Marry or Move On Season 1 is available to watch on Netflix now.