'The Umbrella Academy' Season 3 Release Date, Cast, Trailer and Plot
The Umbrella Academy are back and they're ready to face their next big challenge: saving the world for a third time.
Everyone's favorite dysfunctional family of superheroes returns but this time they're not alone, as they are faced with a new group of heroes known as The Sparrow Academy.
Here is everything you need to know about the show's new season.
When Is 'The Umbrella Academy' Season 3 Out?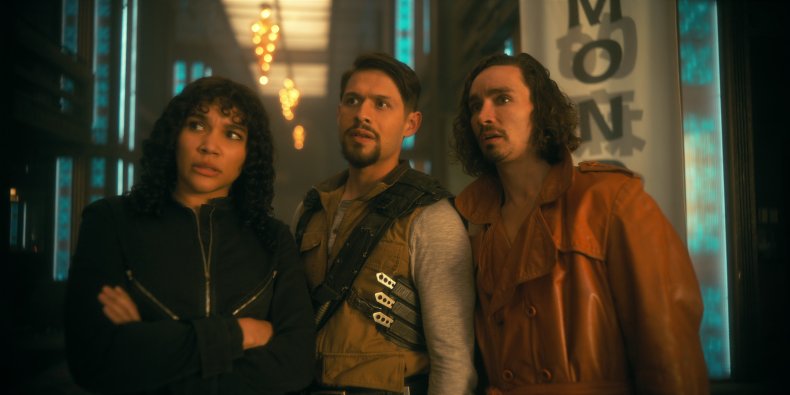 The Umbrella Academy is getting quite the unexpected release for a Netflix show, because rather than come out on a Friday like all the shows that came before it, it is premiering on a Wednesday—June 22 to be exact.
While fans might be wondering if this means the Netflix show is not coming out as a binge release, the answer is 'no'—Wednesday release date has not changed the streaming platforms model of sharing all episodes at once.
Season 3 consists of 10 episodes in total and these will all be available to watch on Wednesday, June 22 at midnight PT, which is 3 a.m. ET.
Who Will Star in 'The Umbrella Academy' Season 3?
Elliot Page, Tom Hopper, David Castañeda, Emmy Raver-Lampman, Robert Sheehan, Justin H. Min and Aidan Gallagher are all set to return for the show's third season.
They will once again take on the roles of Hargreeves family members Luther (Hopper), Diego (Castañeda), Alison (Raver-Lampman), Klaus (Sheehan), Five (Gallagher), Viktor (Page), and Ben (Min).
Also returning is Ritu Arya who once again takes on the role of Lila, Colm Feore as Reginald Hargreeves, and Adam Godley will once again voice monkey Pogo.
New cast members include Justin Cornwell as Marcus, Britne Oldford as Fei, Genesis Rodriguez as Sloane, Cazzie David as Jayme, and Jake Epstein as Alphonso.
What Is 'The Umbrella Academy' Season 3 About?
Season 3 of The Umbrella Academy will start where it left off in Season 2, with the Hargreeves squaring off against their replacements in The Sparrow Academy.
Steve Blackman, the show's creator and showrunner spoke to Newsweek about what is to come in the new episodes, and shared: "They've come back there to the academy, but unfortunately there's another family that claims to be living there, The Sparrows.
"Something obviously has gone wrong, because Hargreeves is also there... Hargreeves is dead in their timeline and Ben is also dead in their timeline, but both appear to be standing there in the flesh. So that's what the big difference is."
Season 3 will see the characters not only deal with each other but also a phenomenon known as the Kugleblitz, which starts destroying things in the universe by sucking it into a makeshift black hole.
Is There A Trailer for 'The Umbrella Academy' Season 3?
Yes, a trailer for The Umbrella Academy Season 3 has been released, and it gives fans a taste of what is to come for the Umbrellas and Sparrows.
The Umbrella Academy Season 3 launches on Netflix on Wednesday, June 22.