'The Umbrella Academy' Creator Steve Blackman on What to Expect in Season 3
It's almost time for everyone's favorite dysfunctional family of superheroes to return in The Umbrella Academy Season 3, and series creator and showrunner Steve Blackman has spoken to Newsweek about what's in store for the group.
Season 2 ended with the heroes saving the world from an apocalypse for a second time, but when they returned to their own timeline they discovered the Umbrella Academy no longer existed.
They've been replaced by a new team of heroes called The Sparrow Academy, complete with a living, breathing iteration of their late brother Ben (Justin H. Min).
And Blackman assured Newsweek that fans will finally learn exactly what happened following the second season's dramatic final moments, because Season 3 will pick up exactly where it left off: when the two groups met for the first time.
The Umbrella Academy Are Back Where it All Ended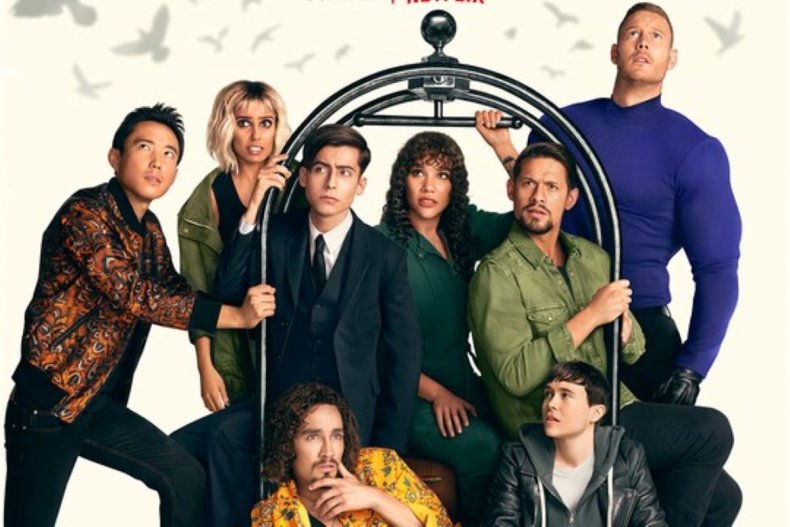 "We find our Umbrella Academy exactly where we left them at the end of Season 2," Blackman explained. "They've come back there to the academy, but unfortunately there's another family that claims to be living there, The Sparrows.
"Something obviously has gone wrong, because [Reginald] Hargreeves (Colm Feore) is also there... Hargreeves is dead in their timeline and Ben is also dead in their timeline, but both appear to be standing there in the flesh. So that's what the big difference is."
The dynamic between Umbrella Academy family members Luther (Tom Hopper), Diego (David Castañeda), Alison (Emmy Raver-Lampman), Klaus (Robert Sheehan), Five (Aidan Gallagher) and Viktor (Elliot Page) will also change because of this shocking moment.
Blackman added: "I feel like this year, one of the things I wanted to do is bring them together against a common enemy, now they've worked together before to deal with the apocalypses that have come their way and the Doomsday.
"But this year, they have a much more personal foe to deal with in the fact that there's the Sparrow Academy.
"So, you know, in other seasons, they were doing more of their own stories and coming together at certain times. This season, I really wanted them to see how they could work together against a common foe."
Who Are the Sparrow Academy?
The Sparrow Academy are the seven gifted children that Hargreeves adopted instead of the Umbrella Academy, with the exception of Ben, in this new timeline.
As well as Ben, the team consists of Marcus (Justin Cornwell), Fei (Britne Oldford), Sloane (Genesis Rodriguez), Jayme (Cazzie David), Alphonso (Jake Epstein), and a psykronium cube named Christopher.
Blackman said what he feels fans will like best about the Sparrows is how very different they are to the heroes they know and love.
"I think the way I would differentiate the families is the Umbrella Academy is a family that don't know how to be superheroes, whereas the Sparrow Academy is a family of superheroes who don't know how to be a family," Blackman said.
"So, they're very different in how they sort of approach things, but I think the fans will really, really love the Sparrows.
"They're very odd and quirky in their own ways, they are a very unique team. They work together in some ways far more efficiently than our family at the Umbrella Academy does.
"But at the same time, they have their own very big issues with each other. And what seemingly is a family that is cohesive may not be as cohesive as we think."
Designating Christopher as his favorite of the new characters, he went on: "[He] is kind of unique, it's not every day you have a a cube superhero and that's exactly what he is... he's quite funny, even though you will never understand what he's saying. He's quite amusing in his own little way."
What To Expect in 'The Umbrella Academy' Season 3
Blackman also reflected on his favorite moment of Season 3, deciding that rather than pick just one he'd instead heap praise on the show's cast and what they achieved in the new episodes.
He raved: "Look, this year I feel we really took a step up in terms of not just the level of action, but in terms of the actors, you know, [they] just excelled and they really live in the characters now.
"I think there are some very touching moments, heartfelt moments, but as well as that, you know, I think the show's quite funny this year. I think it's full of surprises.
"Everyone thinks they know these Umbrellas pretty well right now, but I think this is the season where you're going to discover a lot more layers to them and continue to fall in love with them as I think the fans have."
The Umbrella Academy Season 3 will premiere on Netflix on Wednesday, June 22.