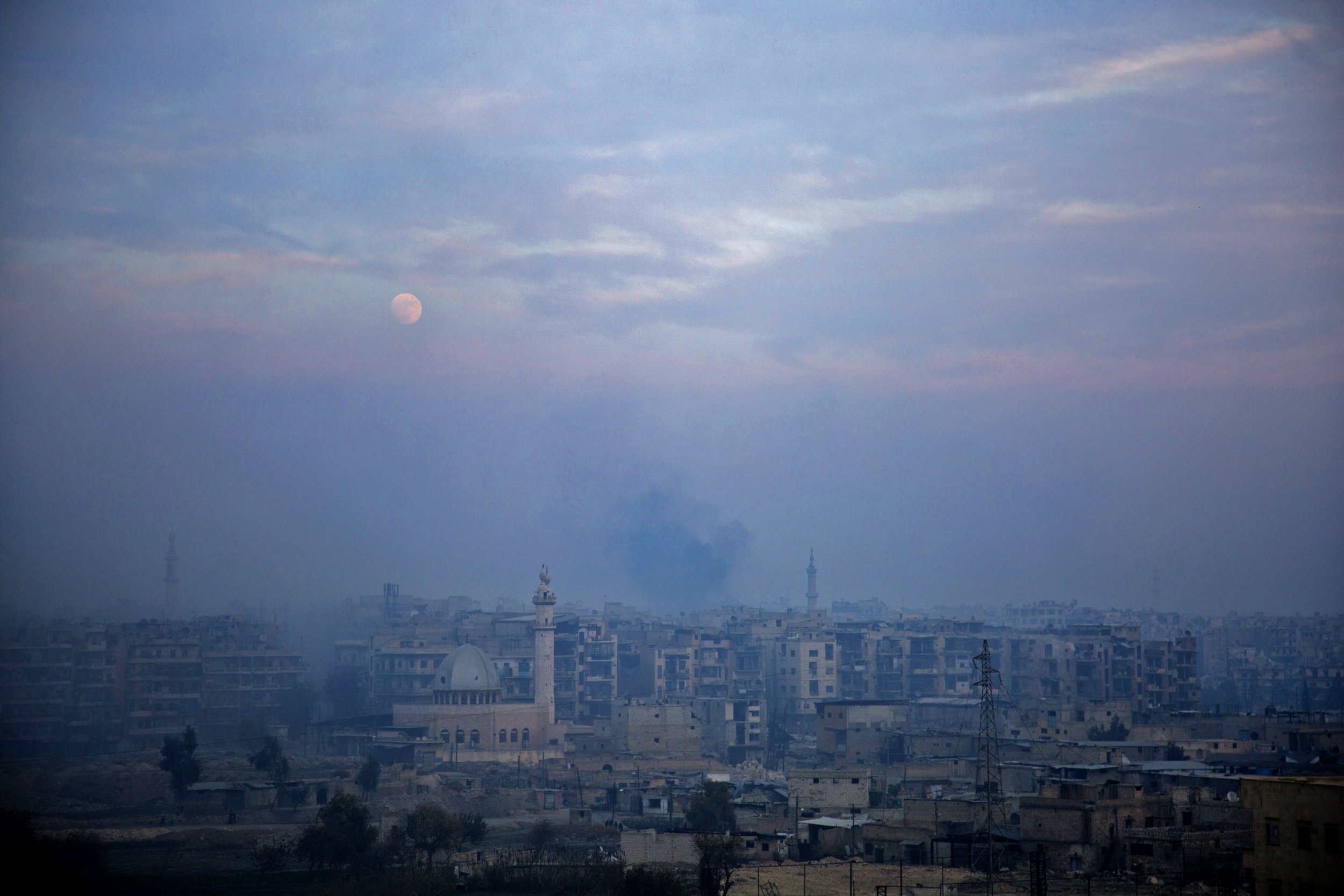 Updated | The United Nations said on Tuesday that Syrian government forces have entered homes in the rebel-held eastern district of the northern Syrian city of Aleppo and shot people dead.
U.N. human rights spokesman Rupert Colville said it had evidence that 82 people were summarily executed in several eastern Aleppo neighborhoods. He gave details of the deaths, saying 58 were men, 11 were women and 13 were children. Jens Laerke, U.N. humanitarian spokesman, said there had been a "complete meltdown of humanity in Aleppo" in recent days.
United Nations Secretary-General Ban Ki-moon expressed his alarm on Tuesday about reports of "atrocities against a large number of civilians" in Aleppo, as a Syrian government offensive to recapture the city enters its final stages.
Thousands remain in several rebel-held districts with no safe exit, and these areas are under bombardment by the military of President Bashar al-Assad and the Russian air force.
"The secretary-general is alarmed over reports of atrocities against a large number of civilians, including women and children, in recent hours in Aleppo," his spokesman Stephane Dujarric said Tuesday, AFP news agency reported.
"While stressing that the United Nations is not able to independently verify these reports, the secretary-general is conveying his grave concern to the relevant parties."
The International Committee of the Red Cross on Tuesday urged combatants in Aleppo to do everything they could to avoid civilian casualties as thousands "have nowhere safe to run."
The Syrian Civil Defense, otherwise known as the White Helmets, and the Syrian American Medical Society in Aleppo released a statement late Monday that pleaded with the international community to evacuate those remaining in the northern city, expressing fears that Syrian government forces will kill civilians once rounded up.
"If we stay, we fear for our lives. The women may be taken to camps, the men disappeared and anyone who is known to have supported civilians will face detention or execution," the joint statement read.
"We've watched thousands of our boys and men be detained. Countless White Helmets, doctors, nurses and humanitarians have been targeted and killed in the regime's cruel assault on Aleppo. The regime has been trying to kill us for five years. Please don't give them this chance."
The Syrian military said Monday that it now controlled 98 percent of the city, which has been the epicenter of the revolution against Assad's rule since 2012. Assad and Russia said that the rebel population in Aleppo has been infiltrated by radical Islamists such as the Al-Qaeda affiliate formerly known as Jabhat al-Nusra.
The shift in the battle for Aleppo, with Assad's forces on the brink of securing what was once Syria's largest city, will hand the president his biggest victory in the five-year-long civil war to maintain control of a country wracked by conflict initially sparked by discontent at his leadership at the height of the Arab Spring revolts.
This article has been updated with further comment from the U.N. about civilian deaths.