Hundreds of thousands of children have fled from Ukraine as Russia's invasion of the country continues, and most are unaccompanied or have been separated from their families, according to the United Nations Refugee Agency.
The agency said Monday that, of the more than 1.7 million people who have fled Ukraine for safety, it is focused on protecting child refugees who are at heightened risk of violence, abuse and exploitation. UNICEF and UNHCR are urging nations to work on identifying and registering all unaccompanied minors after they have crossed the border.
The unaccompanied and separated children will eventually go through relocation services, according to the agency. Until then, the children's immediate needs and safety must be prioritized, but long-term solutions will be identified based on their best interests.
At least 28 children have been killed and another 64 have been wounded from the conflict thus far, said Daria Herasymchuk, Ukraine's presidential adviser on children's rights. The UN's office on Friday said they've recorded the deaths of 19 children.
Tetiana Lomakina, coordinator of humanitarian corridors with the Ukrainian president's office, said a number of children were not receiving proper medical care in affected areas. Herasymchuk added maternity hospitals, kindergartens and schools have been destroyed by Russian shelling.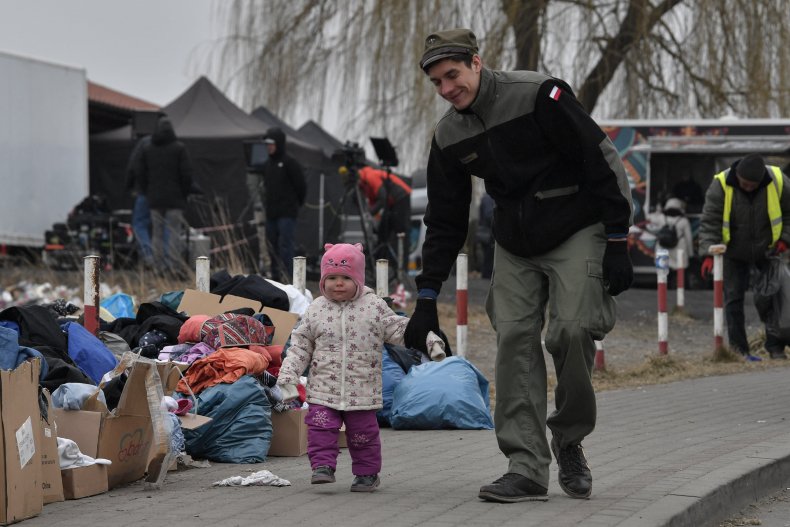 "About one and a half million children are in the territories suffering from shelling and under siege, among them, there are orphans and children with disabilities who need immediate help," Herasymchuk, said according to the Interfax-Ukraine news agency.
Institutional care and boarding schools in Ukraine are requesting to move children into neighboring countries for safety amid the war. Nearly 100,000 children—half of them with disabilities—live in these schools.
"We have received reports of institutions seeking to move children to safety in neighboring countries or beyond," the refugee agency said. "It is critical that special measures be taken in the best interest of the children, and that the consent of their parents or persons responsible for their care be granted."
If the institutions choose to evacuate, they must inform Ukrainian authorities and the children should have their identification papers and case files with them. Once they cross the border, they have to immediately inform the authorities of the situation.
"Under no circumstances should families be separated as a result of relocation or evacuation movements," the agency said.
Refugees are traveling by bus, train, foot and car to flee Russia's military action in Ukraine. After reaching the borders they are waiting in cold temperatures up to 60 hours to cross into neighboring Poland, Hungary, Romania, Moldova and Slovakia. More than 1.7 million people have fled Ukraine in the past 11 days but the United Nations estimates nearly 4 million people could flee in the coming months.
As of now, Poland has received the majority of refugees with over 1 million reportedly arriving so far. Hungary has received over 180,000 refugees while 128,000 refugees have fled to Slovakia. The refugees, mostly women and children, have received warm welcomes from the citizens and governments in the countries they sought safety in.
Newsweek reached out to UNICEF for comment.
Update 03/07/22, 2 p.m. ET: This article was updated with additional information.
Update 03/07/22, 1:15 p.m. ET: This article was updated with additional information.
Update 03/07/22, 12:48 p.m. ET: This article was updated with additional information.