U.N. Vote on Ukraine: 7 Countries That Didn't Support Russia's Withdrawal
The United Nations General Assembly voted in overwhelming support to adopt a resolution condemning Russia's invasion of Ukraine less than a day before the war in eastern Europe reaches its one-year mark.
During an emergency session Thursday, 141 nations approved the resolution calling for Russia to "immediately, completely and unconditionally withdraw all of its military forces from the territory of Ukraine." The resolution also emphasizes the need to quickly establish peace between the two countries.
Among the members in favor include some of Ukraine's strongest allies to have provided military support since the start of Russia's invasion, including the United States, which helped draft the resolution.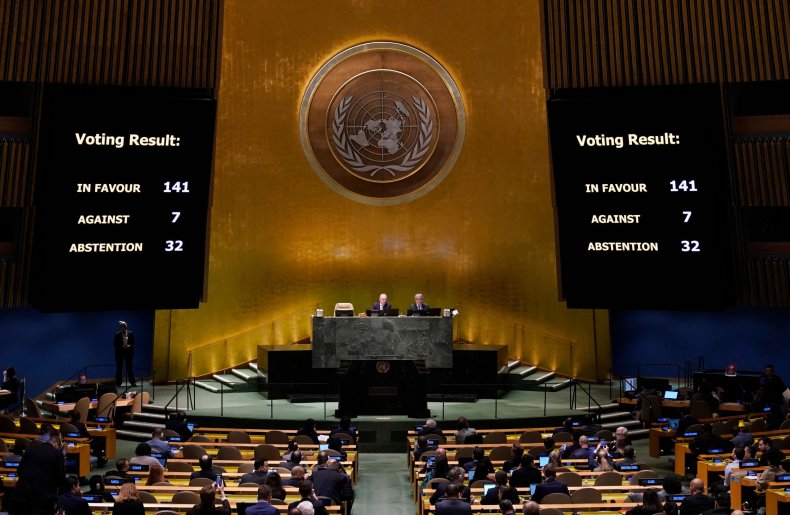 Other nations that voted in favor include the United Kingdom, Germany, Canada and Poland, all of which rank in the top five of countries who have provided aid to Ukraine, according to the Kiel Institute for the World Economy.
Thirty-two nations chose to abstain from the vote on Thursday, including China and India, which, as the New York Times reports, have provided essential economic or diplomatic support to Russia in light of western sanctions.
An additional seven members voted against ordering Russia's withdrawal, an increase from the last time the U.N. voted on a similar measure. In March 2022, five nations—Belarus, North Korea, Eritrea, Syria and Russia—voted against a resolution reaffirming Ukraine's sovereignty just weeks after Russia's invasion.
On Thursday, the five-nation coalition was joined by Mali and Nicaragua. The combined total population of the countries that either abstained or voted against ordering Russia's withdrawal is approximately 5.6 billion, according to data from the U.N. and World Bank.
As the Times reported prior to the vote on Thursday, some nations that have chosen to remain neutral on the Russia-Ukraine war see the conflict as a European or western issue.
Other countries that may have initially condemned the invasion have since increased their exports to Russia, such as Turkey, which has tripled its cargo transport since the war began, the Times wrote.
On Thursday, Turkey again voted to condemn Russia.
Secretary of State Antony Blinken previously said that the U.S. has warned some of Russia's closer economic partners, such as China, that there would be "serious consequences" for supporting the invasion of Ukraine. According to a statement from Blinken on Sunday while speaking on Meet the Press, China is attempting to present itself "as a country striving for peace in Ukraine" while also providing "non-lethal assistance that does go directly to aiding and abetting Russia's war effort."
Ian Hurd, director of Weinberg College Center for International and Area Studies at Northwestern University, told Newsweek on Thursday that while many members of the UN are "appalled at Russia's invasion," "many also have other concerns and opposing Russia might not be at the top of their list of priorities."
"The General Assembly can't take decisive action because the founders of the UN did not want it to have any muscle—the vote today was a strong symbolic condemnation by a large majority of countries of Russia's invasion, and of Putin's militarism," Hurd said. "It is a strong statement that signals the broad opposition Putin has made for himself."
Ambassador to the U.N. Linda Thomas-Greenfield told reporters after Thursday's votes that adopting the resolution to again condemn Russia's actions was "historic."
"We show where we stand," Thomas-Greenfield said.
"141 countries voted for a comprehensive, just and lasting peace in Ukraine," she added.
When asked for comment, National Security Council press secretary Sean Savett directed Newsweek to a statement by National Security Advisor Jake Sullivan, who said the vote on Thursday "was an overwhelming demonstration of support for Ukraine."
"A year into this conflict, the international community remains steadfast in upholding our shared values, including the principles of sovereignty, independence, and territorial integrity that are the foundation of the UN Charter, and accountability for violations of international law, including Russia's war of aggression," Sullivan added.
Update 2/24/23, 12:05 a.m. ET: This story has been updated with statement by Jake Sullivan.
Update 2/24/23, 1:40 a.m. ET: This story was updated with additional background information.