U.N. Watchdog Believes Iran Increased Nuclear Stockpile in Breach of Accord
A United Nations watchdog group claims that Iran violated a 2015 accord by increasing its nuclear weapons stockpile.
The International Atomic Energy Agency (IAEA)—the U.N.'s atomic watchdog—released a statement Thursday detailing the claim. The report said that Iran has a stock of 33.2 kilograms, or 73.1 pounds, of uranium enriched to up as much as 60 percent fissile purity. According to the agency, that's an increase of 15.5 kilograms since November.
The Associated Press reported that the report is confidential. Newsweek reached out to the International Atomic Energy Agency for comment.
The report comes as the IAEA plans to visit Tehran in the coming days in order to renegotiate the terms of the 2015 Joint Comprehensive Plan of Action that prohibited the nation from producing more uranium. IAEA Director General Rafael Mariano Grossi is expected to meet with undisclosed Iranian officials regarding the deal.
"If Grossi's trip could help the agency and Tehran to reach a roadmap to resolve existing safeguard issues," Nournews wrote in an exclusive report, translated by Reuters, "it can help [the] revival of the nuclear deal in Vienna."
The United States recently restored sanction waivers on Iran's nuclear program, giving other countries the ability to deal with the program on their own terms.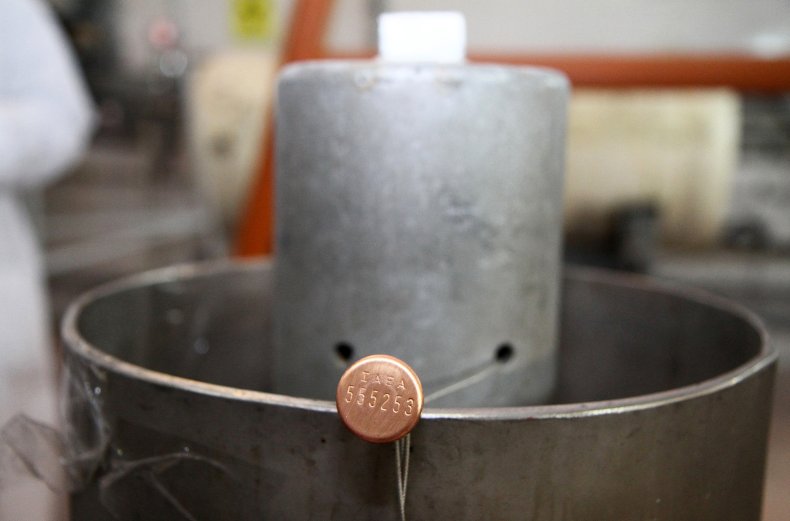 "We decided to restore a sanctions waiver to enable third-party participation in nuclear non-proliferation and safety projects in Iran due to growing non-proliferation concerns, in particular with respect to increasing stockpiles of enriched uranium in Iran," a U.S. State Department spokesperson said.
"Absent this sanctions waiver, detailed technical discussions with third parties regarding [the] disposition of stockpiles and other activities of nonproliferation value cannot take place."
While the waivers were put in place in hopes of furthering the discussion of reinstating the 2015 accords, the spokesperson did not say that is imminent.
"This is not a signal that we are about to reach an understanding on a mutual return to full implementation of the JCPOA," the spokesperson said.
Rather, the move seemed to be made in order for U.S. allies to also negotiate.
"It will enable some of our international partners to have more detailed technical discussions to enable cooperation that we view as being in our non-proliferation interests," they explained.
Update 3/3/22, 11:38 a.m. ET: This story has been updated with background information.