UNC Doubles Coronavirus Positivity Rate Within 2 Weeks of Classes Reopening
The University of North Carolina at Chapel Hill (UNC-CH) doubled its percent positivity rate of coronavirus tests within the first two weeks after allowing students to attend in-person classes.
Despite the fact that only 15.1 percent of UNC-CH's main campus remained occupied as of Tuesday, the university reported a 31.3 percent positivity rate for coronavirus tests for the past week, more than double what it was the week prior.
Between August 17 and 23, 1,528 students took a COVID test, with 465 of those tests returning positive results, according to the university's coronavirus dashboard.
The school's more than 19,000 students were permitted to return to campus to begin in-person classes August 10, but administrators abruptly reversed course one week later, moving all classes online and asking students to pack up and return to their homes.
Administrators cited a spike of coronavirus cases seen within that first week. According to the dashboard, 168 students had tested positive for COVID-19 by August 17, the day school officials announced classes would go online. The percent positivity rate rose from 2.8 to 13.6 percent within the first week, and then leapt to 31.3 percent by August 23.
"The positive rate increase is primarily attributed to the increase in testing completed over the past week as more clusters were identified," a UNC-CH spokesperson wrote to Newsweek in an email. "Students who were notified through contact tracing or who had been experiencing symptoms were directed to get tested at Campus Health, resulting in a higher number of both tests conducted and positive cases."
UNC-CH has a sufficient number of tests available for anyone in the campus community who thinks they might need one and encourages students to get tested, the spokesperson added.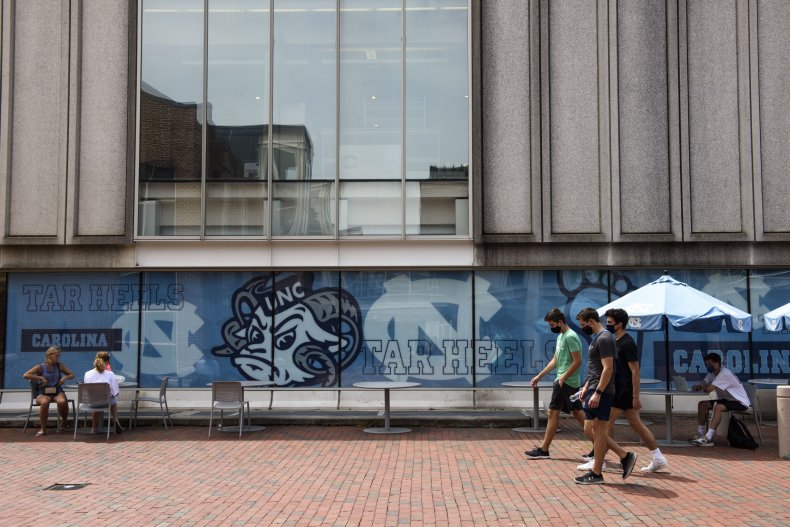 One of the worst outbreaks has occurred in Granville Towers, a popular off-campus apartment-style housing option for students. According to the dashboard update on August 24, just 280 active leases remain inside the apartment building, but 144 of its residents have tested positive.
In response to the reported case clusters, university administrators conducted mass testing of Granville and two other residence halls, Ehringhaus and Hinton James, from August 21 through 23.
"With an increasing rate of positive tests, it is necessary to conduct large group testing to help identify more cases and help prevent further spread. Residents in these halls will receive an email later this evening with instructions on how to get tested," Provost Robert Blouin and Vice Chancellor for Student Affairs Amy Johnson wrote in an email Thursday.
UNC-CH reported 58 new positive cases on August 23, the most recently available data. Since February, a total of 835 students and employees have tested positive. For on-campus students, 97 out of 170 isolation rooms and 48 quarantine rooms remain available.
Students have until Tuesday to cancel their housing contracts with the university and must return to their permanent homes by August 30. Many students are now scrambling to find off-campus housing options so they can remain in Chapel Hill for the fall semester, The Daily Tar Heel reported.
Update (08/25/20, 4:31 p.m.): This article has been updated to include comments from UNC-CH.